The Trevor Project is the world's largest suicide prevention and crisis intervention organization for LGBTQ (lesbian, gay, bisexual, transgender, queer, and questioning) young people. We work to save young lives by providing support through free and confidential suicide prevention and crisis intervention programs available via our 24/7 phone lifeline, chat, and text services; TrevorSpace, the world's largest safe space social networking site for LGBTQ youth, and through our innovative education, research, and advocacy programs.
Trigger warning: The following content discusses topics of conversion therapy, mental health, and suicide. 
Challenge: Coordinate Local Suicide-Prevention Advocacy Across 40 Municipalities
So-called "conversion therapy" – a dangerous and discredited practice denounced by almost every major medical organization, attempts to change someone's sexual orientation or gender identity through harmful tactics – continues in hundreds of cities across the country, putting LGBTQ youth at risk.
According to The Trevor Project's 2021 National Survey on LGBTQ Mental Health – 42% of LGBTQ youth, including more than half of transgender and nonbinary youth, seriously considered attempting suicide in the past year. LGBTQ youth who were subjected to conversion therapy reported more than twice the rate of attempting suicide in the past year compared to those who were not. At The Trevor Project, our Crisis Services team hears far too often about the harms of conversion therapy on a youth's mental and physical health, making it clear that this practice must be banned.
Before Quorum, we spent hours collecting intel — relying on roughly 25 monthly standing meetings to coordinate advocacy efforts to end conversion therapy. This time-consuming process never allowed us to see a holistic view of the political landscape, with note-taking only allowing for a linear view of analysis. Additionally, taking meetings did not account for the rapid movement that is so common in municipal governments.
Solution: Organize Vital Information to Swiftly Take Action With Quorum's Local Search
25
number of monthly team meetings no longer needed thanks to Quorum tracking
Quorum's local search
allows us to view documents, official events, local media hits, and social media posts, allowing Trevor to act swiftly and with accuracy to ensure LGBTQ youth are protected from conversion therapy. Quorum provides us a tool where our team can organize vital information which is central to our efforts.
Tracking Boards Streamline the Legislative Information Gathering Process
Quorum's tracking boards allow for easily digestible information on municipal government activity, including widgets, to view meeting minutes and agendas based on search topics such as conversion therapy, scheduled hearings, and votes on key pieces of legislation, and topic mentions in media and social media posts.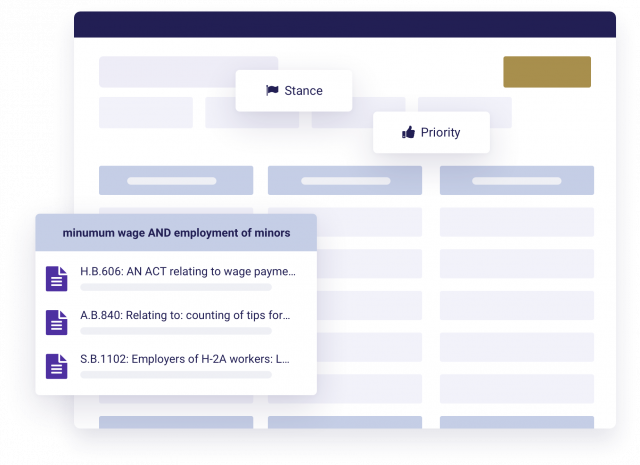 On one page we can view pertinent information almost in real-time. Some on our team keep the tracking boards opened permanently and pinned on a monitor. This allows us to focus our standing meetings on strategic and proactive talks while streamlining legislative information.
Social Media Monitoring Provides Insight to Initiate Conversations With Legislators
Local documents, such as meeting agendas and minutes, give us great information on legislative actions — but what legislators say about policies we care about offers us an understanding of who needs to be convinced and the issues they have to be addressed. As a bipartisan organization, we are proud to work across aisles and often find that suicide prevention is a bipartisan issue.
We just took the vote. Conversion therapy banned in Lincoln, Nebraska. #BornPerfect

— James Michael Bowers (@Bowers4Nebraska) February 23, 2021
Social media monitoring allows us to see who is talking about topics we care about, which leads to both educational and functional outcomes. Oftentimes, legislators are not aware that conversion therapy is happening in their state or district, but they are very invested in mental health and suicide prevention. These insights can be viewed on social media posts, giving Trevor the common ground to initiate conversations on the legislator's level.
Customizable Daily Reports for More Effective and Informed Advocacy
Our team relies heavily on the daily reports generated by Quorum that arrive at 9 a.m. in everyone's inbox. This condensed and easily readable report provides us vital information on new documents and official events such as hearings and votes for key pieces of legislation. Additionally, we receive daily reports on social media posts, press releases, and letters to constituents.
We are currently working in a Southern state to pass a municipal law to ban conversion therapy. Quorum alerted our staff to a last-minute hearing and we were able to relay the necessary information to local leaders who organized local advocates to attend virtually and in person.
Being able to view vital information at the tip of your fingers, on your phone, tablet or computer is the exact type of adaptable tool necessary for effective advocacy. The daily reports keep the team aligned on developments and important dates so no one is caught blindsided — an advocate's nightmare.
Impact: 21 Life-Saving Bills Passed and Counting
As an organization that supports and advocates for LGBTQ youth mental health, having a single tool to track, monitor, and analyze all of our Federal, State, and Local legislative work streamlined our advocacy efforts leading to quicker responses and more wins. So far this fiscal year, we have been able to protect LGBTQ youth from conversion therapy in dozens of municipalities across the country, a notable increase in performance.
In our previous standing meeting, local leaders from Columbia, South Carolina informed us that the city council was going to pass a resolution calling on the state to ban conversion therapy for minors. The Trevor Project was preparing to celebrate this win when, on the day of the city council meeting, Quorum notified Trevor that there will also be a bill to ban conversion therapy in the city in addition to a resolution. Quorum provided us with the bill language, which was rapidly reviewed and used to change our press materials. We were also able to utilize Quorum's social media monitoring to gleam who would be in support of the bill and resolution.
We have tracked 32 introductions with 21 passages so far. We have also laid the groundwork in many different states to start the advocacy needed to further our mission of protecting LGBTQ young people.