Border and entry requirement changes
At midnight on August 9, changes to the federal government's border protections came into effect, allowing fully vaccinated US citizens to enter Canada and loosening requirements for testing of fully vaccinated arriving passengers. Guided by science and data, these changes are an important step towards normalizing air travel in Canada and will help speed the recovery of Canada's travel and tourism ecosystem while continuing to be focused on public health.
As of August 9, fully vaccinated Canadian and American travellers do not have to quarantine. These travellers must present proof of a negative COVID-19 test result before boarding their flight to Canada. Wholesale testing of fully vaccinated international arriving travellers has also been replaced by randomized testing, with the majority of fully vaccinated travellers being able to leave the airport immediately after baggage collection.
Unvaccinated travellers entering Canada by air no longer have to quarantine in a Government Approved Accommodation hotel. They will still need to complete a 14-day quarantine at home and complete a COVID-19 test on arrival and on Day 8 of being in the country.
On September 7, the federal government allowed all fully vaccinated travellers to enter Canada. This is provided travellers have completed the full course of vaccination with a Government of Canada-accepted vaccine at least 14 days prior to entering Canada and a 72-hour predeparture test. These travellers may be selected for random arrivals testing.
Throughout the first half of 2021, Pearson continues to experience the impacts of the pandemic in the form of low passenger traffic and challenging financial results. Press Release || Management Discussion & Analysis
Passenger Traffic
For the three months ending June 30, 2021, we saw 1 million passengers total. This is in contrast to Q2 2020 where we saw 0.5 million passengers, representing an increase of 93.8%.

For the first six months ending June 30, 2021, we saw 2.1 million passengers total. This is in contrast to the first half of 2020 where we saw 10.1 million passengers, representing a reduction of 79.1%.
Resulting income loss
For the three months ending June 30, 2021, we saw a loss of $118.1 million. This is in contrast to Q2 2020 where we saw a loss of $96.3 million, representing a reduction of 22.6%

For the first six months ending June 30, 2021, we saw a loss of $245.1 million. This is in contrast to the first half of 2020 where we saw a loss of $89.7 million, representing a reduction of 173.2%.
Aircraft movements
For the three months ending June 30, 2021, we saw 24,200 movements. This is in contrast to Q2 2020 where we saw 18,200 movements, representing an increase of 32.8%.

For the first six months ending June 30, 2021, we saw 47,000 movements. This is in contrast to the first half of 2020 where we saw 114,700 movements, representing a reduction of 59.1%.
Throughout the pandemic, Toronto Pearson has put the health and safety of employees and passengers at the forefront of our operations through our Healthy Airport Commitment, embracing innovative technology to create low-touch processes, enhanced cleaning measures and testing programs. Toronto Pearson continues to play a significant role in the supply chain to deliver essential cargo like PPE, vaccines and food.
We are pleased to see that changes in the border protection policies are encouraging more Canadians to return to travel and welcoming more visitors to the country. However, passenger traffic remains significantly reduced and continues to have a material negative impact on the GTAA's business and operational results, including aeronautical and commercial revenues and airport improvement fees.
The GTAA is working with the federal government and all partners in the aviation sector to support the restart of air travel in Canada. The global pandemic caused by COVID-19 has financially impacted Canada's airports, including Toronto Pearson. These airports are critical infrastructure assets that connect Canada to the world and support trade, tourism and immigration. 
In order to restore the competitive advantage provided by one of the world's key global airports, the Government of Canada should immediately work with the GTAA on the following investments and policy priorities:  
Ground rent waiver: The Government of Canada reconsider its decision to defer 2021 airport rent and provide a full waiver of rent for 2021 and 2022 given the continuing weakness in our finances.
Border resourcing: The Government ensures that CBSA is adequately resourced to meet the requirements for expected increases in travel volumes and that the Government engage the US Government to ensure preclearance airports receive the appropriate number of CBP officers. 
Digital verification: The Government of Canada work with industry and global partners to set standards for health verification certificates that can be integrated into existing border and airline processes, and consider a national program to fund provinces to digitize health records.
Critical infrastructure: The Government of Canada continue to fund critical infrastructure beyond its current Airport Critical Infrastructure Programs to support Canada's competitiveness. 
Ground lease amendment/Infrastructure investment: Over the next ten years, the government allow Toronto Pearson to reinvest airport ground rent to critical and strategic airport projects. This would amount to $1B over the next ten years.
Revenue opportunities: The Government modernize its duty-free policies and regulations to allow the establishment of Arrivals Duty Free (ADF) and Dual Shop Stores (DSS) at Canadian Airports.
The GTAA continues to pursue government funds for various projects across the airport, particularly through the Airport Critical Infrastructure Programs funding stream. In addition to submissions related to the infrastructure needed to address changes in terminal to adapt to the realities of air travel during the pandemic, we made a submission related to the Eglinton Crosstown West Extension (ECWE). We need government support to continue the planning necessary to bring the ECWE to the airport, creating a direct light rail connection from Toronto to Pearson and the surrounding employment zone. 
Our operations and Healthy Airport
Our Healthy Airport Commitment
The airport experience has changed to keep you healthy when you're ready to travel, including ongoing innovations to protect passengers and workers. Some of these measures have changed the way that passengers are processed, adding more questions or new checks-and-balances. As a result, you may experience longer wait times as our airport partners accommodate the need for greater physical distancing or more detailed questionnaires and inspection. Learn more about what to expect through our online information hub.
COVID-19 testing at Pearson
Earlier this summer, the GTAA announced a collaboration with Switch Health to bring convenient, affordable COVID-19 testing services to Pearson. The tests, conducted by Switch Health, are available to both departing passengers and members of the community who aren't travelling but need access to testing services. Arrivals testing continues to be required and conducted by Switch Health in partnership with the government of Canada for international arriving passengers.
The new Switch Health testing clinic is located at Toronto Pearson's Value Park Garage, open from 5AM to 11PM daily. Consumers and departing passengers can book their drive-through or in-clinic appointments in advance through Switch Health's booking portal at switchhealth.ca/healthyairport.


Demonstrating Pearson's Healthy Airport Commitment
Throughout the pandemic, we've worked closely with all levels of government to ensure that health is the top priority for everyone passing through the airport. This focus continues throughout the measured reopening of Ontario's economy so that when our passengers are ready to return to air travel, we're well positioned to help them do it safely.
Throughout the summer, we've welcomed elected officials to Pearson to see our Healthy Airport Commitment in action, including Lisa MacLeod, Minister of Heritage, Sport, Tourism & Culture Industries and Stan Cho, Associate Minister of Transportation (Transit-Oriented Communities).
Afghan refugee flights land at Pearson
Ministers Marco Mendicino and Maryam Monsef, joined by GTAA Chief Operating Officer, Craig Bradbrook, welcomed to Canada the first group of Afghan refugees fleeing the current situation in Afghanistan. Refugees will be resettled through a special immigration program for individuals and their families who provided support to Canada's efforts in Afghanistan.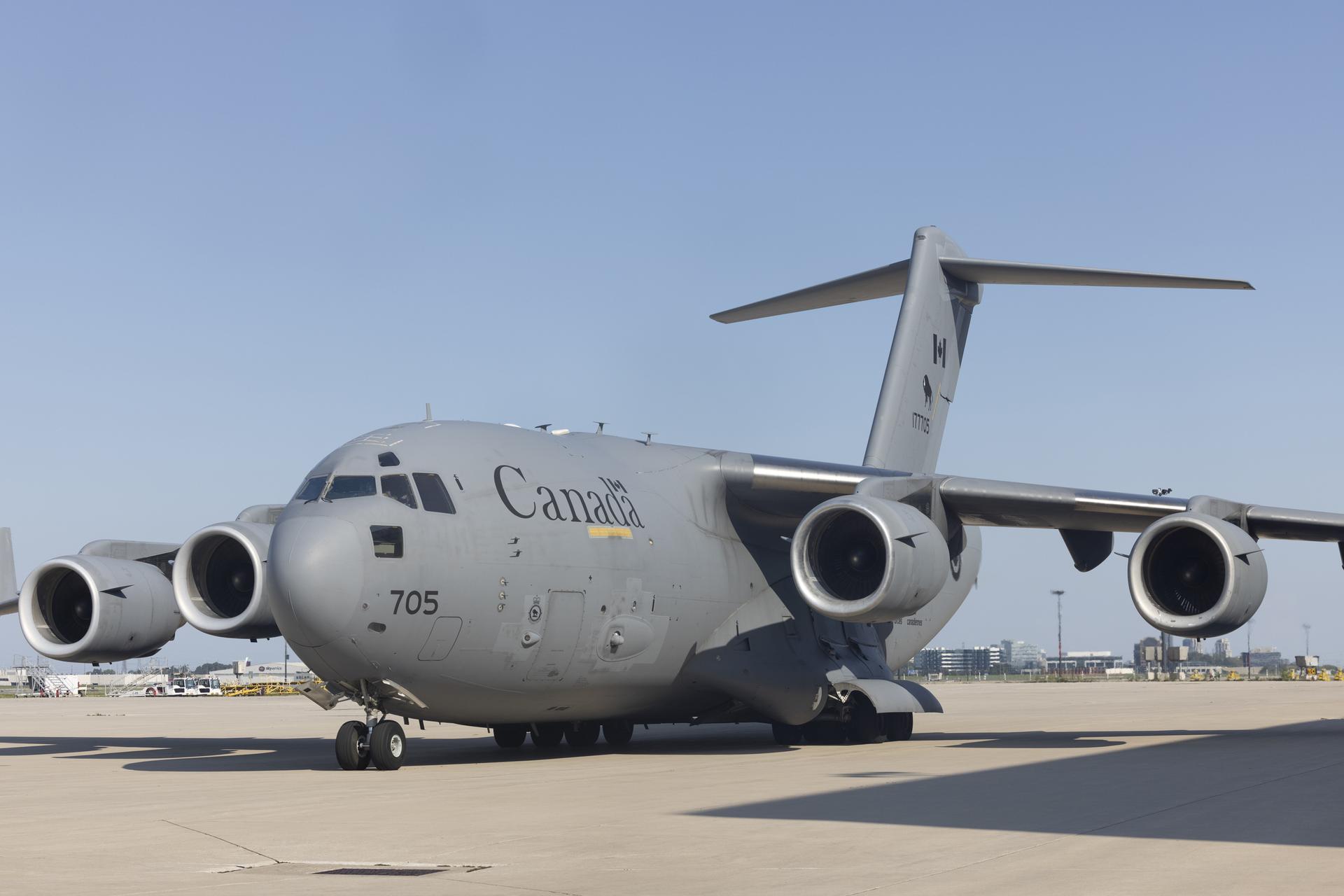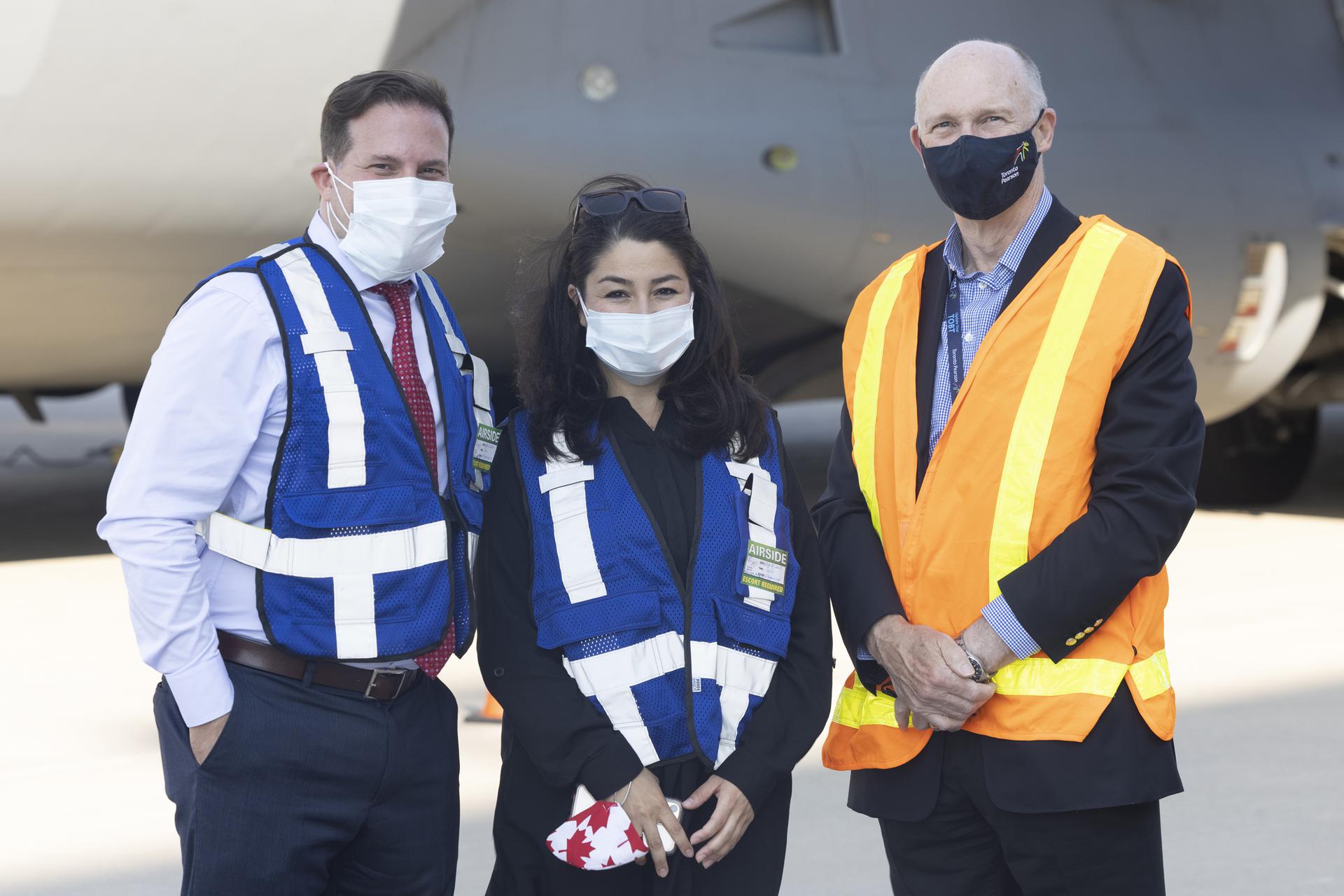 Toronto Pearson first Canadian airport to launch new e-Commerce platform
Pearson is proud to launch The Shops at Pearson, marking the first time any Canadian airport has developed an online retail store that brings the travel shopping experience into people's homes. It's an exciting new online shopping experience, with products available for delivery in Ontario. Now everyone can experience the convenience of shopping at home for products that are normally only available to travellers.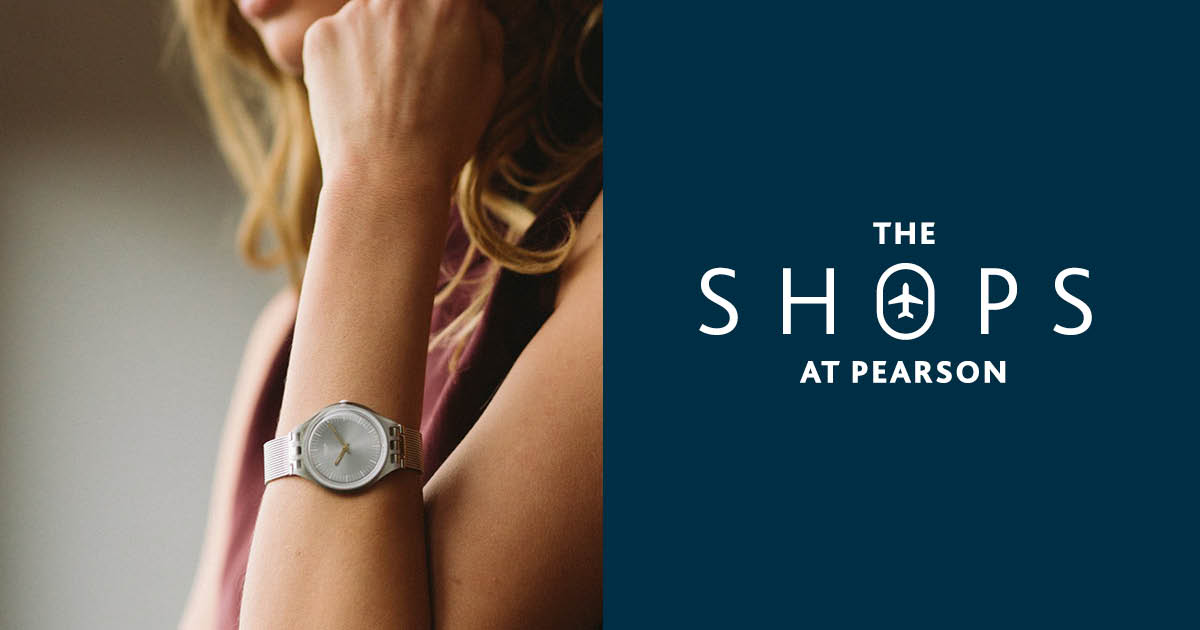 We are committed to working with the communities around us and our industry partners to manage our impacts. Our Noise Management Forums are an opportunity for elected officials, engaged stakeholders and residents to learn more about airport operations, noise management efforts and to provide feedback to industry partners.
The next forums are scheduled for the week of September 20, 2021. Elected officials are welcome to join us at the Political Briefing on September 21 and at the open Pearson Public Meeting on September 23. Materials from the meetings are available online at torontopearson.com/nmf.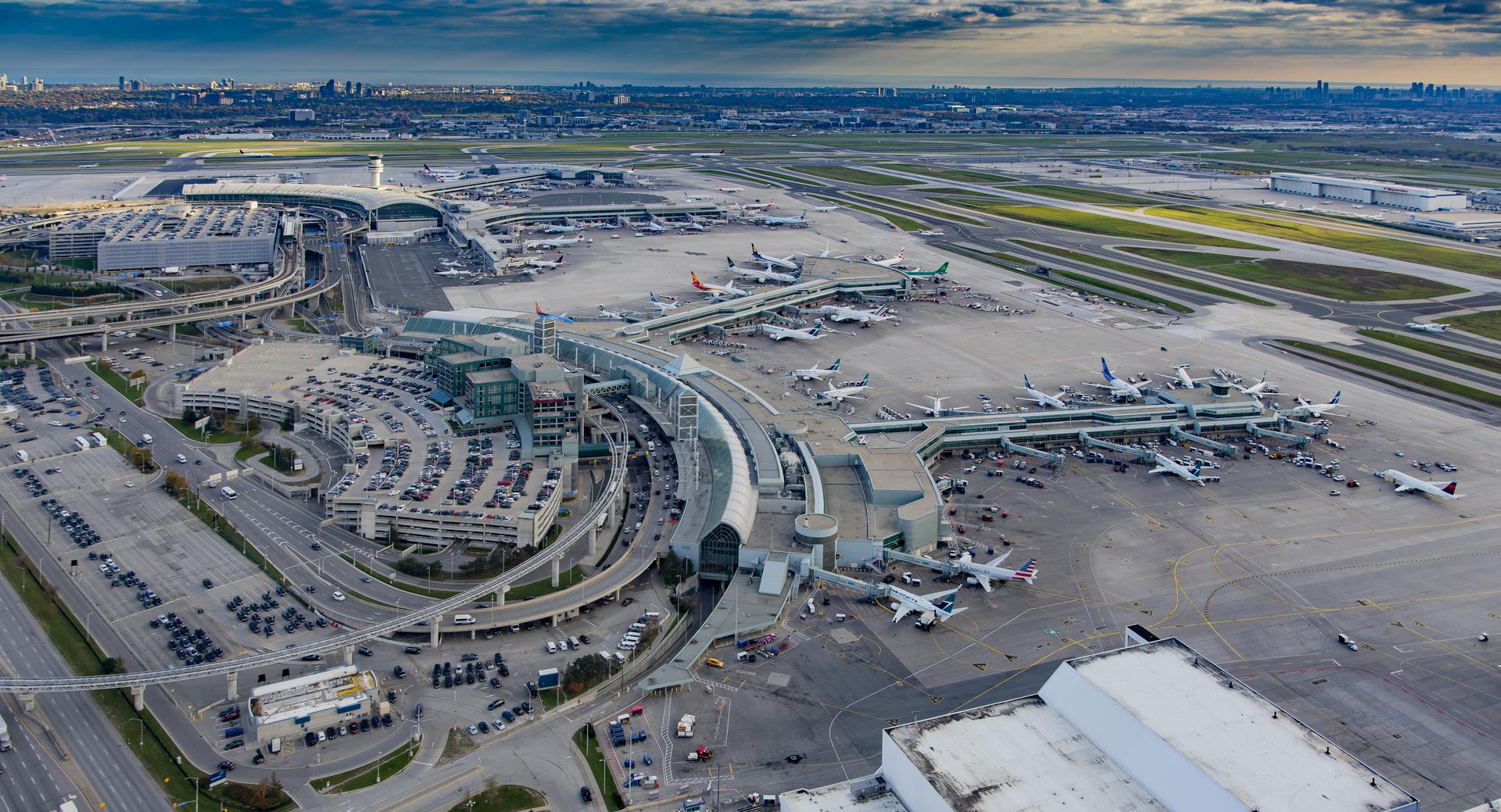 Return to travel resulting in increased air traffic levels
As government restrictions on air travel are eased in a measured and health-focused way, Canadians are beginning to think about air travel again. While air traffic volumes won't hit pre-pandemic levels for some time, we anticipate that communities around the airport will begin to experience an increase in aircraft noise, given that air traffic has been at levels not seen since 1970 due to the pandemic. This aircraft noise isn't "new noise;" however, communities may experience it that way. 
We understand that airport operations have an impact on the surrounding communities, and we work closely with our industry partners to make sure that noise management remains a central part of the conversation as the airport recovers from the impacts of COVID-19. 
Just as we work hard to give our passengers the information they need to travel confidently, we want to ensure that you have the resources you need to better understand the impacts that a measured return to air travel may have on your community.
Residents can learn about operations overhead through InsightFull, our interactive tool to help residents access information specific to their location. They can also connect with Toronto Pearson's Noise Management Office at 416-247-7682, submit a noise complaint, or attend the Pearson Public Meeting to learn more about airport operations, hear about noise management efforts and provide feedback to industry partners.
Construction on Bombardier's Global Manufacturing Centre
Construction of Bombardier's Global Manufacturing Centre continues at Toronto Pearson. The new facility is expected to create roughly 3,000 jobs and help to rebuild the Airport Employment Zone, which pre-COVID was home to the second-largest concentration of jobs in Canada. This work has been ongoing since March 2021 with generally low impact, and we've been sharing regular public updates, particularly through our Noise Advisory page.
The construction work requires the closure of Runway 05/23. Since August 1, 2021, the work has been occurring during the nighttime period to accommodate increasing traffic levels during daytime operations and to minimize community impacts. This means that Runway 05/23 is not available during the nighttime period, which has resulted in the use of maintenance preferential runways during the overnight period. Read the most recent Noise Advisory for this work. This phase of the project is expected to be completed by the end of November 2021.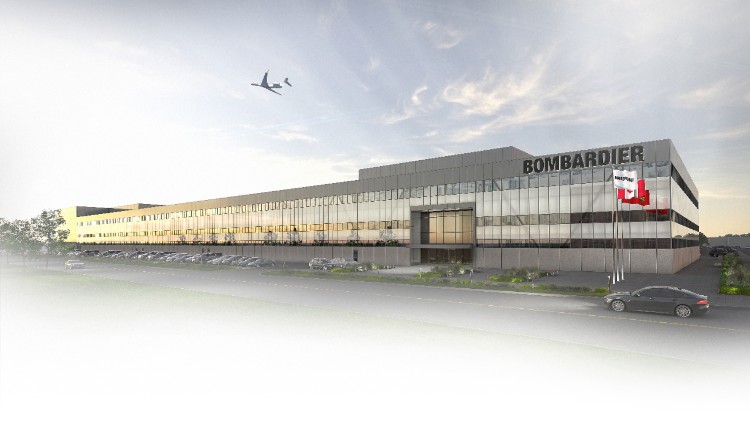 Runway Maintenance Work – Fall 2021
At Toronto Pearson, safety is our top priority. Runway maintenance activities required to ensure continued safe airport operations will begin in mid-September and are expected to last until mid-October. The activities primarily consist of adjusting the Runway 23 threshold. 
The GTAA has worked closely with its many partners to develop a plan where the majority of the work will take place in the overnight period when Runway 05/23 is already closed due to the construction of the Bombardier facility. However, there will be still be a need for a daytime closure of just five days. North-South runway operations are anticipated for the duration of this five-day daytime closure in early October, which will impact communities to the North and South of Toronto Pearson. More detailed information will be available on our Noise Advisory page.
Government of Canada announces vaccination requirement for workers in federally regulated industries
On August 13, the Government of Canada announced new changes to further protect Canadians from COVID-19, including a plan to require vaccinations for workers in federally regulated industries with some exemptions permitted.
As a federally-regulated employer, the GTAA is consulting with its workforce and engaging with the Government of Canada to better understand how this requirement will affect our employees and others working at Toronto Pearson, with a focus on employee health and inclusivity.
Copyright © 2020 Greater Toronto Airports Authority, All rights reserved.

Greater Toronto Airports Authority
3111 Convair Drive
PO Box 6031
Mississauga, ON, L5P 1B2, Canada

Please refer to the GTAA's Privacy Policy for more information regarding the manner in which we treat personal information.