Q3 financials and passenger traffic highlights
On November 10, the GTAA released its third quarter results. While there has been a year-over year increase, passenger traffic is still well below 2019 levels and the GTAA continues to take on debt in order to operate Toronto Pearson.  
Highlights:
For the first nine months of 2021, passenger traffic is down 41.8 per cent year-over-year

Q3 2021 recorded a net loss of $57.7 million

For the first 9 months of 2021: we saw a  net loss of $302.8 million due to material reductions in revenues - this is compared to a net loss of $266 million over the first 9 months of 2020
Due to the impact of COVID-19, there is limited visibility on travel demand due to changing government restrictions in Canada and abroad. Additionally, there has been disruptions on supply chains and third-party service providers. The pandemic may also impact the cost of capital and the ability to access capital markets in the future may arise from disrupted credit markets, and possible credit ratings watch or downgrade of GTAA debt.  Read the full press release here.
The GTAA continues to provide annual update presentations to the Regional Councils from regions that nominate to our Board of Directors: Halton, Peel, Toronto, York and Durham. All presentations have been completed for 2021, except for Halton, which will take place on December 15.
Holiday Travel and Entry Requirement Update
With our airline, business and government agency partners, we continue to prepare for the holiday travel season ahead by building on our Healthy Airport commitment. In June 2021, we created a Travel Information Hub which is now the landing page of our website, TorontoPearson.com.

Heading into the holidays, passengers can find information about wait times, COVID-19 testing, travel requirements and the measures in place to ensure passenger and employee safety. These include mandatory masks, limiting terminal access to only passengers and employees, enhanced cleaning and air quality measures.
Here are some things to keep in mind when traveling:
Arrive 90 minutes in advance of a domestic flight and 3 hours in advance of an international flight

We can answer your travel questions 24/7 by DM, or by flagging down one of our Welcome Team members in-terminal

Be sure to have all of your travel documentation ready as the arrivals and departures processes have changed to accommodate health screenings.
Omicron Variant and Additional Testing Measures
In response to the Omicron variant of concern, the Government of Canada recently banned travel from Botswana, Egypt, Eswatini, Lesotho, Malawi, Mozambique, Namibia, Nigeria, South Africa and Zimbabwe.
Canadians (who must be fully vaccinated to travel) and travellers who arrived from the above countries in the previous 14 days will be subject to enhanced testing, screening, and quarantine measures, including:
Pre-departure test in a third country prior to arriving in Canada

Subject to 100% arrivals testing, Day 8 testing and a 14-day quarantine

100% of travellers subject to enhanced screening by PHAC and CBSA for a suitable quarantine plan

Mandated time in a designated quarantine facility (DQF) until receipt of their first negative test.
In the coming days, all fully vaccinated travellers arriving by air from departure points other than the United States will be subject to arrival testing. Fully vaccinated travellers will be required to quarantine while they await the results of their arrival test.
The GTAA is currently collaborating with government on the best way to implement these changes at Pearson, recognizing that a combination of onsite and off-airport testing will be required to accommodate the volume of tests contemplated.
Bombardier Aerospace and Globe and Mail's Report on Business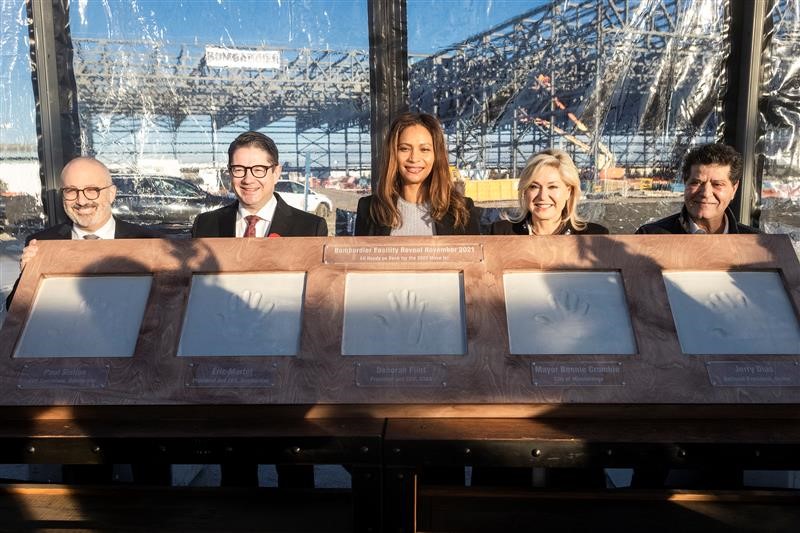 On November 3, the GTAA's President and CEO, Deborah Flint, joined Bombardier's President and CEO, Eric Martel at two events celebrating the new business jet facility being built at 1890 Alstep Dr. in the north end of Pearson.
In the morning, the media were on-site at the location to see how construction is progressing and hear how our collaboration through a long-term lease is keeping 2,000 well-paying aerospace jobs in the GTA.
Later in the day, Deborah and Eric Martel sat down for a fireside chat at the Canadian Club Toronto. They covered topics such as challenges with government funding, being leaders during a transformative time and the importance of a strong aviation industry to the economy—central themes that were covered in a recent interviews that Deborah Flint gave to the Globe and Mail's Report on Business, as well as the Toronto Star.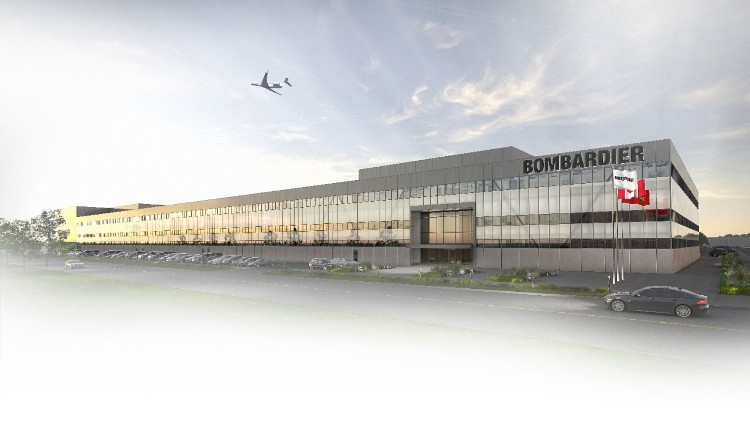 GTAA Welcomes Transit Commitment in Ontario's Fall Economic Statement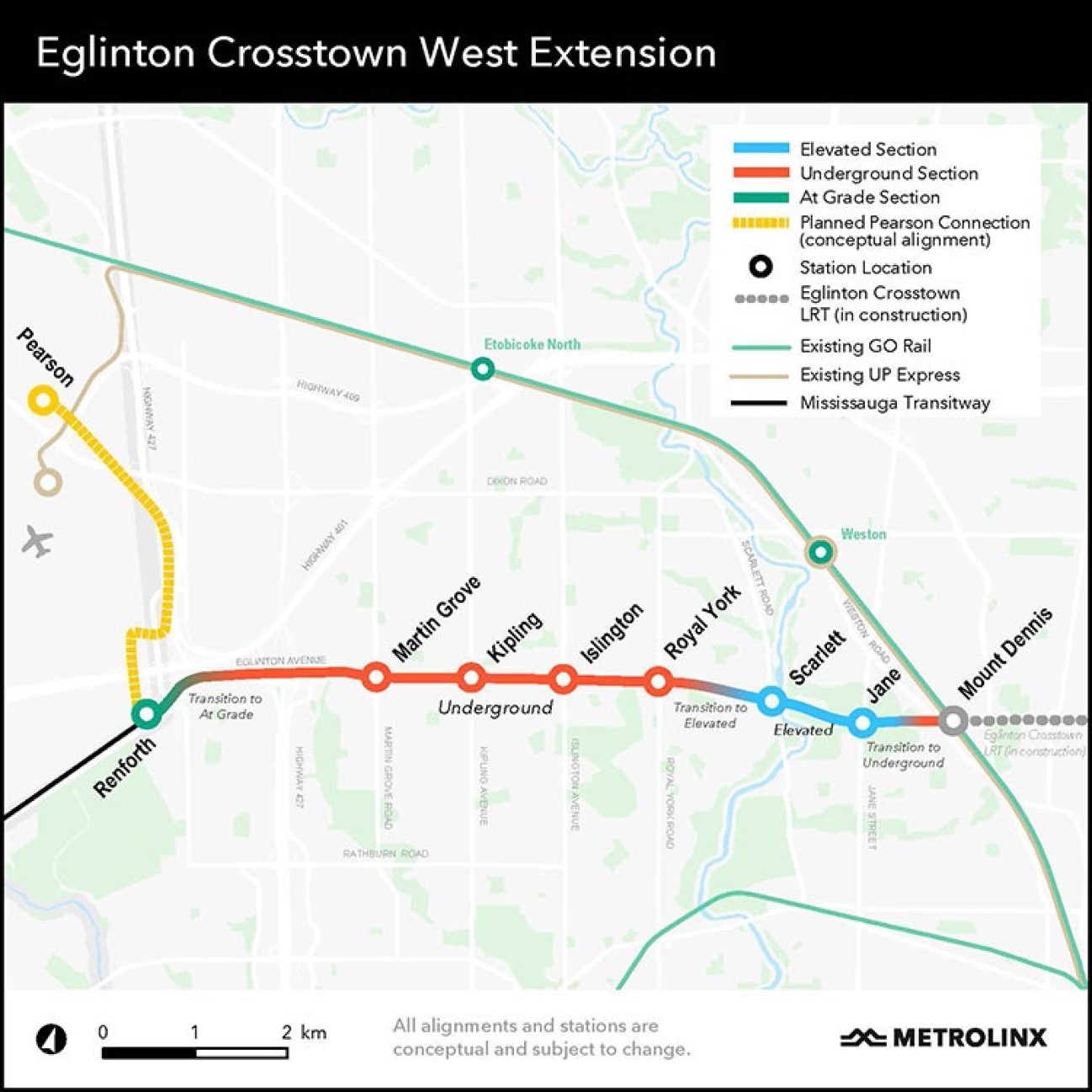 The GTAA welcomed Ontario's release of its Fall Economic Statement (FES) on November 4, notably the province's $28.5 billion financial commitment to subway expansion, which included a reference to the Eglinton Crosstown West Extension (ECWE) and a connection to Toronto Pearson. Specifically, the FES says, "through future stages of the Eglinton Crosstown West Extension project, the Province is also committed to establishing connectivity to one of the region's largest employment and economic hubs, Pearson International Airport."
GTAA Supports Strong Vaccination Mandate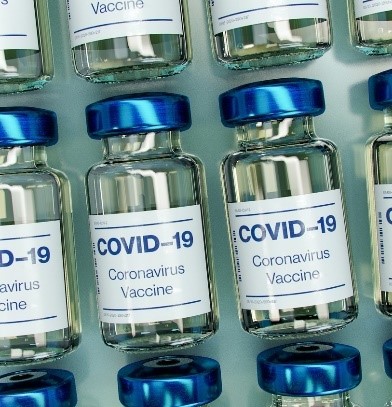 The GTAA supports a requirement for vaccinations in the workplace as the most effective way to ensure the health and safety of or employees, passengers and communities, while decreasing the spread of COVID.

On September 14, the GTAA released a vaccination policy for our employees requiring all GTAA employees (who aren't exempt per the Human Rights Act) to attest to full vaccination status by October 31, 2021. We are encouraging all businesses operating at Toronto Pearson to implement similar policies, which align with the federal mandate requiring all air travellers to be vaccinated by November 30.
Overall Asks of Government
Canadian airports are important infrastructure assets that support trade, tourism, immigration, and foreign direct investment into Canada. To ensure that these assets can regain their competitiveness the GTAA is working with the federal government and all partners in the aviation sector to support the restart of air travel in Canada.
We have been working with government several issues, some of which are listed below:
Reducing Processing Time: Since the outset of the pandemic, we have worked collaboratively with government and the various agencies operating at Toronto Pearson (CBSA, PHAC, CATSA, CBP). Twenty month later, there is more to do to streamline and automate the international arrivals process. Government agencies should continue to work to streamline entry procedures and expedite the verification for fully vaccinated travellers as a priority. Further, we continue to encourage the use of off-airport testing and the use of take-home test kits, which achieve important public health requirements and allow for a more streamlined connection and arrivals process.   
Global Harmonization: The Government of Canada should take a leadership role to harmonize global rules by working with its G7 and G20 partners, and through bodies such as ICAO and the WHO. The inconsistent rules between countries are creating confusion amongst people who want to travel.
Rent Waiver: The Government of Canada reconsider its decision to defer 2021 airport rent and provide a full waiver of rent for 2021 and 2022 given the continuing weakness in our finances.
Infrastructure Investment: To support Canada's competitiveness, Toronto Pearson is seeking the Government of Canada to fund critical infrastructure by way of the  Airport Critical Infrastructure Programs and other funding programs.
Infrastructure Financing: Over the next ten years, the government allow Toronto Pearson to reinvest airport ground rent to critical and strategic airport projects. This would amount to $1B over the next ten years.
Revenue Opportunities: The Government modernize its duty-free policies and regulations to allow the establishment of Arrivals Duty Free (ADF) and Dual Shop Stores (DSS) at Canadian Airports.
Better Regional Transit Connectivity: As Canada's largest airport and the anchor of the second largest economic zone in Canada, the GTAA is looking to government to invest in the planning necessary to bring the Eglinton Crosstown West Extension to the airport.
Toronto Pearson - Leading on Sustainability
On November 23, 2021, Deborah Flint spoke at the Airports Council International (ACI) Latin America-Caribbean and ACI World Annual General Assembly, Conference and Exhibition on recovery and a sustainable future for aviation as part of the Aviation Leaders Panel, moderated by CNN en Español anchor Gabriela Frias. Read More.
Additionally, Toronto Pearson has committed to reducing GHG emissions at the airport and has signed on to the World Economic forum's Clean Skies Initiative which commits the aviation industry to using 10 percent Sustainable Aviation Fuel (SAF) by 2030. This shows the airport's support of the Clean Skies for Tomorrow Ambition Statement by the World Economic forum at the UN Climate Change Conference of the Parties, or COP26. Read More.
Our Operations and Healthy Airport
Skytrax recognizes Toronto Pearson as the Cleanest Airport in North America COVID-19 testing at Pearson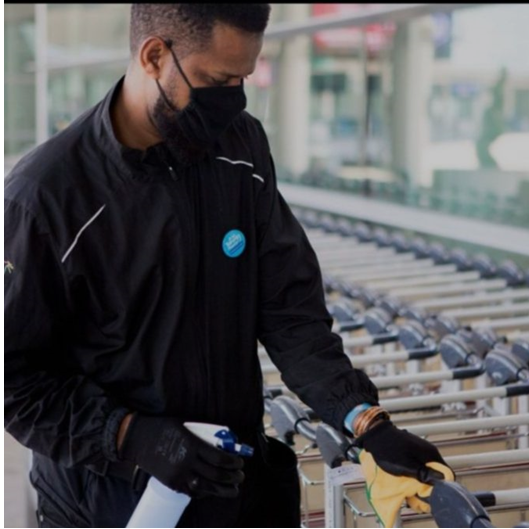 Toronto Pearson is proud to be recognized by Skytrax as the cleanest airport in North America for 2021. Our globally accredited Healthy Airport program employs a layered approach that includes enhanced cleaning, mask-wearing, HVAC enhancements and much more to ensure a healthy airport experience. This recognition illustrates the commitment our cleaning partner, Dexterra, has to our Healthy Airport program. Learn More.
Healthy Airport - The Evolution of Air Quality Monitoring at Toronto Pearson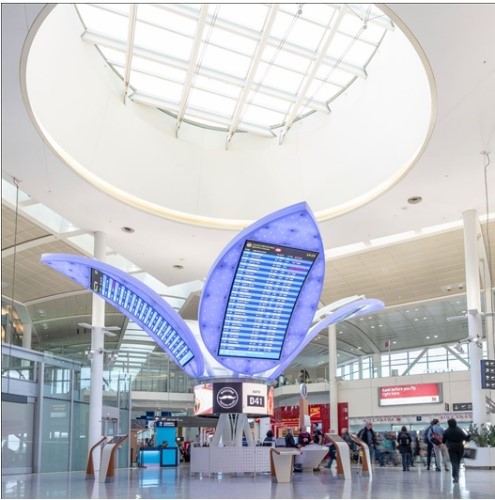 Toronto Pearson is pleased to announce that in September, we moved to an in-terminal air quality monitoring system. The new system integrates more seamlessly with the rest of our in-terminal systems and gives us the opportunity continue making incremental improvements in the months and years ahead. Enhanced filtration, UV light sanitization of our HVAC system and air quality monitoring are important layers in our Healthy Airport program. Learn More.
Toronto Pearson – Critical to Canada's Supply Chain
Air cargo played a critical role in Pearson's operations over the last 18 months. On November 8th, 2021, Deborah Flint moderated a panel that discussed the importance of air cargo: leveraging the air cargo revenue stream, attracting more cargo airline service, and how airports can integrate cargo intro their strategic plans. Learn More.
 Wrap up of Annual Runway Maintenance Work and Upcoming 2022 Airside Maintenance Project
Phase 1 of threshold work on Runway 05/23 was completed in October 2021 and Phase 2 work is scheduled to begin for early 2022. In addition, Taxiway work for Runway 06L/24R was completed in October 2021. Work continues on the Bombardier facility at the north end of the airport causing intermittent availability of Runway 05/23 overnight. The upcoming 2022 Airside Maintenance Project focuses on the reconstruction of Runway 06L/24R to enable continued safe operations. More details on this project including timelines and community impacts will be shared in early 2022. Stay up to date with Toronto Pearson noise advisories, here.
Join the conversation on proposed airspace changes in northern GTA
NAV CANADA, in collaboration with the GTAA, has launched a public consultation as the next step in a proposal to introduce airspace enhancements around Toronto Pearson.
The proposed changes will introduce a modern arrival procedure known as Required Navigation Performance Authorization Required (RNP AR) for two runway ends at Toronto Pearson.
RNP AR provides the opportunity to design shorter, more direct routes, enabling aircraft to turn towards the airport sooner. These procedures will support environmental sustainability efforts by significantly reducing greenhouse gases and the overflight of residential areas.
If implemented, some residents may observe changes to air traffic patterns. As a result, NAV CANADA is undertaking public consultation to ensure that communities and businesses have the opportunity to learn about and provide input to the proposed changes.
Consultation sessions have been held in Halton Hills, Brampton, Caledon, Vaughn, Oakville. Mississauga and Toronto, as well as two "general" consultation sessions.
Visit navcanada.ca to learn more about the proposal, register for upcoming online public briefings or to submit a question and your feedback.    
Tourism Industry Association of Canada (TIAC)
On Wednesday December 1st, Deborah Flint participated in the annual Tourism Industry Association of Canada (TIAC) Tourism Congress.
Deborah joined a transportation sector panel discussion that brought together transportation sector specialists to weigh in on efforts to maintain services.  Underlying all of this is understanding that Canada's visitor economy depends on a robust national transportation network or ecosystem.
The discussion was moderated by the Hon. Perrin Beatty, President & CEO, Canadian Chamber of Commerce.
Copyright © 2020 Greater Toronto Airports Authority, All rights reserved.

Greater Toronto Airports Authority
3111 Convair Drive
PO Box 6031
Mississauga, ON, L5P 1B2, Canada

Please refer to the GTAA's Privacy Policy for more information regarding the manner in which we treat personal information.