Q1 2022 financials and passenger traffic highlights
On May 10, the GTAA released its first quarter results. While passenger activity increased, all measures of operating activity continue to be well below 2019 levels due to the impact of the pandemic on Toronto Pearson and the global aviation industry in general.
Highlights:
Passenger activity increased by 384.5 per cent during the first quarter of 2022 compared to the same period of 2021

Q1 2022 recorded a net loss of $44.6 million

Free cash flow increased $71.1 million to $33.5 million during the first quarter of 2022, when compared to the same period of 2021, primarily driven by the significant increase in revenues over the increase in costs, and lower capital expenditures.
Due to the impact of COVID-19, there is limited visibility on travel demand due to changing government restrictions in Canada and abroad. Additionally, there are ongoing significant delays in passenger flow, particularly at peak travel times, in the airport due to legacy public health requirements and staffing shortages at government checkpoints.
Departure and arrival delays and government asks
On May 30, the GTAA's Board Chair, Doug Allingham, participated in a press conference at Toronto Pearson along with Mississauga Mayor, Bonnie Crombie, Mississauga Tourism CEO, Victoria Clarke, and Mississauga Board of Trade President and CEO, Trevor McPherson. The press conference, held at T1 International Arrivals, kicked off Tourism Week and called on the federal government to urgently address delays at federal government checkpoints in-terminal, particularly by removing mandatory random testing at the airport and removing duplicate health checks and questions in the customs process.  
We thank the federal government for their commitment to increase agency staffing at Pearson, which is making a difference, and we are committed to collaborating with the federal government on concrete solutions. However, more must be done to address passenger wait times ahead of this summer's travel season. There are still too many passengers held on board aircraft and for too long. 
As such, we continue to call on the federal government to urgently streamline or eliminate inbound legacy public health requirements at Canada's airports, and in doing so help to alleviate bottlenecks for international arriving passengers. We are also asking the federal government to move random testing upon arrival off-site from Canada's airports quickly, or explore other effective and proven options such as community wastewater testing. 
As the 2nd largest employment zone and largest airport in Canada, we have a critical role to play in supporting Canada's economic recovery. 
It's time to rebuild our travel and tourism industry and recover. For many, the airport is the first part of the travel experience. Whether arriving or departing, our passengers need to be confident they will have a smooth and efficient experience.  
Canadians are ready to travel and we're ready to support them. Let's restore our industry together. #TourismWeek 
GTAA wins the first ever Mississauga Tourism Resiliency award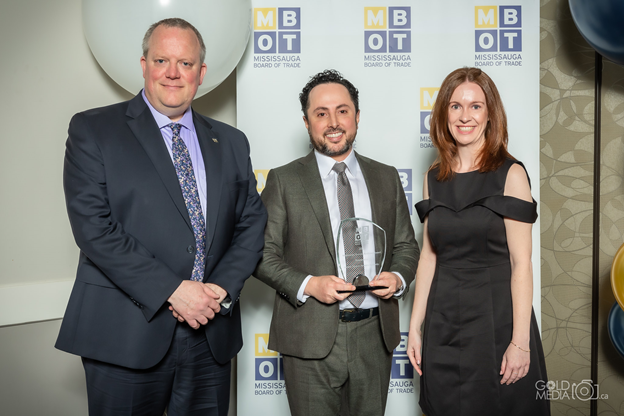 Recognized by the Mississauga Board of Trade at their annual Business Awards of Excellence event, the GTAA has won the first ever Mississauga Tourism Resiliency Award! The award is given to an organization that has shown resilience throughout the COVID-19 pandemic, and we're proud to be recognized for our efforts during this challenging time. Michael Mendel, Manager, Government Affairs and Stakeholder Relations, received the award on behalf of the GTAA. 
Canada's economic wellbeing is intricately linked to Toronto Pearson's direct global connectivity. Our airport is a key economic driver, located in the heart of the second-largest employment zone in Canada. Pre-pandemic we served 50 million passengers per year and facilitated $42 billion in GDP for Ontario. 
Throughout the pandemic, we have learned just how vital it is to connect with each other in person. As recovery continues, our focus will remain on reuniting friends and family, bringing tourists to Canada, and contributing strongly to our hard-hit tourist industry. 
We will continue to help our region, the province and the country build back better! 
GTAA CEO, Deborah Flint meets with U.S CBP representatives in Washington, D.C 
For passengers travelling from Pearson to the U.S., the pre-clearance process allows them to clear U.S. customs here, instead of at their destination. This provides a convenient travel experience and facilitates travel to some U.S. airports that have limited or no customs capacity, allowing U.S. airports and locations to receive international visitors. 
Like many things connected to air travel, the number of U.S. CBP officers located at Pearson was affected by the pandemic as travel decreased significantly. As travel continues to recover, the GTAA's President and CEO, Deborah Flint, travelled to Washington to speak with representatives about ensuring that as the fourth largest port of entry by air to the U.S., Pearson has the resources and capacity needed to handle expected increases in passenger demand. 
While in Washington, Deborah also visited the Canadian Embassy and met with Senator Shelley Moore-Capito of the Senate Appropriations Committee. 
ECWE transit funding announced in provincial budget 
On April 28th, the provincial government announced that it will provide $24.4 million to advance the next phase of study needed to connect the Eglinton Crosstown West Extension (ECWE) with Toronto Pearson. Toronto Pearson welcomes this funding commitment towards a necessary transit connection to Canada's largest airport at the heart of Canada's second-largest employment zone. Once realized, this connection will help move passengers, employees and critical goods and is an important part of Ontario's economic recovery.  
The proposed Airport Segment of the ECWE would extend the route an additional 4.7 kilometers from Renforth Drive to Toronto Pearson. The GTAA has been working with Metrolinx, the Ontario agency in charge of the ECWE project, on the proposed extension. This extension is crucial to moving millions of people and provides a vital transit connection to Pearson for workers and travellers alike. 
As the airport continues its recovery, Pearson will work with all levels of government to ensure that a healthy and strong airport supports Ontario's economic, social and transportation goals. Better regional transit connections to Pearson will help connect people to jobs, employers to workers, and our province's regions: from Waterloo to Durham, Toronto to Peel. Capital funding is needed to support the connection of key transit projects to Pearson. These include the Eglinton Crosstown West Extension, and future airport connections for the Finch West LRT, Kitchener GO Corridor and the 407. 
Our operations and Healthy Airport 
Investing in airport workers with Ontario's Skills Development Fund 

As much as an airport is about runways and planes, it's even more about people, and we're excited to announce a major investment in Toronto Pearson's people. The GTAA will receive more than $1.6 million from the Ontario Ministry of Labour, Training and Skills Development (MLTSD) to create Toronto Pearson's first ever airport-wide job portal called Pearson Works! Online. 
 
The funding comes from the ministry's Skills Development Fund, and on April 28 we welcomed Deepak Anand, the Parliamentary Assistant to Minister McNaughton and MPP for Mississauga – Malton to celebrate and recognize the awarding of this significant funding. 
 
Pearson Works! Online will support the recovery, reskilling and upskilling of the Toronto Pearson workforce, one of the country's most dynamic, multi-employer workplaces. This portal will connect more than 400 airport employers and the thousands of airport workers with job opportunities, training and supports, while helping one of the hardest hit sectors of Ontario's economy. Learn More. 
New airline routes out of YYZ 
Great news! A new, nonstop route out of Pearson has been added by our partners at American Airlines and two new routes by Flair Airlines. On April 5, American Airlines began direct service to Boston, Massachusetts, operating three times daily. 
Flair Airlines launched direct service to JFK Airport in New York, operating two times weekly, celebrated with a ribbon-cutting event at the departure gate. Flair also began nonstop service to Nashville, Tennessee on April 14, with flights two times per week. 
This network expansion by our airline partners is encouraging news as we continue working with them to bring even more travel options for our passengers. We look forward to welcoming additional routes and more passengers to our airport in turn. 
Our passengers + employees 
Celebrating two milestones with Uber at Toronto Pearson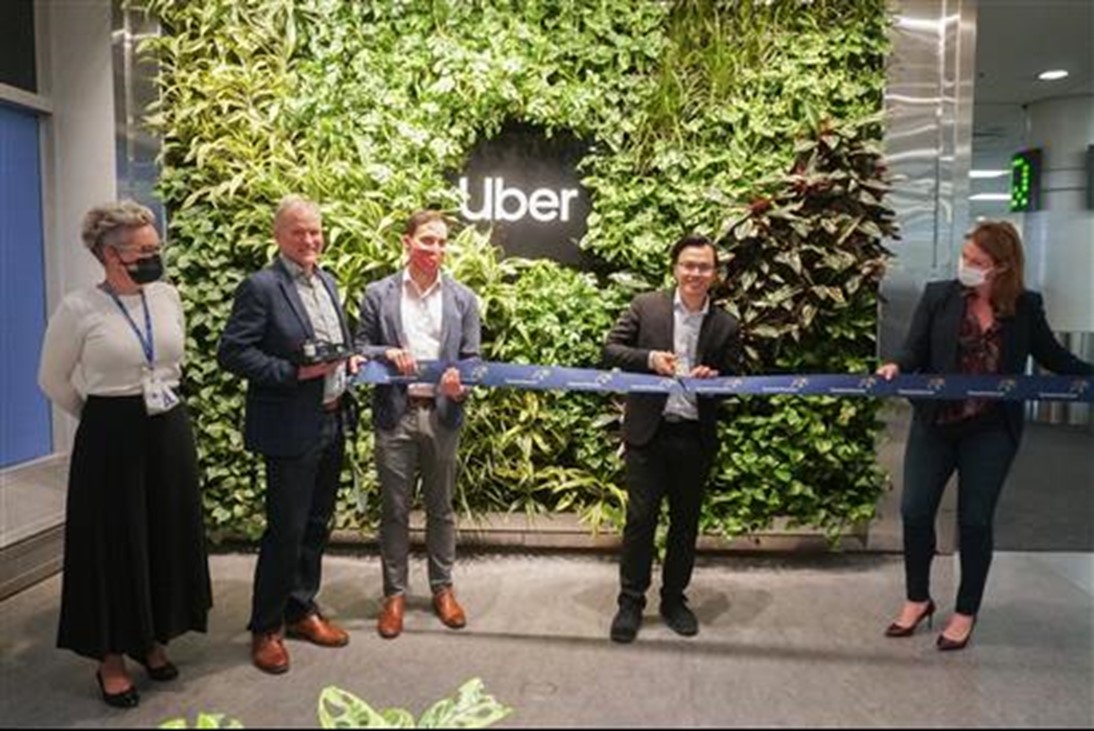 Our partnership with Uber reflects our commitment to providing the best possible experience for our passengers and ongoing innovation. We're celebrating the grand opening of the Uber seating area for riders on the ground level of Terminal 1. The seating area is now open and features furniture made with sustainably sourced wood and a living wall. The development of the space is aligned with the GTAA's commitment to Net-Zero carbon emissions by 2050 and Uber's Road to Zero Emissions. 
We're happy to be recognized by our partners for our commitment to innovation in the industry. This year, Uber has awarded Toronto Pearson an Innovator Award for 2021. Each year, Uber recognizes airports in the US and Canada whose efforts demonstrate a commitment to innovation through initiatives and operational pilots that can serve as a model for the broader industry. Toronto Pearson joins Philadelphia and Denver International Airports in receiving the 2021 Innovator Award. Read More. 
Airport information technology partners collaborating for airport projects  
Although planes and passengers are important to airports, there are many behind the scenes operations that keep people moving to their destinations. At Toronto Pearson, collaborating with technology experts, manufacturers, and service providers is critical to bringing airport projects to life. In 2021, the GTAA's information Technology & Airport Development group did just that by creating an enhanced connections area for passengers in Terminal 1.  
Completing these critical passenger and process improvements during a global pandemic at Canada's largest airport is reliant on the support of many dedicated collaborators including Brock Solutions, Wipro Canada, and many more. Read More.  
A new source for information about your airport

Toronto Pearson has lots to talk about. Every day, we spark conversation with our passengers, community members, and other interested followers on our Twitter feed, @TorontoPearson. 
To make sure information and discussion about our airport is the most useful, we're building a new Twitter destination for information about our business, our community and our industry - @PearsonComms. 
@Torontopearson will continue to be the Twitter home for everything you need to know about our airport including passenger programs and services, shopping and dining options, operational updates and travel information. Passengers who are preparing for travel or heading to the airport will get convenient access to real-time information about the airport @TorontoPearson. 
Other interested stakeholders can take a deeper dive into everything @PearsonComms, including information about our community involvement, partnerships and the work of the Greater Toronto Airports Authority – the operators of Toronto Pearson. 
Pearson welcomes the Honourable Omar Alghabra, for 06L/24R ground-breaking 
On April 25, our president and CEO, Deborah Flint, welcomed The Honourable Omar Alghabra, Canada's Minister of Transport, to Toronto Pearson for a ground-breaking ceremony to mark the start of the Runway 06L/24R rehabilitation. Local elected officials, GTAA executives and representatives from Dufferin Construction and Avia NG were also on present. Modern innovation and advance planning will allow Pearson to complete the project in eight months, and with a more sustainable approach. Read more.   
Mark your calendars for the 2022 Noise Forum Meetings 
The Noise Management Forums are a series of briefings, presentations and working groups that are helping Pearson work smarter with its communities and collaborate better with industry partners. You can view the schedule of upcoming meetings here. 
06L/24R Runway Rehabilitation Project 
Toronto Pearson International Airport has embarked on one of the largest runway rehabilitation projects in its history. In April, the airport began major work on 06L/24R, Toronto Pearson's second-busiest runway, first built in the 1960's, to ensure the continued safe operation of the airport, and consequently the safety of passengers, employees and the communities we serve. Significant progress has been made and the project is now moving into Phase 2. Keep up to date on the project here. 
Copyright © 2020 Greater Toronto Airports Authority, All rights reserved.

Greater Toronto Airports Authority
3111 Convair Drive
PO Box 6031
Mississauga, ON, L5P 1B2, Canada

Please refer to the GTAA's Privacy Policy for more information regarding the manner in which we treat personal information.