Q3 2022 financials and passenger traffic highlights
On November 10, the GTAA released its third quarter results for the three- and nine months ended September 30, 2022. Passenger activity significantly increased when compared to the same periods in 2021, given the easing of pandemic-related travel restrictions and pent-up travel demand.
Highlights:
Passenger activity increased by 6.5 million or 135.1 per cent to 11.2 million and by 18.9 million or 273.7 per cent to 25.7 million during the third quarter of 2022 and the first nine months of 2022, respectively, when compared to the same periods of 2021.





During Q3 2022, the GTAA recorded a net income of $73.7 million
As a result of COVID-19, changing travel restrictions in place and potential new variants in Canada and around the world, combined with staffing and other challenges faced by the global aviation industry, there remains limited accurate visibility on the future of travel demand. While the full duration of the COVID-19 pandemic cannot be known at this time, the GTAA believes that full recovery will be achieved over time.
Federal pre-budget submission
Canadian airports have historically been magnets for jobs and investments. They support trade and tourism and can be significant contributors to local and national GDP. While we are focused on the immediate needs to deliver a positive travel experience in the upcoming travel seasons, we are also seized with the need to address workforce challenges, drive investments that will provide a seamless, digitized travel experience and unlock the airport's potential to drive job creation, innovation, and support Canada's economy. The GTAA put in a pre-budget submission which highlights the following recommendations:
Reinvest airport ground rent into transformative sustainable capital: The Government of Canada should allow airports to retain and reinvest the rent into sustainable, transformational infrastructure and supply chain reliability, and play a larger role as an investor in airports, including support of Pearson's National Trade Corridor Fund (NTCF) application.
Enhancing the passenger travel experience: The government of Canada should make the following initiatives a priority to enhance the passenger travel experience:
Ensure Canada's key agencies have the talent and workforce to support peak December 2022 and Summer 2023 travel, and that these organizations are staffed and funded to deliver globally competitive service level standards for travellers.
Building on pilot projects in 2022, launch a risked-based pre-board security national trusted traveller program, grow the pool of eligible travellers, and allow for the faster, secure processing of low-risk passengers by Summer 2023.
Move forward with the CBSA and Transport Canada Modernization programs announced in the 2021 Federal Budget to streamline and improve Canada's border processing and digitize the end-to-end travel process. This includes the long-awaited modernization of the Customs Act and continued use of Advanced Declaration.
Provide $2.5 million to launch a RAIC-ready pilot to address staff shortages across the airport and reduce the barriers newcomers, youth and women face when accessing airport jobs, and that the government allocate additional resources to accommodate the increase in security clearance applicants.
Provide Canadians and visitors more choice and access to made-in-Canada products:
The Government of Canada should modernize its duty-free policies and regulations to allow the establishment of Arrivals Duty Free (ADF) and Dual Shop Stores (DSS) at Canadian Airports to further support small and local businesses.
The future of COVID-19 surveillance is happening at Toronto Pearson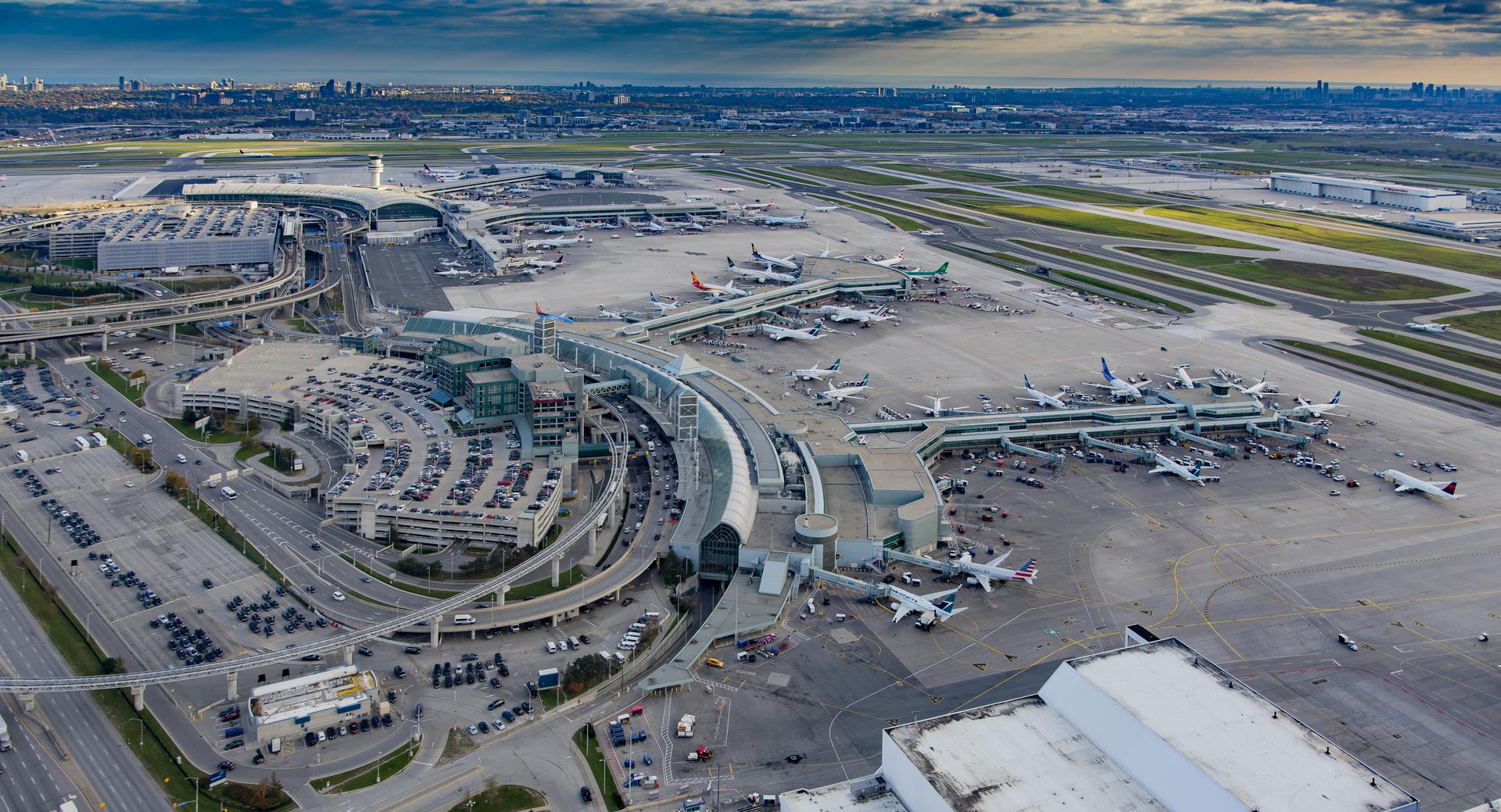 A new report from the Innovation Economy Council titled "From Gateways to Sentinels: How airports can use detection to control infection," is shining a light on the impact Toronto Pearson is having on the future of pandemic response. Throughout the COVID-19 pandemic, travel restrictions were a prominent measure used by governments to curb the spread of the virus. Two and a half years later, infectious disease experts, data specialists and others agree that there are some less invasive approaches that can be used and still deliver the needed protections. 
The report highlights the role global airports are playing in early detection of new variants through Artificial Intelligence-driven early warnings, wastewater surveillance and more. Airports are no longer just gateways for travel but are valuable sources of vast amounts of data for public health policymakers to help make decisions. Toronto Pearson is embracing its position as Canada's busiest airport to lead the way with innovations that can help shape the next stages of the pandemic. The full report can be found here.
Introducing YYZ Express Lane for Domestic and International Departures
Your time while traveling is important, let us help with YYZ Express – an online reservation program to speed through security screening queues for passengers flying out of Toronto Pearson. Available for Domestic and International departures at Terminal 1 security checkpoint D and Terminal 3 security checkpoint B and C, passengers will now have an easier time getting where they need to be!
Schedule your reservation up to 72 hours before your flight or while at the airport. Simply add your flight details, the number of people in your group, your contact information and select a time! The best part? There's no membership required – it's free! Book your spot today!
Toronto Pearson achieves Airport Carbon Accreditation Level 4
On September 23, the GTAA, announced a major milestone in its environmental sustainability goals. The airport has received Level 4  - Transformation designation through Airports Council International's (ACI) Airport Carbon Accreditation (ACA) program. The GTAA is one of the first Canadian airports to receive Level 4 certification. ACI's ACA assesses and recognizes the efforts of airports to manage and reduce their carbon emissions through six levels of certification: mapping, reduction, optimization, neutrality, transformation and transition.
The GTAA has long been a leader in environmental sustainability, proactively putting in place a program to reduce greenhouse gas (GHG) emissions in 2009. That strategy resulted in significant GHG reductions by 2020, earning it an Environmental Award in the Environmental Management System category from ACI.
In 2021, the GTAA released an Environmental Policy that includes a commitment to achieve net zero Scope 1 & 2 emissions (GHGs from assets owned and operated by the GTAA) by 2050. To do this, the airport is incorporating environmental considerations into all airport operations and capital projects.
Our operations and Healthy Airport
Canada Jetlines begins service out of YYZ
We're thrilled to welcome Canada Jetlines, the latest airline to begin service out of Toronto Pearson! The all-Canadian leisure carrier took off to Calgary on November 10 for its inaugural service and will operate two times weekly, increasing to four times weekly by mid-October.

Canada Jetlines—operating as Jetlines—is headquartered in Mississauga and will have Toronto Pearson as its primary base. The airline will operate with a fleet of one Airbus A320-200, with a second scheduled to be delivered later this year and a third in 2023.

The launch of a new airline and expansion of the route network out of Pearson is always welcome news, and we're pleased that passengers now have another travel option to explore Canada available to them.

Learn more about Canada Jetlines by visiting their website.
Pearson is leading security screening innovation
Working with Liberty Defense, we tested the Hexwave portal from November 3 to 11, to test an enhanced security screening method that does not require a person to remove shoes, take out their electronics or remove items from their pockets. 

This beta test will help us gain insights into how the portal works in real time, what improvements might need to be made and how this could be implemented to improve security screening in the future.

The Hexwave system detects threats concealed on the body under clothes using millimetre wave technology that safely emits a low-power radar signal that is a fraction of Wi-Fi. The system protects the users privacy by not personalizing image data, and images are never seen by an operator. The operator only receives real-time information about threat location as people pass through the system. Hexwave does not retain the 3D radar image and only displays a standardized person outline.
Introducing Toronto Pearson's new waste sorting assistant: Oscar

At Toronto Pearson, we take environmental sustainability seriously. We're already an environmental leader in our industry but we're always striving to be better. We're committed to finding innovative ways to better manage our environmental impacts. This includes always looking for ways to divert materials from landfills.   
An ongoing challenge is ensuring waste is correctly sorted at waste bins located throughout our terminals. To help our passengers and airport workers with waste sorting, we've partnered with Intuitive AI to pilot, Oscar, an artificial intelligence enabled waste bin, in our Terminal 3 food court. The intelligent waste bin has a 32-inch screen and a camera paired with artificial intelligence to identify each item and direct the user where to drop it. Oscar can help with waste diversion and give us valuable insight into the waste we're generating at Toronto Pearson. Look for the Oscar waste sorting station in the Terminal 3 food court and give it a try!
Our passengers + employees
New interactive kiosks in the terminals
We've installed interactive kiosks throughout the airport to help you access the information you need, when and where you need it. This is one step forward in our plan to provide our guests with more options throughout their travel journey and enhance the passenger experience. 

Located in Terminals 1 and 3, these new kiosks will provide real-time information on flights, wait times, maps, food and beverage, ground transportation and more. The kiosks are also multi-lingual and provide two-way communication through audio calls, so you can make direct calls to hotels, restaurants, and airport assistance. Find one near you.
BlindSquare assistive technology expanded at Pearson

In consultation with Canadian National Institute for the Blind, we're proud to announce that BlindSquare, a leading-edge assistive technology, is now available to all departing passengers in Terminals 1 and 3. 
There are now a total of 27 smart beacons (16 in Terminal 1 and 11 in Terminal 3) at Toronto Pearson marking routes that enable greater independence for passengers with sight loss as they journey to a gate.  

The beacons mark important/major milestones along the passenger journey, from curb to gate, and essential services available along the route including the location of pet relief areas, in-terminal shuttle, washrooms, and food and beverage locations. This expansion follows a successful two-year trial of BlindSquare which has provided more choice and enabled greater independence for passengers with sight loss as they navigated the domestic departure area in Terminal 1. Toronto Pearson was the first airport in Canada to offer BlindSquare. Learn More.
Runway 06L/24R - cleared for takeoff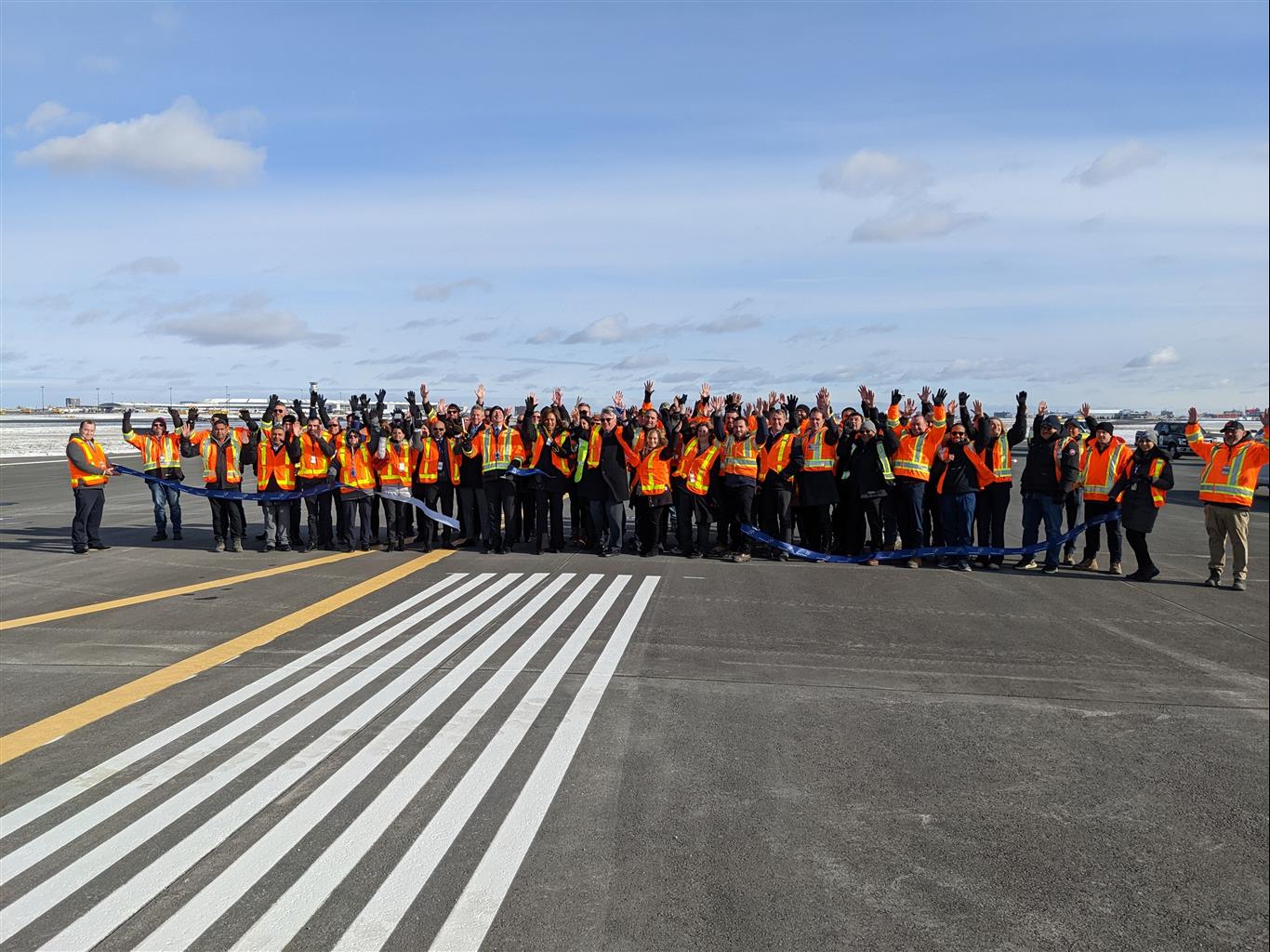 We're proud to share that the rehabilitation of Runway 06L/24R, the airport's second busiest runway, has successfully concluded on time and on budget.

Beginning in April this year, work began to repair general wear and tear from weather, use and time, and with the completion of the project, the life of the runway has been extended by 30 years – all thanks to the many employees and external partners who were involved in delivering this project! The success of the project could not have been possible without their hard work, collaboration and expertise, and we commend their efforts.

On November 17, a celebration and ribbon cutting on the runway was held with GTAA President and CEO, Deborah Flint, Chief Operating Officer, Craig Bradbrook and Vice President, Airport Development and Technical Services, Pat Neville to recognize the employees and partners who helped play a part in the project and mark the runway's reopening. On November 21, The Honourable Omar Alghabra, Federal Transport Minister, joined GTAA President and CEO, Deborah Flint, along with local elected officials to commemorate the re-opening of the runway. Learn More.
Mark your calendars for the 2022 Noise Forum Meetings
The Noise Management Forums are a series of briefings, presentations and working groups that are helping Pearson work smarter with its communities and collaborate better with industry partners. You can view the schedule of upcoming meetings here.
Update on 2022 RNP AR implementation
NAV CANADA, in collaboration with the GTAA, is supporting environmental sustainability and reducing noise impacts on communities in the Greater Toronto Area through new approach procedures at Toronto Pearson Airport. Early in 2021, NAV CANADA committed to community consultation as per the Airspace Change Communications and Consultation Protocol. The consultation is complete and a detailed report is available online. Feedback gathered during the consultation period resulted in some adjustments including relocation of the Runway 23 arc segment slightly further east and a steeper descent gradient on both the runway 05 and 23 approaches. Implementation of RNP AR approaches to runway 05 and 23 occurred in late November 2022. Learn more. 
Airport-wide job fair a success!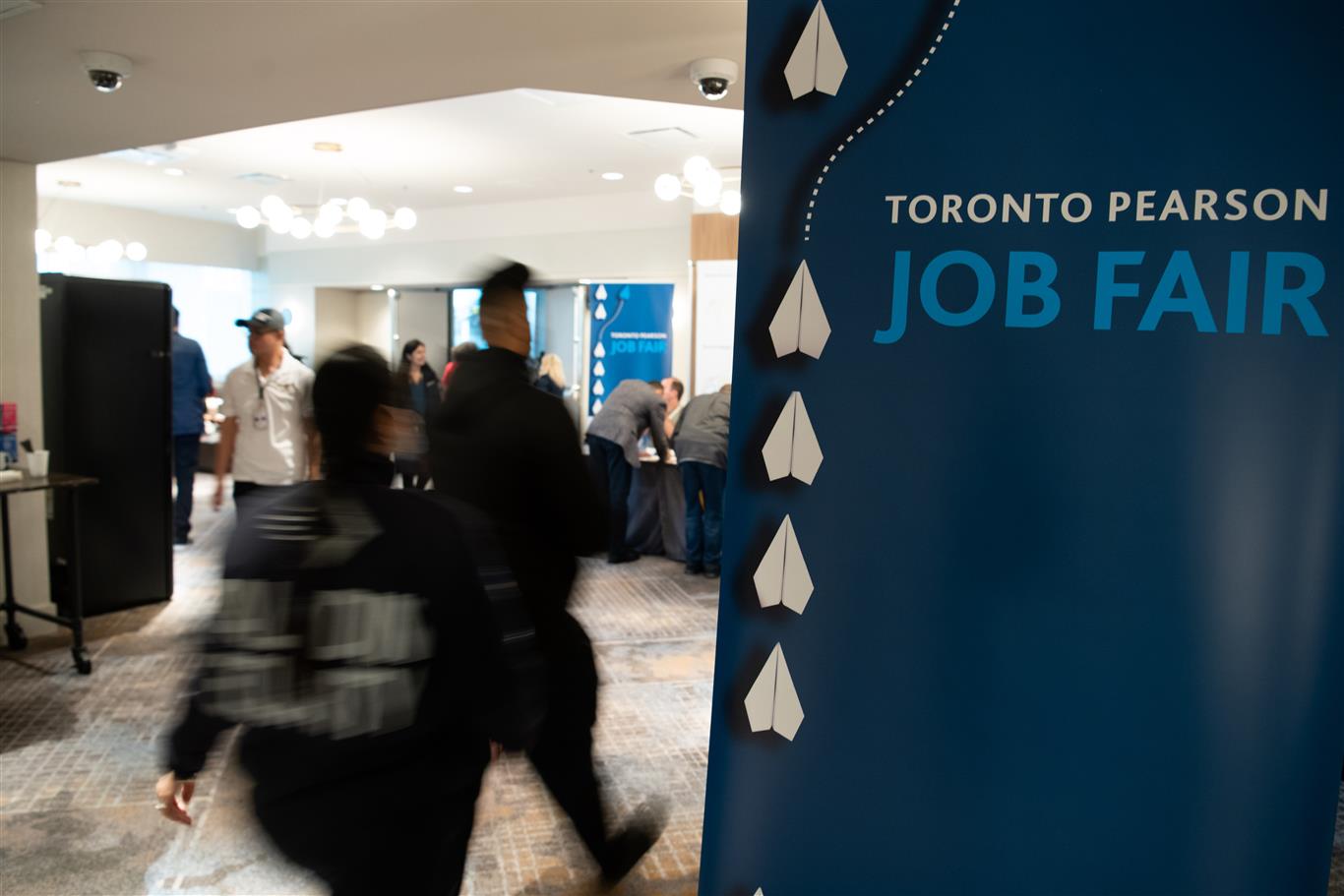 On September 27, we held a multi-employer Toronto Pearson job fair. We hosted almost 400 job seekers and had 20 employers offering over 250 roles. Six employment services agencies from the non-profit sector attended to support both their job seekers and our employers. During the event, job seekers were able to meet with employers to learn about available positions and drop off their resumes with employers they were interested in working with.

The direct impact of the job fair is already being seen across the airport. So far, our employer partners anticipate over 80 direct hires from the job fair and multiple companies have already had these employees start orientation! We have provided great feedback from both employers and job seekers that is helping inform decisions as we plan future events.

Pearson Works and the airport-wide job fair was funded by the Ontario Ministry of Labour, Immigration, Training and Skills Development (MLITSD) through the ministry's Skills Development Fund. Pearson Works! was developed to support the recovery, reskilling and upskilling of the Toronto Pearson workforce, one of the country's most dynamic, multi-employer workplaces.
The next job fair will be help on January 31, 2023. Stay tuned for more information.
GTAA awards $387,000 in funding to six organizations to help combat underemployment
From providing employment opportunities to Ukrainian newcomers and mentoring for jobs in aviation to opening pathways to careers in the arts, our commitment to surrounding communities has never been stronger.
After an extensive evaluation period, the GTAA has announced the recipients of its 2022 Uplift Fund. Six organizations have received a total of $387,000 for programs designed to break down barriers to employment and cultivate opportunities for communities around Toronto Pearson. To learn more about the Uplift Fund and the 2022 funding recipients, please visit here, and to learn more about the Propeller Project you can visit: torontopearson.com/propellerproject .
Copyright © 2020 Greater Toronto Airports Authority, All rights reserved.

Greater Toronto Airports Authority
3111 Convair Drive
PO Box 6031
Mississauga, ON, L5P 1B2, Canada

Please refer to the GTAA's Privacy Policy for more information regarding the manner in which we treat personal information.