GTAA Announces new Chief Financial Officer, Chief Infrastructure Officer, and Chief Commercial Officer
On January 31, the GTAA's President and CEO, Deborah Flint, announced the appointment of three new executives:
Chief Financial Officer, J'Maine Chubb
J'Maine Chubb has been appointed Chief Financial Officer of the GTAA. Mr. Chubb began this new role on February 6, 2023. Mr. Chubb was most recently CFO of TravelWIFI in Houston and for six years served as the CFO and Controller for Houston Airport System. Mr. Chubb has also led financial and business advisory positions at global conglomerates Halliburton and Schlumberger. He holds a BSc in Accounting and an MBA from Wayne State University in Michigan. Mr. Chubb is also a Chartered Global Management Accountant (CGMA), a Certified Management Accountant (CMA), a Certified Public Accountant (CPA) and an International Airport Professional (CSCA), and is certified in Strategy and Competitive Advantage (CSCA).
Chief Infrastructure Officer, Bernardo Gogna
Bernardo Gogna has been appointed Chief Infrastructure Officer of the GTAA. Mr. Gogna began this new role on February 23, 2023. Mr. Gogna was previously Senior Vice President for AECOM Arabia in Riyadh, Saudi Arabia. Before this, Mr. Gogna held senior airport development positions for nearly 15 years, including as Chief Development Officer for Los Angeles World Airports and Capital Programme Director for Royal Schiphol Airport Group. Mr. Gogna has held leadership roles in several significant airport development "mega-projects" and transformational programs.
Chief Commercial Officer, Khalil Lamrabet
Khalil Lamrabet has been appointed Chief Commercial Officer of the GTAA. Mr. Lamrabet started this new role on February 27, 2023. Mr. Lamrabet was previously CEO of the Saudi Air Connectivity Program in Riyadh and Senior Vice President of Aviation Development for Abu Dhabi Airports. He also spent 10 years as Director, Aviation Business Development at Dubai International Airport. He earned a Bachelor of Mechanical Engineering from Polytechnique Montréal and a Masters in Aerospace Engineering from McGill University.
"J'Maine, Bernardo, and Khalil are exceptional additions to our high-performing team at Toronto Pearson," said Ms. Flint. "Their qualifications and experience will be instrumental in solidifying our financial and business operations as we transform the airport and advance our Strategic Plan."
Government Budget Submissions
Provincial
The GTAA's provincial budget submission has been submitted to Ontario's Standing Committee on Finance and Economic Affairs as part of their 2023 pre-budget consultations. The submission provides a detailed look at the GTAA's key recommendations to ensure the continued success of Toronto Pearson:

Here's an overview of the GTAA's recommendations:
Connecting the Eglinton Crosstown West Extension to Canada's largest airport

Bringing Ontario's low-carbon hydrogen strategy to life at Toronto Pearson

Training and re-skilling airport employment zone workers

Addressing human trafficking

Powering recovery through federal airport rent relief
Federal
The GTAA put in a federal pre-budget submission to recommend the federal government take immediate action that would rapidly improve the passenger experience at Toronto Pearson and provide strong signals to the travelling public that action is taking place to support Canadians as they travel, as well as welcome new Canadians, visitors and foreign direct investment.
Here are GTAA's recommended immediate actions:
Better data sharing: Support improved operations and investment decisions at Canadian airports by requiring airlines to provide forecasted and real-time data to airport authorities. Improve coordination and cooperation with government agencies by amending their legislation to ensure they are authorized and mandated to share information with airport authorities.
Enhanced Trusted Traveller Program: By summer 2023, launch an enhanced Canadian Trusted Traveller Program at pre-board security screening and adequately fund CATSA to deliver a globally competitive level of service and reduce passenger wait times.
Digitization: Modernizing legislation and regulations to support the use of biometrics and enable a faster, seamless end-to-end journey. Additionally, free up CBSA and airport capacity by digitizing and moving international study and visitor permit issuance away from airport.
Rent reinvestment: Reinvest airport ground rents into transformative infrastructure projects to maintain world-class airports and protect Canada's competitiveness.
Canadian Airports Association (CAC) Lobby Day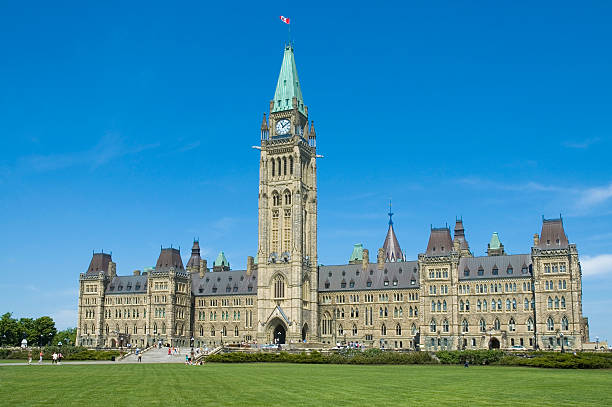 Toronto Pearson recently participated in the Canadian Airports Association (CAC) Lobby Day on Parliament Hill. We met with elected officials from all three major political parties as well as with government officials.
We highlighted the recommendations from the CAC's recent report, Runway to Recovery.  This included:
Data sharing amongst aviation partners to improve the passenger experience, enhance operational efficiency, and better future planning

Investing in technologies to improve processing, such as trusted traveller programs and facial verification

Reinvesting airport ground rent into strategic infrastructure
In many jurisdictions, airlines are required to provide detailed real-time data to airports, which in turn helps to ensure proper resources are available as well as improving overall On-Time Performance (OTP).  CAC and GTAA are asking that the same data be made to airports in Canada.
Toronto Pearson and YVR are currently participating in an Enhanced Trusted Traveller pilot which allows passengers to keep laptops, and liquids and gels in their carry on bags at pre-board screening. Passengers are also not required to remove their belts and shoes.  GTAA has called on the government to make these pilots permanent and roll out a national Enhanced Trusted Traveller program by the summer of 2023. Facial verification can also be implemented at various check points to improve the traveller journey. Use of facial verification will be optional giving passengers the option to be processed through the traditional method.
Airports are asking that the federal government allow airports to reinvest the rent paid to the federal government into strategic infrastructure that improve the passenger experience and align with the government's climate change initiatives.
Pearson recognized for accessibility improvement
On December 22, Toronto Pearson became the first airport in North America and second in the world to receive the Airports Council International's (ACI) Accessibility Enhancement Accreditation. The program is designed to help airports measure, evaluate and improve their accessibility management and culture, and is the only international assessment or accreditation program solely dedicated to airports' accessibility to passengers with disabilities. 
Learn more about the number of services and technologies we offer—including assistance for those with sight loss, hidden disabilities and more—by visiting our accessibility page.
March Break at Pearson: What you should know
If you're travelling through Pearson, we want your experience to be as comfortable, predictable, and enjoyable as possible. That is why we have compiled a list of tips to help your airport journey be a seamless one every step of the way. In addition to equipping you with tools to facilitate your travels, we also offer several services and experiences for you to enjoy, both before and after your trip through Pearson. Learn more on some ways you can prepare before heading to the airport.
YYZ Express – Expanded hours!
YYZ Express is an online reservation program that was launched at the end of last year for passengers flying out of Toronto Pearson to speed through security screening queues. The program was expanded before March Break. Available for Domestic and International departures at Terminal 1 security checkpoint D and Terminal 3 security checkpoints B and C, passengers now have an easier time getting where they need to be.
Schedule your reservation up to 72 hours before your flight or while at the airport. Simply add your flight details, the number of people in your group, your contact information and select a time – it's free! Book your spot today!
CBSA Advance Declaration and US CBP Mobile Passport Control
Canada Border Services Agency's (CBSA) Advance Declaration feature, through the ArriveCAN application, lets you submit your customs and immigration declaration up to 72 hours in advance of flying into Canada, saving you time with a faster border experience. Passengers can also take advantage of new Express Lanes that are exclusive to Advance Declaration users, saving even more time on arrival. Just look for and follow the green signs upon landing at Pearson to breeze through customs. More information on Advance Declaration can be found on CBSA's website.


And to get through U.S. Customs faster, be sure to use the Customs and Border Protection Mobile Passport Control (CBP MPC) app. Learn more.
The GTAA is responsible for baggage infrastructure. Airlines are responsible for handling and delivering your bags to the baggage system. Contact your airline if your luggage is lost, delayed or damaged during your flight.
If there is a bag left behind in our terminals, our airport team uses the tag to determine where it needs to go. If there is a bag without a tag, our airport team will investigate whether there is a name or phone number written on the suitcase to help trace its owner. Otherwise, our airport team will work with our airline partners to upload information into their system that describes the bag and some of the items found inside to help trace its owner.
Our passengers + employees
Raising awareness about human trafficking and educating travellers
Human trafficking is one of the fastest growing crimes in Canada as 93 per cent of reported victims are Canadian citizens who are trafficked domestically. Unfortunately, air travel is frequently used as a method of transport by traffickers.
That is why we continue to partner with #NotInMyCity, an anti-human trafficking initiative dedicated to preventing and ending human trafficking and sexual exploitation. 

As Canada's largest airport, we recognize we have a responsibility to take action. By coming together, we can help share suspicions with law enforcement, stay up to date on trends and provide awareness and education to our airport workers and passengers on the ways to recognize the signs of human trafficking and how to respond. 
Pearson launches new art installation in collaboration with Destination Toronto and Take Your Seat

Toronto Pearson is not just an airport. It creates a sense of place, bringing Canada to the world and the world to our country's doorstep. Whether you're returning home or just visiting, we want our passengers to be excited about the endless possibilities our city has to offer.  

In partnership with Destination Toronto, we had the opportunity to create a new sense of place in our baggage halls with our latest photography installation by award-winning local artists, Take Your Seat.  

In true collaboration, each image was carefully curated to represent every facet of our city and the communities many of our passengers call home. These compelling and cinematic images, located in Terminal 1 baggage halls and Terminal 3 Domestic baggage hall, will immerse our arriving passengers into our world-class city and surrounding regions, giving them a taste of the destination they're about to experience.  

This is the largest art installation for Pearson in the past ten years, and is funded by Destination Toronto, leveraging regional tourism funds received from the Ministry of Tourism, Culture and Sport and in partnership with Mississauga Tourism and the City of Brampton.
Mark your calendars for the 2023 Noise Forum Meetings and Open Houses
The Noise Management Forums are a series of briefings, presentations and working groups that are helping Pearson work smarter with its communities and collaborate better with industry partners. You can view the schedule of upcoming meetings here.
Join us on March 23 at our upcoming Open house on to learn more about what it takes to safely operate Canada's busiest airport and the ways we work to mitigate our impacts on the community. Register here.
Airport-wide second job fair a success!
On January 31, the GTAA and major airport employers held another successful airport-wide job fair through the Pearson Works program. We hosted almost 1,300 job seekers and welcomed over 30 employers from across the airport. Job seekers were able to meet with employers to learn about available positions and drop off their resumes. 
Pearson Works and the airport-wide job fair was funded by the Ontario Ministry of Labour, Immigration, Training and Skills Development (MLITSD) through the ministry's Skills Development Fund. Pearson Works was developed to support the recovery, reskilling and upskilling of the Toronto Pearson workforce, one of the country's most dynamic, multi-employer workplaces.
Celebrating new Canadians
On February 10, we welcomed 39 new Canadian citizens who received their Canadian citizenship at Toronto Pearson. 

This was our first citizenship ceremony in over five years and we are humbled by the opportunity to share this special event with Citizenship and Immigration Canada for the eighth year. This event helps to remind the airport community of the role that they play in welcoming new Canadians. 

Toronto Pearson is often the first impression many people have of Canada. By helping newcomers succeed, we remain a positive part of their lives and help to build our community.
Copyright © 2020 Greater Toronto Airports Authority, All rights reserved.

Greater Toronto Airports Authority
3111 Convair Drive
PO Box 6031
Mississauga, ON, L5P 1B2, Canada

Please refer to the GTAA's Privacy Policy for more information regarding the manner in which we treat personal information.