Think about the government affairs teams you admire. What characteristics come to mind? Dynamic? Tight-knit? Flexible? Confident? Collaborative? In-sync? By integrating your federal and state teams' work, you can strengthen the impact of both functions by opening new channels for collaboration, allowing your team to grow from the same knowledge base.
Spot Trends and Share Strategies to Target Copycat Bills
Using one system allows you to share resources and responses to copycat bills to replicate on previous success, no matter the level of government. A copycat bill is when a bill is introduced at the state level, and other states quickly adopt similar (or sometimes exactly the same) bill text. Copycat bills can also start at the federal level, with states adopting a federal bill's language to be more state-specific.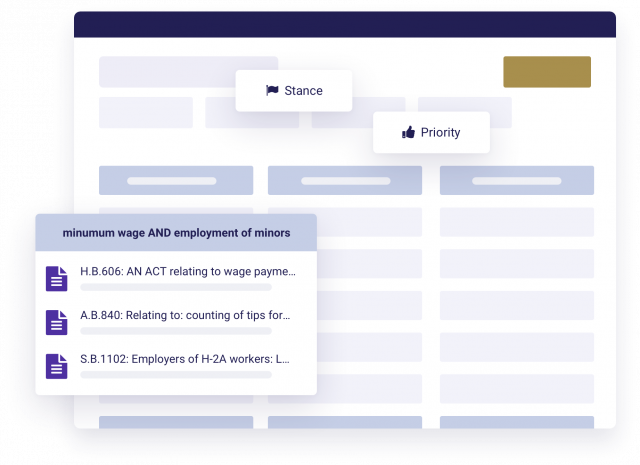 How Quorum Can Help – Alerts & Search
Use Quorum search functionality to quickly recognize copycat bills that use similar or identical phrasing to the bills you already track. Once you've found all copycat bills your team needs to track, set up alerts in Quorum to get updates in real-time on legislative developments for each one., ensuring you never miss a motion or a modification.
Coordinate on Issue Management to Maintain a Unified Message
You've spotted copycat bills using a unified system, now you need the strategy to act on them. A clear and cohesive issue management system across your state and federal teams can help you do that. Issue management allows your team to have one central place to store all information related to an issue — lists of bills, lists of key stakeholders, talking points, related events, and more. By having one issue management system across the state and federal levels, your team can more efficiently align on messaging and share talking points when responding to legislative developments.
Using a shared issue management system allows your state and federal teams to stay looped into the conversation on what strategies are working. For example — a priority bill passed at the state level has a positive outcome for your organization. There is a similar bill your federal team wants to pass in Congress. With one system, your federal team can reference back to the strategies your state team used when meeting with state legislators and translate them to meetings with members of Congress. Furthermore, passing a state bill can fuel your federal team's stance with evidence of a similar bill's positive outcome when meeting with federal legislators.
How Quorum Can Help – Issue Management
Quorum's issue management system act as a central location to store your bills, documents, and talking points on issues. With Quorum, you can easily tag bills, stakeholders, documents, grassroots campaigns, and events to an issue. If your team maintains a strong issues management system, you'll already have significant resources to help your team strategize when a new relevant bill pops up in a state rather than starting from scratch. When a copycat bill pops up, you can look to your issue tab in Quorum to find testimony team members have given for other identical bills in different legislatures and use that to prepare your testimony for the new bill.
Share and Expand Your Network
An integrated federal and state team allows for sharing connections with legislators at all levels. Often, state and federal officials have close relationships, particularly those that represent the same districts at different levels of government. To do this, have your team map their stakeholders and log their interactions in a unified public affairs software so both the federal and state teams have visibility into the relationships your team has.
The benefits of this are twofold. First, Federal and state representatives of the same regions often know each other and may take similar legislative stances because they share constituencies. With a shared system, team members preparing for meetings with state and federal officials can simultaneously prepare similar talking points. Second, many state legislators eventually run for federal office. If you're using an integrated system, your notes from when an official was a state representative will carry over when they're elected into federal office. This allows you to bring your institutional knowledge and existing relationships from the state level to the federal level.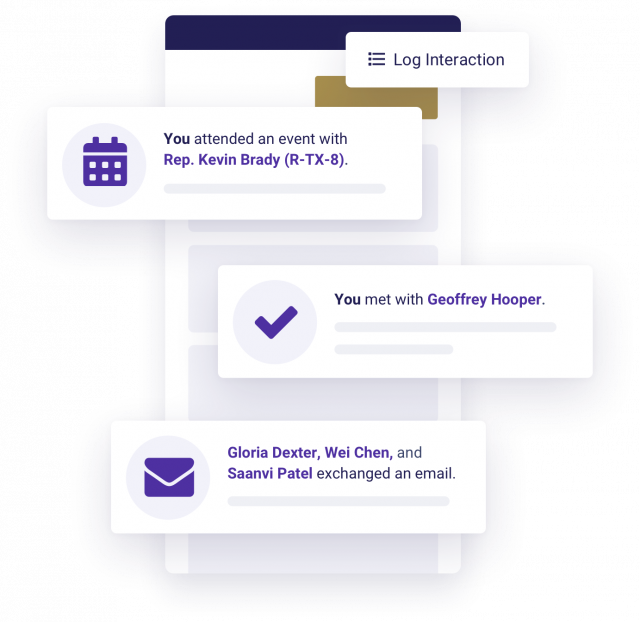 How Quorum Can Help – Relationship Management
Have team members use Quorum's interaction logger to note each interaction with a legislator, so your entire team is up to speed on what conversations are happening at all levels. They can then reference these past interactions when meeting with legislators to build on established connections, and pick up on where the conversations left off.
Centralize Your Reporting Process
Another benefit of integrating your federal and state government affairs is that you can centralize and streamline your reporting processes. With a shared system, your team can more efficiently share information and integrate your government affairs efforts without having to schedule meetings to do so. Your state and federal teams likely report up to the same VP of Government Affairs or VP of Public Affairs, so using the same reporting mechanisms can help better communicate the impact you are having on the organization.
How Quorum Can Help – Streamline Your Reporting with Dashboards
Use Quorum dashboards to report to leadership on your government affairs team's progress at all levels. You can also share the dashboards directly with leadership to give them access anytime they want to up-to-date digest of your team's impact in one place.
Unify Your Integrated Team with One Centralized System
No matter what government level or location team members work on, use Quorum to unify your team and make your integration deeper and more collaborative. California Water Service uses Quorum to track legislation and engage with legislators at the federal, state, and local levels. By housing their entire government affairs efforts in one place, they share resources to work more efficiently and proactively to achieve their legislative goals.