2020 saw a dramatic uptick in civic engagement with the timing collision of a presidential election, mass protests supporting the Black Lives Matter movement, and the need for government support for individuals and businesses during the COVID-19 pandemic. With nearly every citizen impacted by one of these events, many more people have participated in advocacy campaigns than ever before. And this trend has no signs of slowing down.
But with more involvement comes more competition. How do you stand out when dozens of organizations are pulling for advocate attention?
There are two key considerations for getting advocates' attention to join your organization and to participate in your campaigns. First, you need to use the right communications channels for the right purposes. Second, you need to make the most of your messages by making them succinct and engaging.
One of those channels that has seen a significant increase in usage and innovation is texting. Find out when you should use texting in your advocacy campaigns and how to make your texts stand out and support your team's goals.
The Right Channels for the Right Goals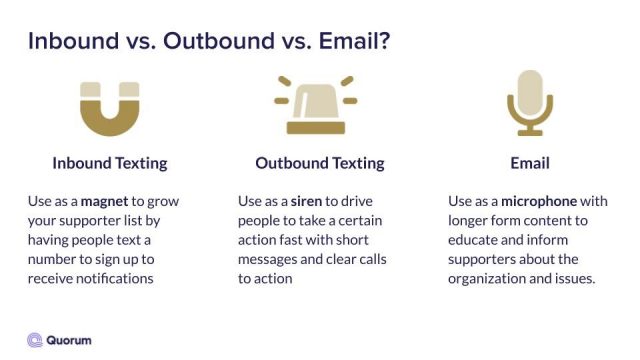 You're probably used to using email for your advocacy campaign, and introducing texting doesn't mean you should eliminate email. What's the right time for each? And what goals does each achieve? Let's break down inbound texting, outbound texting, and email.
What is inbound texting?
Inbound texting is used for advocate acquisition. This means that advocates are the ones texting you. Remember when the Biden campaign put a texting code on the side of their campaign plane? That's inbound texting.  In order to capture information from advocates who hear from your organization but aren't yet connected, you can share a word for them to text which prompts them to provide their information and join your advocate database.
While you might not be at the size of attracting advocates from the side of a plane, there are numerous creative ways organizations can adopt texting, no matter your budget. Out-of-home advertising is some of the most common, like advertisements on city buses or local billboards. However, with many people staying home during the COVID-19 pandemic, these same tactics can be used in digital channels like podcast ads when you're trying to capture information from those who see or hear your ads.
What is outbound texting?
While inbound involves advocates texting you, outbound means that you are texting your advocates to drive action and engagement. You've already collected someone's contact information and now you want to alert them to an opportunity to take action, read a new blog on your website, or sign up for an event. 98 percent of text messages are read, with 95 percent read within five minutes of receipt making texting a great way to drive action. 
When should you use email?
Your team is probably used to sending emails to drive engagement with your advocacy campaigns, but where does it fit in with texting? Texting generally does a better job of conveying urgency as advocates are checking their text messages much more frequently than their emails. But, you can fit much more content into an email with more dynamic visuals to drive engagement with that content.
With texting conveying greater urgency and email providing more opportunity for detail and storytelling, they work great when used in tandem as part of a multichannel campaign. For example, if you run a texting campaign through podcast ads, plan a follow-up email to any new advocates you've acquired with more detail on your issues or your organization's history. Or, if you sent an action alert through an outbound text message, send a follow-up email at the conclusion of the campaign sharing your team's results.
With the high volume of messages coming from advocate organizations across the board, combining multiple digital channels is beneficial to make sure you cover your bases in getting your advocate's attention.
How to Get Started with Your First Text Campaign
You're ready to venture into the world of grassroots texting, but what can you do to make sure it goes well? Here are some best practices for utilizing texting as part of your grassroots strategy:
Keep campaigns compliant with advocate opt-in — Before sending out your first message, you need to make sure your campaigns are compliant. You are legally required to receive consent before you can send any messages. A best practice is to use a double opt-in — advocates agree to receive messages in the form of a checkbox when they provide their contact information, then they opt-in a second time by replying to your welcome message.
Provide a clear value proposition— As more organizations adopt texting for marketing and advocacy campaigns, individuals will be increasingly wary of giving out their phone numbers. So, be clear with the value proposition of signing up for text messages from your organization. Will they get early invitations to your events? Subscriber-only content? First alerts of new campaign opportunities? Use these benefits to entice subscribers and keep them engaged.
Identify who you are in your texts — Advocates probably haven't saved the phone number that your organization sends messages from, so make sure to start off your message identifying yourself.
Be aware of time zones — As much as we all say we aren't going to sleep with our phones on our bedside tables, it inevitably happens. Ever been woken up way too early in the morning because your phone starts buzzing from a news alert or your night owl friend? It's not fun. You don't want to do that to your advocates, so make sure to send at a time that fits all time zones, or segment your audience by region to send messages at different times. Aside from avoiding the annoyance of a text while you're sleeping, you'll also drive better engagement with your call to action.
Know your message length — SMS text messages are limited to 160 characters, so it's important to draft your message strategically to get the most bang for your buck. Your styling abilities are much more limited in a text message as you can't underline, italicize, or change your fonts. Use all caps on your most important words, but use it sparingly so that it maintains its significance as relaying the most important details. Along with using all caps on the most important words, make sure your first words get the point across quickly about what the rest is about. For example, consider starting your message with [EVENT] if it's an invitation or [ACTION NEEDED] if you need them to act on a campaign.
Plan texts in coordination with your communications calendar— Your text campaigns should be in sync with your other communications going out to advocates. Depending on the circumstance, you may choose to space out your texts from other communications to avoid overburdening advocates with messages. But if you are doing a full-court press on a time-sensitive issue, it may be to your benefit to share across all channels at once to make sure your advocates don't miss your message.
But be ready for rapid response — While you may plan your text calendar in advance, don't be afraid to break the calendar if there's an opportunity for rapid response. Did your issue come to the forefront in a speech from a major official? Text about it and make sure your advocates know of those big moments. Rapid response is only successful if your team has a pre-planned process for execution — who is going to draft the message and who needs to approve it? Make sure those processes are confirmed in advance so when the moment comes you're ready to go.
Test + report on your success regularly — After you have built texting into your grassroots campaigns, test different language and message frequencies to see what drives the most actions or the most unsubscribes. Look at what your completion rate is from text message to action and how it compares to your emails to determine how to balance the two channels. Segment your audience to see if certain advocates respond better to texts than others.
Text messaging is still a relatively new area for many grassroots organizations, so now is the time to get ahead of the game and innovate to drive engagement and loyalty from your advocates before their phones are blowing up with messages.