The State of the Union address — or SOTEU, in its snappier form — is one of the most eagerly anticipated events in the EU affairs calendar. Wednesday's speech from Commission President Ursula von der Leyen elicited a tangible back-to-school buzz from the Brussels Bubble — but while you're busy unpicking what next year's priorities mean for you, we wanted to bring you another perspective: reactions from the Parliament itself.
We took a snapshot of MEPs' social media activity to gauge their reactions to this year's State of the Union address — who had most to say and which key themes resonated. Let's dive in.
Most Vocal: Left-Wing Political Groups Make Themselves Heard
Left-wing MEPs only occupy around a third of the seats in the Parliament, but that didn't stop them from taking up a bold place in the online conversation. Together, the three left-wing political groups — GUE/NGL, Greens-EFA, and S&D — accounted for an impressive 71.9% of social posts in Wednesday's #soteu dialogue.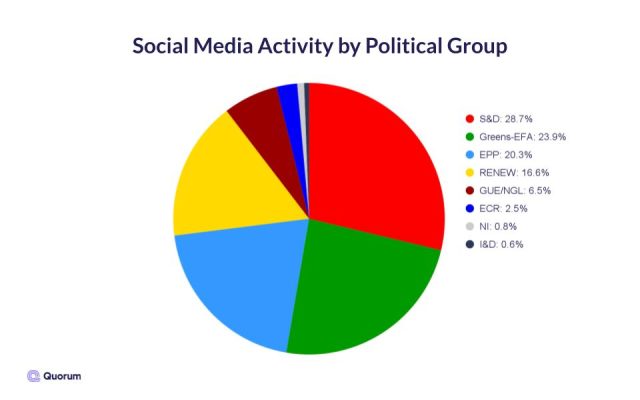 This trend is consistent when we zoom into MEPs' social activity at an individual level. Eight of the ten most vocal MEPs sit left-of-centre, with the remaining two spots occupied by the centrist RENEW and centre-right EPP.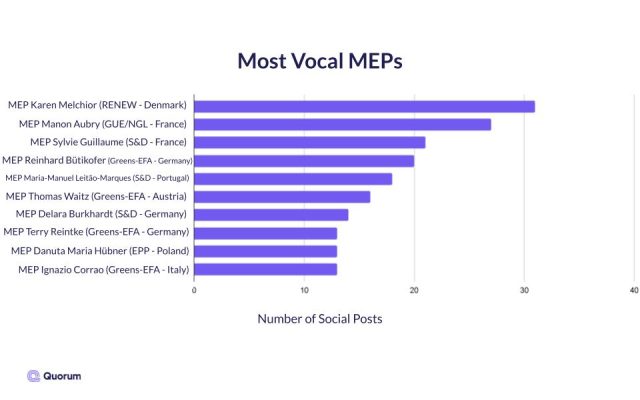 While President von der Leyen's address touched on issues that are near and dear to the left, such as the green energy transition, this alone isn't enough to explain the level of participation from these groups. It also suggests that politicians from the left are harnessing the potential of social media as an external advocacy tool given that both the Commission and the Parliament are headed up by politicians from the centre-right EPP.
It's also likely that MEPs are already casting their minds forward to the elections in 2024. This address laid out priorities for next year, when campaigning will begin in earnest — so it's an early opportunity to begin setting out their position on critical EU priorities.
Top Hashtags: All Eyes on Ukraine
From the speech content, to Olena Zelenska as guest of honour, and even the blue-and-yellow outfits seen in the hemicycle — Ukraine was the clear focus of Wednesday's proceedings. So, it's no surprise to see that #ukraine was the most-used hashtag after #soteu and #soteu2022.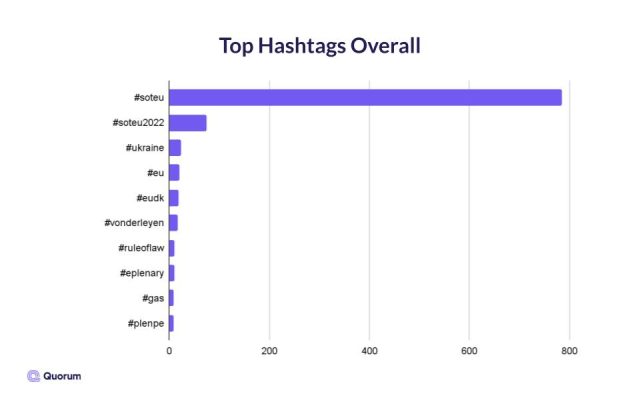 As we discussed in August's edition of The Brussels Dispatch, Russia's invasion of Ukraine has sent shockwaves across Europe, with consequences impacting a wide range of sectors and policy areas. One of the most obvious is energy provision, so it's also unsurprising to see #gas in the top ten.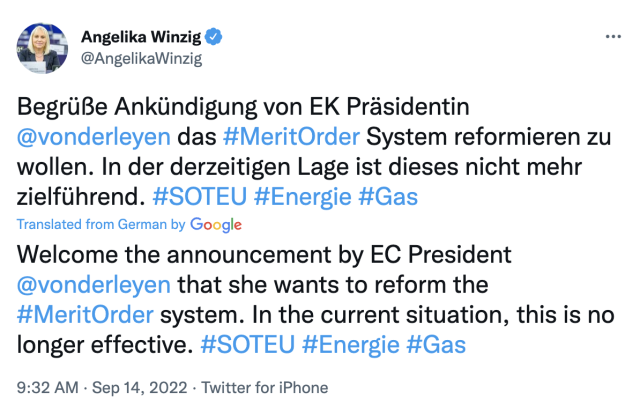 Top Themes by Political Group: Split Priorities Within the Hemicycle
| | |
| --- | --- |
| Political Group | Most-Used Hashtag |
| GUE/NGL | #greenwashing |
| Greens-EFA | #ruleoflaw |
| S&D | #eudk |
| RENEW | #ukraine |
| EPP | #standwithukraine |
| ECR | #eu |
| ID | #caroenergia & #pricecap |
Zooming into the most-used hashtag per political group (excluding #soteu and #soteu2022) gives us a sense of how President von der Leyen's remarks were received across the Parliament.
Themes linked to energy were reflected on both sides of the hemicycle — members of GUE/NGL made their concerns around the green transition clear with the use of #greenwashing, while ID focused their attention on the proposed restructuring of the energy market.
Meanwhile, the centre and centre-right were aligned with the speech's overall focus on Ukraine.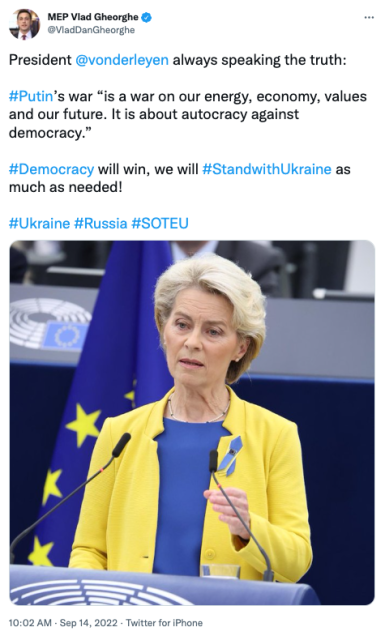 Conversely, the Greens-EFA's social conversation revolved around a key issue within the EU's borders — namely, the rule of law.

Outlook
This year's State of the Union laid out several lofty ambitions for policy proposals over the next year, such as increased support for Ukraine, comprehensive electricity market reform, and a new initiative on mental health. But the speech was light on detail in other key areas — noticeably, von der Leyen gave few hints on climate policy much beyond the topic of energy, and agriculture was also absent despite being a major focus of the EU's Green Deal. As next year will see the EU gear up for the 2024 election, it's increasingly likely that citizens will look to Brussels for answers on these cross-border issues — so we anticipate that 2023 will be the busiest year yet for the von der Leyen Commission.
Methodology
We used Quorum European Union's social media monitoring capabilities to analyse MEPs' social media output — covering Twitter, Facebook, and YouTube — following the 2022 State of the Union address. Data was gathered at 12pm on Wednesday 14 September 2022.