In 2020 alone, utility customers endured 1.3 billion hours of service disruptions, a 73% increase from 2019. Between hurricanes, tornadoes, floods, and wildfires, service outages aren't so much an "if" situation, but rather a "when" situation. In these situations, its the responsibility of the government affairs team to organize and maintain constant communication with key government leaders and stakeholders. By creating an emergency response playbook before an emergency, you shift to a proactive emergency response. This allows your government affairs team to more effectively handle crisis situations, allowing you to rapidly put your plan in motion.
Why You Need a Playbook
In an emergency, it's best practice to have everything you need in a playbook so you can communicate quickly when time is of the essence. It's important that your team has a playbook to act as the one source of knowledge and planning to look to during a crisis. Additionally, this playbook can help train team members who have never been with your organization through an emergency before have a resource to work off of.
This playbook should establish a coordination plan between your organization, service providers whose service areas overlap with yours, and local governments. This plan should include all necessary "what-if's" related to natural disasters and service outages.
How to Create a Service Recovery Communication Plan
It's important to have strong relationships with all your stakeholders and build up trust through transparent communication. Here are the steps your government affairs team should take before, during, and after an outage occurs.
Before a Crisis
Use a Tracking Board to Stay Updated on Policy Changes: When building your playbook, use Quorum Local to track new policies that could impact your ability to restore service quickly in an emergency. Build a tracking board of these local and state bills so, in the event of an outage, you'll be alerted to any new policies that could impact your response time. Add in relevant contacts from each agency your organization works with to have all your resources in one place.
Log Interactions to Build Institutional Knowledge: If your team isn't logging interactions, you are losing valuable intelligence on the relationships you have with stakeholders at the federal, state, and local level. Logging interactions builds institutional knowledge within your own team, allowing everyone to work off the same knowledge base when meeting with various government officials. Use this logged interaction bank to determine the relationship owner for each stakeholder based on which team member interacts with them most. This will help you during a crisis know which team members have the closest relationships with each stakeholder.
Use a Communications Calendar to Build Public Trust: Build a communications calendar where your organization frequently shares resources with local officials on the work your company does, as well as seasonal best practices for service use. The idea behind a communications calendar is to allow your stakeholders to proactively hear from your company throughout the year. This proactive communication approach helps build public trust in your organization as the expert in your service area.  Year-round education on emergency preparedness also helps them understand they can turn to your organization to access information and rely on your services during emergencies.
Build Lists for Communication: Categorize your stakeholders by what you need to communicate to them in an emergency and the frequency of those communications. Some stakeholders will need to be updated every hour, while others will need emails at the beginning of an outage and upon service restoration. Prepare these lists ahead of time so when a crisis occurs, there's no need to discuss who receives which messages.
During a Crisis
Queue up Your Emails to Stakeholders: Using Quorum Outbox, create pre-populated email templates to quickly communicate with multiple stakeholder groups on what's important to them in the middle of an emergency. Create a template message to local community leaders letting them know you're aware of the issue and are working to resolve it.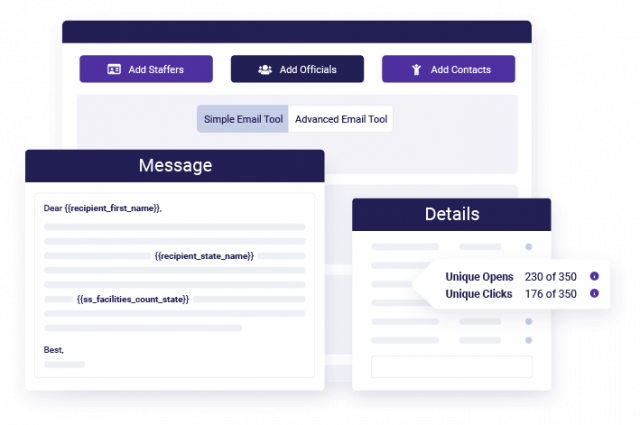 Send Messages as the Primary Relationship Owner: Quorum Outbox allows you to modify the "from" section of an email. Use this to your advantage and send each to be "from" the relationship owner on your team, even if it's another team member writing the message. This feature allows you to use these relationships stockpiled in your interaction logger to your advantage, as legislators will be more likely to open messages in emergencies from someone they know and trust than a completely new contact.
Lean on Your Interaction Logger: With a whole team sharing information in an emergency, anyone who calls this official has the same knowledge base to draw from. Logged interactions are stored in your database of notes immediately — there's no lag in information sharing, meaning the team can always be up to date in knowing the information being shared with officials. Additionally, you can set up mobile alerts to find out as soon as a new interaction is logged.
After a Crisis
Send Wrap-up Communications to Officials: Reach out to the local officials you worked with after an emergency has been resolved to evaluate public perception of your response efforts. Use these answers to proactively meet with legislators who may not have an entirely positive stance on your organization and gather feedback on what you should add to your emergency response playbook for communicating in the future.
Make Adjustments to Your Playbook Based on Your Experience Using It: Follow-up after an emergency with other utility providers in overlapping services areas, as well as local officials to discuss what could have been improved upon within your playbook. Take this feedback and incorporate it into your playbook to make your team even more well-equipped to tackle the next emergency situation that emerges.