Challenge: First-Time Advocates and a Big Transition
In early 2020, the Association of Equipment Manufacturers (AEM) had an ambitious plan to engage member companies in their grassroots advocacy and Get Out the Vote (GOTV) efforts. They called it The AEM Manufacturing Express. The centerpiece of the campaign was a 70-stop, cross-country bus tour designed to engage member company employees. The cross-country tour was intended to build excitement about grassroots advocacy, recruit new advocates, and educate the 2.8 million men and women of the industry about the issues that matter to the equipment manufacturing industry.
It was important for AEM to meet advocates in person in order to explain how decisions made in Washington impact their jobs and communities, and the bus tour would be critical to bringing the association's grassroots campaign out to equipment manufacturing facilities across the country. The bus tour was also an opportunity to bring state and federal elected officials out to meet with constituents and hear directly from them about the importance of supporting pro-manufacturing policies.
Then COVID hit.
A bus tour was no longer a safe and responsible way to engage advocates. AEM needed to quickly transition the bus tour to a high touch, high impact digital initiative in order to achieve the goals and objectives.
"The new plan required rapid strategy, planning, budgeting, and articulation in order to secure buy-in from AEM's member companies," said Wade Balkonis, Grassroots Advocacy Manager at AEM. "In less than three weeks, through significant cross-team collaboration between our state and federal advocacy, grassroots advocacy, public affairs, and membership teams, AEM developed a comprehensive plan that the Board of Directors approved for immediate execution."
Solution: A Gamified Campaign That Brought Advocates Back Again and Again
Since AEM was unable to bring the cross-country bus tour to tens of thousands of advocates across the country, they decided to create an online experience that would educate, engage, and drive action across the duration of the campaign.
Here's how they did it:
Build an Advocacy Website That Exemplifies the AEM Brand
Since the GOTV effort was intended to be fully integrated into the cross-country bus tour, it had to be rapidly transitioned to a robust virtual campaign to ensure success. Leveraging Quorum, AEM built a state-of-the-art website with videos, educational resources, policy briefings, a dashboard to track member engagement and participation, and specific calls to action for advocates – equippedtovote.org. And they did it in record time!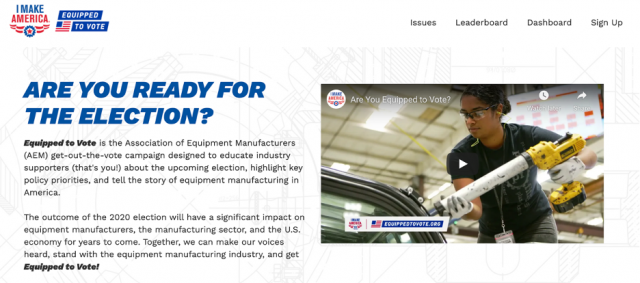 By using Quorum, AEM ensured that advocates who visited the website were signed up in just a few clicks. Advocates could sign up using Facebook or fill out a simple form with just six fields – email, first name, last name, address, company, and issues of interest. By identifying the policies they were most interested in – infrastructure, trade, workforce development, and rural America – AEM could tailor and target their communications with each advocate to ensure they were kept up to date on the issues they care most about.
Attract New Advocates to the Website
The equipment manufacturing industry was designated as essential early on and most of the 2.8 million men and women of the industry stayed on the job throughout the COVID-19 pandemic. Nevertheless, it was important for AEM to design a campaign that allowed for engagement both in manufacturing facilities and remotely in order to drive as many advocates as possible to equippedtovote.org. Key to success was having the right messenger deliver the right messages in a timely manner.
AEM put together and sent boxes to its I Make America Ambassadors, who serve as volunteer leaders for the association's grassroots efforts, containing posters, postcards, other promotional materials, resources, and giveaways to share with employees. The call to action? Visit the website to get involved! By leveraging familiar faces – colleagues – to talk about the campaign and the need to get involved, advocates were more likely to get involved.
AEM also incorporated direct marketing/promotion into the campaign, asking advocates to promote the campaign to colleagues, friends, and family and encourage them to register to vote and engage directly with elected officials.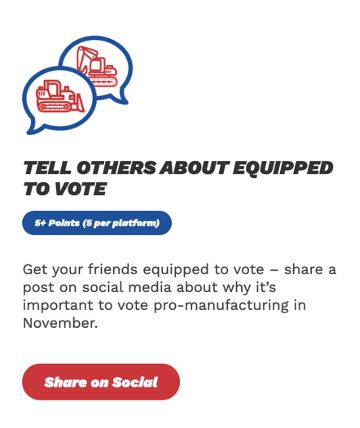 "Knowing the power of peer recommendations, we set up the action center so that it was easy to share on social media," Balkonis said. "That way if one advocate shared it, they may be able to attract their colleagues and friends to participate as well. "
Incentivize Participation with Gamification
Visiting a website is a lot less personal than meeting someone at an event, so how did AEM get advocates to the website and convince them to engage with the content in a meaningful way? They incentivized participation through gamification.
Advocates earned points for each possible action and could win prizes ranging from coolers and grills to gift cards and consumer electronics. Those advocates who earned more than 100 points were entered into a raffle to win an all-expenses-paid family vacation to Disney World or a National Park.
"Equipped to Vote demonstrated that advocacy program leaders must think outside of the box and not be afraid to adapt to unexpected circumstances by trying something new," Balkonis said.
AEM made sure to offer prizes that appealed to advocates, both current and future, in order to build excitement and maximize engagement in the campaign.