Challenge: How Could FutureEd Make Education Policy Accessible for Their Stakeholders?
FutureEd is a think tank based at Georgetown University that focuses on education excellence and equity in K-12 and higher education. Legislative tracking and research have always been a part of FutureEd's work as education sits at the juncture of federal, state, and local jurisdictions. This makes it important to keep an ear to the ground across the country to understand the full policy landscape.
"Before the coronavirus, we were working with Quorum to track state legislation on a myriad of issues that are important to FutureEd," said Brooke LePage, Policy Associate at FutureEd. "When coronavirus hit, we thought to ourselves, what would be most beneficial for our audience of policymakers, teachers, parents, and students? We realized that we needed to pivot and start tracking legislation on education and coronavirus at the state level."
While the federal, state, and local governments all make critical decisions related to education policy, in the case of COVID-19, state legislatures were taking the most direct action. Congress was realistically considering one or two bills at a time in response to coronavirus, but the volume at state levels was massive: more than 4,000 bills were enacted nationwide in March alone. So, FutureEd set out to make state legislative information accessible to each of its audiences. The think tank needed a legislative tracking software to make it possible to follow what was happening in all 50 state capitals.
Solution: Build Public-Facing Interactive Reports with Quorum
To help keep its stakeholders in the loop on the many moving pieces of education policy during the COVID-19 pandemic, FutureEd built two different trackers for the two key means of communication from legislators — a legislation tracker and a social media tracker. 
The first thing FutureEd had to do to begin searching both legislation and social media dialogue in Quorum was to identify their search terms. The volume of bills and dialogue mentioning education or school is high, so FutureEd used Quorum's boolean search functionality to narrow the focus of their results.
After they narrowed their search to the most relevant bills and dialogue, they tagged those documents to a COVID-19 issue in Quorum's issue management functionality. This made it easy to organize each of the subtopics — like masks in schools, school funding, and virtual learning — under one issue umbrella. The documents and bills tagged to the COVID-19 issue powered the two trackers on the FutureEd website.
Legislative Tracker
 To build the legislative tracker, LePage used Quorum Sheets to populate an interactive spreadsheet with COVID-19 education bills. She embedded the Sheet within FutureEd's website so visitors could use the same filters and visualizations as she could within her Quorum account. In addition to being interactive, the Sheet is auto-updating, meaning it is always up-to-date with the latest information on bill status, number of sponsors, and new bills fitting the search criteria.
FutureEd published the tracker directly alongside the written analysis of the trends they'd identified in the legislation—where there were commonalities between states, which sub-issues were driving the most traction, or what policies were seeing the most success in being enacted, for example.
With the Sheet and analysis available on the same page, readers can go as in-depth as they wanted to learn what was happening in state legislatures. If they were looking for an overview, they could read the high-level analysis, but if they wanted to know what was happening specifically in their state, for example, they could explore in the Sheet.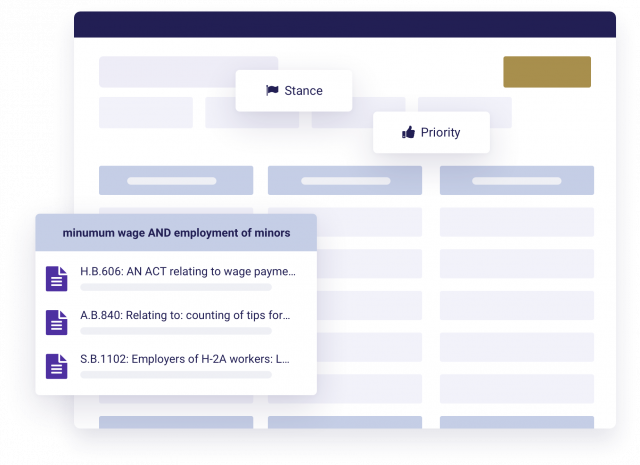 Social Media Tracker
If you're just learning about a bill when it's introduced, you're probably already behind. Before introducing a bill, legislators will typically speak about it on Twitter or Facebook, making social media monitoring a key to staying ahead of the policy game.
2,510
Number of Social Media Posts by State Legislators Mentioning Education and COVID-19 in March 2020
"It's really important to know what state legislatures and executive branch leaders are thinking, what they're working on, what they're saying," LePage said. "We saw in July the debate about reopening schools had become pretty politicized — or at least that was our inclination — and we set out to see if that was true and to see what the debate was looking like at the state level."
FutureEd shared the social media data it uncovered in Quorum in multiple formats to fit the unique needs of different stakeholders. One report included the full text of all of the tweets that matched FutureEd's search criteria organized by date, so a website visitor who wanted to see how the nationwide conversation evolved could get the full picture. A second report included an interactive spreadsheet with tweets tagged by state so someone who wasn't as invested in the national picture but wanted a deep dive into their state could find what they were looking for.
Impact: FutureEd Became the Go-To Legislative Resource for a Diverse Group of Education Stakeholders
 FutureEd's main goal with each of these tracking products on their websites was to be the go-to resource for their stakeholders on education policy trends during the coronavirus pandemic.
"We wanted it to be the type of product that people were coming back to and keeping up with," LePage said.
Using Google Analytics to track web traffic to the pages with Quorum trackers, FutureEd saw continuous traffic, and most importantly, returning visitors.
With Quorum's actionable legislative data, FutureEd achieved its goal of providing resources to make education policy accessible to a diverse group of stakeholders, ranging from policymakers to school district leaders to students. With the data easy to visualize and analyze through Quorum, FutureEd could easily build trackers that fit stakeholders' unique needs and interests.