Challenge: Coordinating a Virtual Fly-In for Hundreds of Advocates
Each November, the Friends Committee on National Legislation (FCNL) holds a fly-in in Washington, DC. Committee members, donors, and advocates all make their way to the capital — usually 300 to 400 people. The fly-in has been a significant community-building event for FCNL, a national, nonpartisan Quaker organization that lobbies Congress and the administration to advance peace, justice, and environmental stewardship. In 2020, their focus was on promoting the George Floyd Justice in Policing Act.
When it came time to plan their 2020 fly-in, they knew it would be virtual. A virtual fly-in presented an excellent opportunity for the organization to expand the number of participants in the event without increasing the cost. The challenge was how to make the event equally engaging on Zoom.
"The number one thing is we had to figure out how to cram 10 hour days into 4-5 hour days over Zoom. That is a massive challenge," said Justin Hurdle, Organizing Data Strategist at FCNL. "We are also talking about people who are a little older, tend to be tech-challenged, so there was a lot that went into the prep to make sure folks were prepared and ready to go for the fly-in."
Along with finding creative ways to make the Zoom event engaging for advocates, a virtual fly-in is a substantial logistical endeavor. FCNL needed to schedule meetings with legislative offices for the advocates participating, prepare advocates for those meetings, then collect information on what advocates learned in their conversations with officials and staff.
Solution: One Tool to Schedule, Prepare For, and Collect Information From Fly-In Meetings
With Quorum Federal, Hurdle was equipped with a contact database and integrated email tool to schedule fly-in meetings, legislator profiles to create educational resources for advocates to prepare for their meetings, and an interaction logger to collect information from advocates after their meetings happened.
Strategies to Successfully Schedule Meetings with Legislative Offices
When planning a fly-in, organizations must coordinate with dozens of congressional offices to schedule meetings all on the same few days of the event. For FCNL, Quorum's database of staffers made it possible to find the staffers who worked on criminal justice, law enforcement, and civil rights issues who were the targets of their meetings. Quorum's integrated email tool, Outbox, simplified the outreach process by making it easy to send personalized emails en masse.
"Using Quorum's Outbox tool was significantly better to make sure we're hitting the right offices," Hurdle said. "It made that first step in coordinating these visits that much easier."
If they didn't hear back from their initial outreach, FCNL had another strategy: to leverage their grasstops advocates in a given district to reach the office. FCNL has its lobbyists and grasstops advocates log interactions with legislators and staff in Quorum, so the team could pull up a legislator's profile and see who most recently engaged with that office.
"I could look in a member's profile and see José met with this member's office two weeks ago," Hurdle said. "I'm going to go to José and say, 'Hey, the office isn't answering us, but we have 20 people from California who want to talk about this issue. Can you connect me with the right staffer?' Having the ability to do all that in one place really improved the responsiveness from offices."
Prepared and Powerful: Advocate Meeting Prep & Follow-Up
With meetings on the books, FCNL transitioned to preparing advocates for those meetings using legislative data and biographical information from Quorum. To do this, FCNL created documents for each legislator highlighting key details related to the George Floyd Justice in Policing Act, like if a legislator was on the Judiciary Committee in their respective chamber or whether they had already cosponsored the bill.
In their advocate training leading up to the meetings with legislators, one of the most important things they teach advocates is to listen for insights from the staffer that might indicate their plans for their stance on that bill.
"In our experience in a lot of these meetings, constituents often get intel from staffers that they may not tell our on-staff lobbyists. That's so important because that can then come back to FCNL's lobbyists who are working on the issue, and they can use that in their strategy and in their coalitions to drive this change."
FCNL needed a system to capture this intel, so they turned to Quorum's interaction logger. The interaction logger allows advocates to share information on who they met with, which issues they talked about, and take notes on the takeaways from the meeting. Specifically, FCNL trains advocates to ask and record follow-up on specific questions that get deeper into a legislator's stance on a bill. For example, if someone said they don't support the bill as a whole, advocates would follow up and ask if there was any portion of the bill they supported.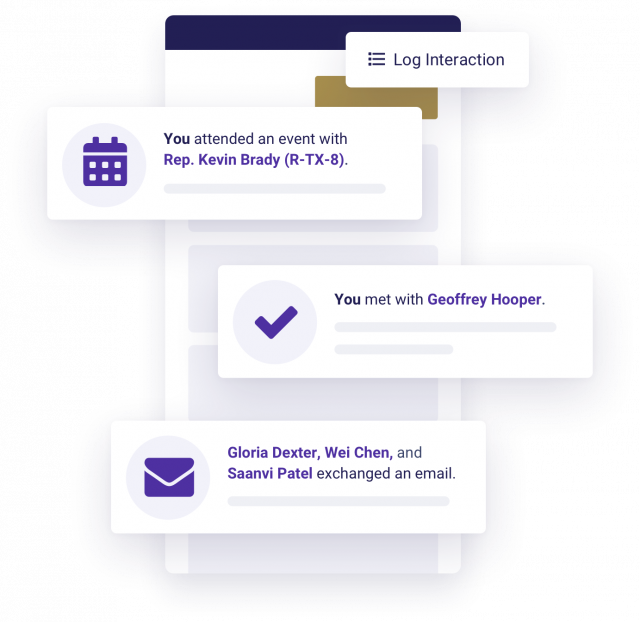 Then, FCNL's lobbyists can go into the legislator's profile before their next meeting with that legislative office and pick up the conversation where the advocates left off with a more nuanced view of the legislator's stance.
"We had previously done this in person with sheets of paper. As the person in charge of our lobby data, it was always the worst time of year because our interns and young fellows would be given a stack of these papers with handwriting that is often difficult to read," Hurdle said. "To move to an all-online platform really changed the game in terms of getting information quickly and accurately, as well as getting that to the right staff member on our team so they can work that into their follow up."
Impact: Adding Efficiency to Each Stage of the Fly-In Process
FCNL incorporated Quorum into the fly-in process at each stage. Before the fly-in, Quorum improved efficiency by streamlining the outreach process to legislative offices to schedule meetings. During the fly-in, Quorum equipped advocates with the necessary information they needed about a legislator to tailor their message to the legislator's individual level of influence and interest on the issue. After the fly-in, Quorum gave the tools for advocates to share what they had learned with FCNL so their lobbyists could continue the conversation on the George Floyd Justice in Policing Act for months to come.