Challenge: Tracking and Reporting on Bills Across All 50 States
The Prenatal-to-3 Policy Impact Center at the University of Texas at Austin researches effective state-level policies that improve child outcomes. Their research culminates in a comprehensive, evidence-driven annual report for the early childhood field, the Prenatal-to-3 State Policy Roadmap. The Roadmap shows each state's progress in aligning their legislation to the most effective policies and strategies the Center's research has found to impact children during the earliest years of development.
To prepare their annual report, Senior Research Associate Amanda Lee and her seven-person team need to keep their fingers on the pulse on all state bills related to child and family issues. Policy issues relevant to their work extend beyond "family" issues to healthcare, workforce, tax issues, and more. Manually tracking legislation on multiple policy issues across all 50 states takes an immense amount of time and manpower, and as new bills are continuously introduced during sessions, updating data in real-time is extremely challenging.
Lee searched for a more efficient and scalable system to track all the relevant data points. She needed an automated data collection system that maintained accuracy for the Roadmap and allowed her team to spend more time on other priorities.
Solution: Use Quorum to Collect, Report, and Present Academic Policy Research
Lee's team turned to Quorum to gather and report on the legislation that relates to their research. From sorting and tagging state bills, to creating dashboards to visualize their Roadmap's narrative, Quorum has transformed the Center's state data collection process by providing real-time, at-a-glance updates on numerous policy issues.
Bill Tracking
Lee's team begins their tracking by identifying all state bills relevant to their Roadmap. Once Lee's team sets up the search parameters for their bills, Quorum's tracking boards automatically and continuously gather bills across all 50 states and DC. Before Quorum, Lee's team had to consistently visit each state legislature's website for bill updates. Now the bills come straight to the team's tracking boards. This allows the team to re-allocate their time to reporting on these bills for their Roadmap instead of hunting for them.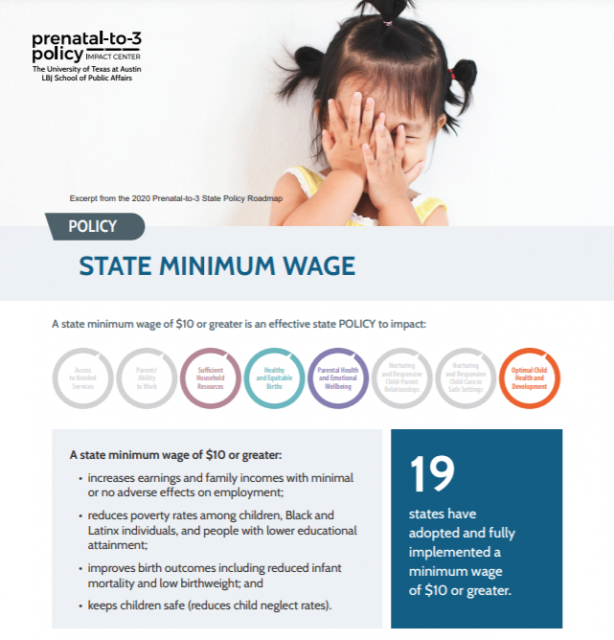 Once bills are tracked they get sorted by issue area in Quorum's Issue Management features. The ability to set up issues and sub-issues allows Lee and her team to keep an eye on the entire policy landscape. For example, the  Center designated minimum wage as an issue and then created narrow sub-issues to capture each bill's varying components, such as tipped minimum wage, local minimum wage preemption, and minimum wage increase above their research threshold. Within each issue area, they mark bills as relevant, irrelevant, or potentially relevant in the future.
They also use Quorum's issue management tool to track issues that are not yet part of their Roadmap but may evolve into a Roadmap policy or strategy in the future. Automating the tracking and sorting of state bills lets the research team still consider emerging policies without taking up too much additional time.
"We don't just want to focus on our Roadmap policies in Quorum, we also want to look at other parts of the prenatal-to-3 system," Lee said. "Without having to create a new time-consuming process, we are able to track other policy areas that are emerging or promising [in states]."
Spotting National Policy Trends with Quorum Dashboards
With their bills identified and sorted into issue areas, Lee's team uses Quorum to create dashboards for each of the 11 Roadmap policies and strategies to view at a national level which states are making policy progress and which are not. They also created dashboards for each individual state to dive deeper on individual bills that touch on their Roadmap policies, both regressive and progressive in policy alignment.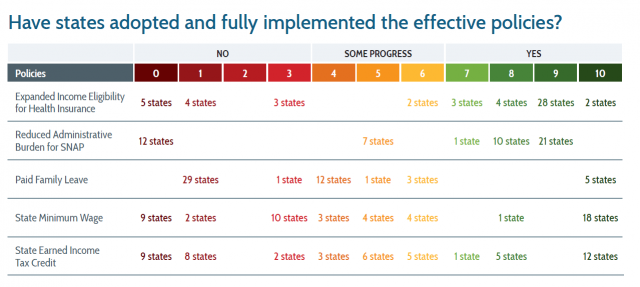 Within each dashboard, Lee utilized Quorum's data visualization feature to spot national policy trends. Based on dashboard data, they gain insight into the story their Roadmap will tell.
"Quorum has helped provide insight for our next Roadmap so we can plan decisions right now on the stories we need to tell and apply those insights to the planning process of our next publication," Lee said.
Responding to Changing Dynamics with Real-Time Research
Quorum empowered the Center to keep a real-time pulse on its diverse research priorities. While analysis in traditional research cannot begin until after a strict data collection cutoff date, Quorum's automated data collection allows Lee's team to evaluate policies as they happen.
This real-time factor increases the overall impact of the Center's work. When the 2021 American Rescue Plan Act was passed, Lee's team used Quorum to quickly gather data on current state-level policy progress and plan a webinar presentation.