For years, our means of communicating with family, friends, coworkers, and many others has been changing. And that change is reflected in the way that members of Congress communicate with their constituents.
Since 2017, we've done an annual recap of the year in social media in Congress and analyzed trends in platforms, frequencies, and conversations happening on social media. Take a look into a few top insights we found in Quorum Federal of what happened on social media in Congress in 2019:
Download the full 32-page report.
House Posts More Often on Instagram Than Shares Press Releases
As the White House press conferences become less significant with President Trump's tweeting, so too do Congressional press releases. Legislators published over 2500 fewer press releases in 2019 compared to 2018. In fact, Representatives in 2019 posted more on Instagram than shared press releases (27,704 compared to 27,582).
Democrats Share Messaging with Kamala Harris: #ForThePeople
In 2018, Democrats struggled to stick to a singular party phrase that the party adopted in their hashtag use. However, #ForThePeople caught fire this year, used 6,965 times overall this year compared to under 700 posts with the phrase last year. The hashtag also carried throughout the year as one of the top three used by Democrats in eight of the 11 months covered in this report.
Coincidentally, this phrase was prominent in Sen. Kamala Harris (D-CA)'s campaign, whose message struggled to catch fire among the Democratic electorate.
While it's unsurprising that #greennewdeal was heavily used among Democrats, it also appeared in the top 10 hashtags used by Republicans with over 700 posts mentioning the environmental legislation, criticizing the work of freshman Alexandria Ocasio-Cortez and Sen. Bernie Sanders.
Throughout the year, #usmca was one of the most commonly used by Republicans, peaking in September with 355 posts (and another 215 using #usmcanow). The USMCA trade agreement is expected to pass before the end of the year.
Presidential Candidates Fill Instagram Feeds
Apparently if you're running for President in 2020, Instagram volume is critical. Of the top 10 most active Senators on Instagram, five have been candidates in the Democratic primary (with Kirsten Gillibrand being the only one who no longer remains in the race). Meanwhile, candidate and Rep. Tulsi Gabbard tops the list on the House side. Sen. Harris and Sen. Bennet are the only members of the Senate who are currently or were previously in the race who did not make this top 10 list.
Alexandria Ocasio-Cortez's Unique Social Strategy
If you were to guess who would be one of the most active social media users in Congress, many would have guessed freshman Alexandria Ocasio-Cortez. However, in our metrics, Ocasio-Cortez's name didn't appear in any of the top 10 lists. This is not to say that social media is not an important aspect of Ocasio-Cortez's communications strategy, however. Rather, it shows how she takes a different approach from her colleagues in two ways:
First, Ocasio-Cortez's relies heavily on her campaign social accounts rather than the official legislative accounts that we measured in this report.
Ocasio-Cortez also is a frequent user of Instagram Stories, videos and images that stay on your profile for just 24 hours. While Ocasio-Cortez doesn't post as frequently as many of her peers, she shares video of her congressional activities during the day or does Q+A for her constituents all through the stories feature.
Antonio Delgado Busy Drafting Social Posts—and Legislation
Freshman Rep. Chip Roy has taken to Twitter in his first year in Congress with 4458 posts; this is over 1000 more than the second most frequent tweeter, Commissioner Jenniffer Gonzalez-Colon (R-PR-1). Fellow Freshman Rep. Antonio Delgado appears in the top 10 most frequent posters on Twitter, Facebook, and Instagram, and leads the list for Facebook and Instagram among his freshmen peers. And he's not only active on social—Delgado is one of only 12 freshman to have a bill enacted this year with the Family Farmer Relief Act of 2019.
Changes in Social Media Habits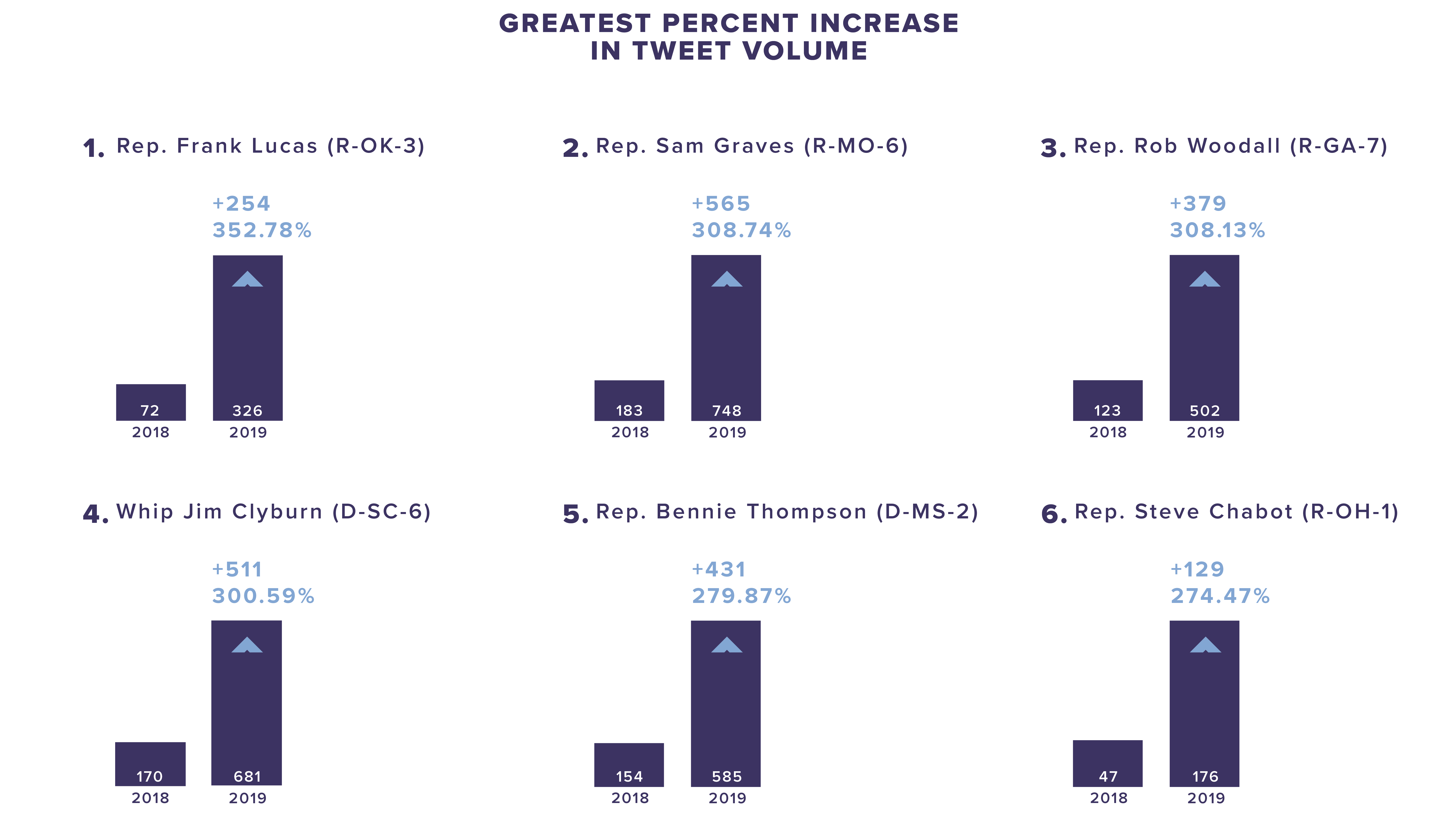 As a new statistic in this year's report, we took a look at whose social strategies shifted most dramatically in terms of post frequency from 2018 to 2019.
Rep. Frank Lucas (R-OK-3) had the greatest percent increase in tweet volume, posting 352.78% more in 2019 than in 2018. Lucas used his Twitter presence this year to promote USMCA, using #usmca and #usmcanow over 60 times.