This year the 535 members of Congress have collectively posted over 1 million times on social media platforms like Facebook, Twitter, Instagram, Medium, and YouTube. We're excited to release our 2017 Congressional Social Media Report, exploring the trends, habits, and engagement of members of Congress, specifically, on Twitter, Facebook, and Instagram. You can check out a few of our favorite findings below and download the full 30-page report here!
#trumpcare, #aca, and #taxreform were the most used hashtags by members of Congress
#trumpcare was far and away the most popular hashtag by members of Congress in 2017, with nearly 12,000 posts including the tag. Overall, hashtags related to healthcare held four of the top five spots in the rankings of top hashtags this year.
On average, Republicans were more active on Instagram while Democrats were more active on Twitter and Facebook
Republicans have posted over 14,000 photos on Instagram this year, averaging slightly more per member than Democrats. Conversely, Democrats have been significantly more active than Republicans on Twitter with over 209,000 tweets and an average 844 tweets per member. Combined, Republicans have posted more than Democrats on Facebook, however Democrats averaged about 70 more posts per member.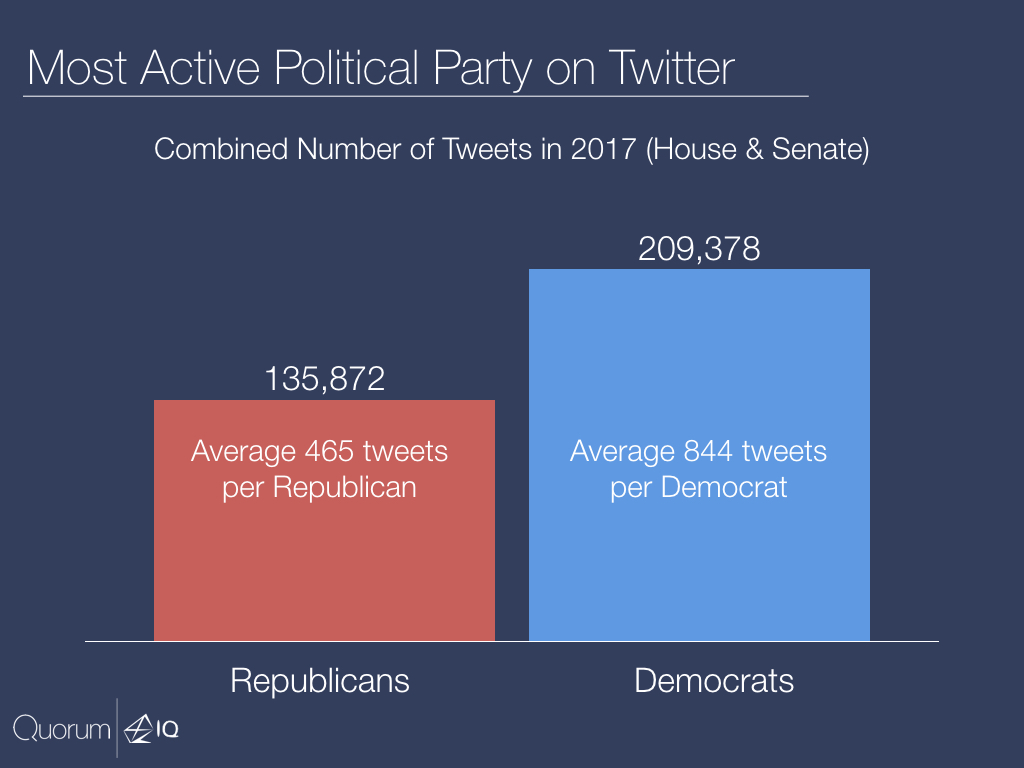 Sen. Bernie Sanders' tweet from the Women's March was the most viral among Democrats and Sen. Bob Corker's "adult day care" tweet was the most viral of any Republican member
Overall, Sen. Sanders' tweet was the most popular of any member of Congress in 2017, with Corker being the only Republican to crack the top five most retweeted tweets of Congress. Rep. Moulton (D-MA-6) was the only member of the House to rank in the top five for Democrats, while Speaker Ryan was the only representative with viral success from the Republican side.