A key responsibility of state legislatures is to oversee the congressional and legislative redistricting process every 10 years. With the 2020 elections on the horizon, legislators in 29 states have introduced over 100 bills calling for changes to their state's redistricting process or for the creation of an independent redistricting commission.
It's important to note that redistricting commissions can vary in composition and power. Independent commissions are often comprised of an equal number Democrats and Republicans and/or key government officials and reserve the power to enact the plan they devise. Whereas Advisory commissions, which are also bipartisan, are beholden to final approval from the legislature to enact their plan.
More than 2/3 of the redistricting bills have been introduced by Democrats
Of the 101 bills introduced, 67 were from Democrats, 32 from Republicans, and 2 from non-partisan members in Nebraska. Of the 32 bills introduced by Republicans, 14 were in states with Democratic majorities in both chambers. For Democrats, 47 of the 67 bills introduced are in states with Republican majorities in both chambers.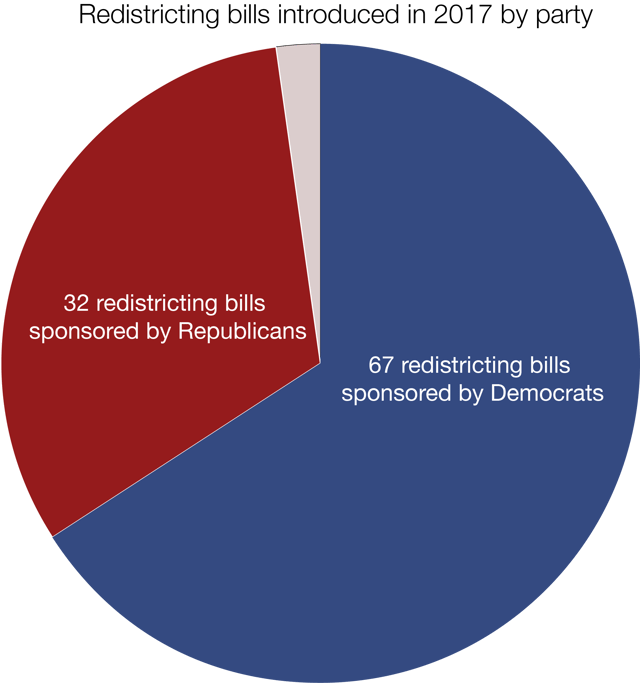 Both parties have introduced redistricting commission bills in 13 states
There are 13 states in which only Democrats have introduced redistricting commission bills. In comparison, there are 4 states in which only Republicans have introduced a redistricting bill. In the remaining 12 states, a redistricting bill has been introduced by both parties.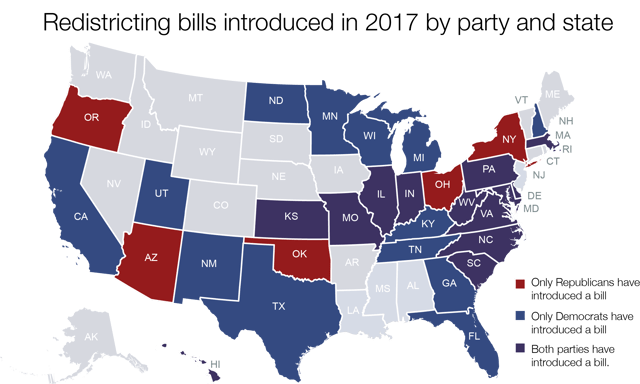 Democrats and Republicans are near equal in mentions of redistricting commissions
There have been roughly 600 official statements, tweets, or Facebook posts by state legislators mentioning redistricting commissions. Democrats hold a slight lead over the conversation with 316 mentions compared to Republicans 283 mentions. A significant portion of the conversation is being lead by state legislators in North Carolina, Maryland, Virginia, Arizona, and Texas.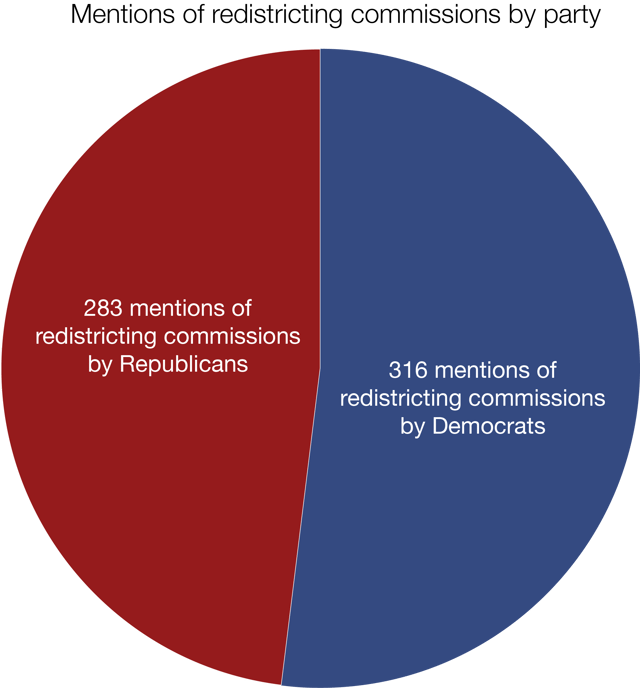 Eyes on 2020
With Republicans in control of Congress and 32 state legislatures, it should come as no surprise Democrats are pushing for redistricting commissions. However, while the spike in legislation is notable, zero of the over 100 bills introduced have succeeded in passing both chambers and receiving a signature from the Governor. If the past three months are any indication of what's to come, the redistricting conversation will continue to be a pressing issue in state legislatures well into the 2018 sessions.