While federal electoral races get most of the news attention, political power in state legislatures is becoming more and more important as key issues like abortion access, gun control, and more rest with the states. Either by formal rules or by gridlock in Congress, states hold more sway over the policies that impact the lives of Americans.
There are 7,383 legislative seats throughout the states and 99 state legislative chambers (98 of which have partisan control — (Nebraska is unicameral and nonpartisan). Who holds control in the states?
Republicans control a majority of state legislative chambers
Out of 98 partisan legislative chambers, Republicans control 57 chambers. Democrats control 41 in 2023. In total, Republicans control 22 states and Democrats control 17, with state control defined as a state where the upper chamber, lower chamber, and governor seat are all held by the same party. 10 states have divided government.
Democrats flipped four chambers in the 2022 midterm elections
In an unexpected turn of events, Democrats narrowed the gap in legislative control in the states in the 2022 midterm elections. Prior to this, Republicans held 61 chambers to Democrats' 37. Democrats gained control of the Michigan House, Michigan Senate, Minnesota House, and Pennsylvania House. Along with these flips, Democrats gained "trifectas" — scenarios where a party controls the upper chamber, lower chamber, and governor's seat — in Maryland and Massachusetts with the elections of governors Wes Moore and Maura Healey, respectively.
According to the National Conference of State Legislatures (NCSL), a change of four chambers in an election is minimal, and on average over the last 120 years, 12 chambers have flipped in each two-year cycle.
Which state legislatures are the most partisan?
At least half of the states are set to have veto-proof majorities come 2023. In some states, the lean toward one party is dramatic. For example, the Massachusetts Senate has just 3 Republicans compared to 37 Democrats while the House has 26 Republicans and 133 Democrats. In Wyoming, Republicans outweigh Democrats in the Senate 28 to 2 and 57 to 5 in the House.
State Senate Partisan Composition
19 state senates (or upper chambers) are controlled by Democrats and 30 are controlled by Republicans. In total, there are 1,972 state senators.
Partisan Composition of State Houses
20 state houses (or lower chambers) are controlled by Democrats and 29 are controlled by Republicans. In total there are 5,413 state representatives.
Use the below table to see the controlling party for each state in the upper chamber, lower chamber, governorship, and if there is a veto-proof majority:


Data below from blog originally published in 2016
Across the country, Republican policymakers control an overwhelming majority of state legislatures. Republicans have a majority in 30 state legislatures of the 49 states with bicameral governments (Nebraska is the only state with a unicameral legislature), while Democrats hold the majority in 13 states.
While Republicans have significant state legislative control, to no surprise, in urban districts Democrats consistently hold majorities. Densely populated districts–as seen with the coast of California, southern Florida, and New York City— are typically represented by Democrats.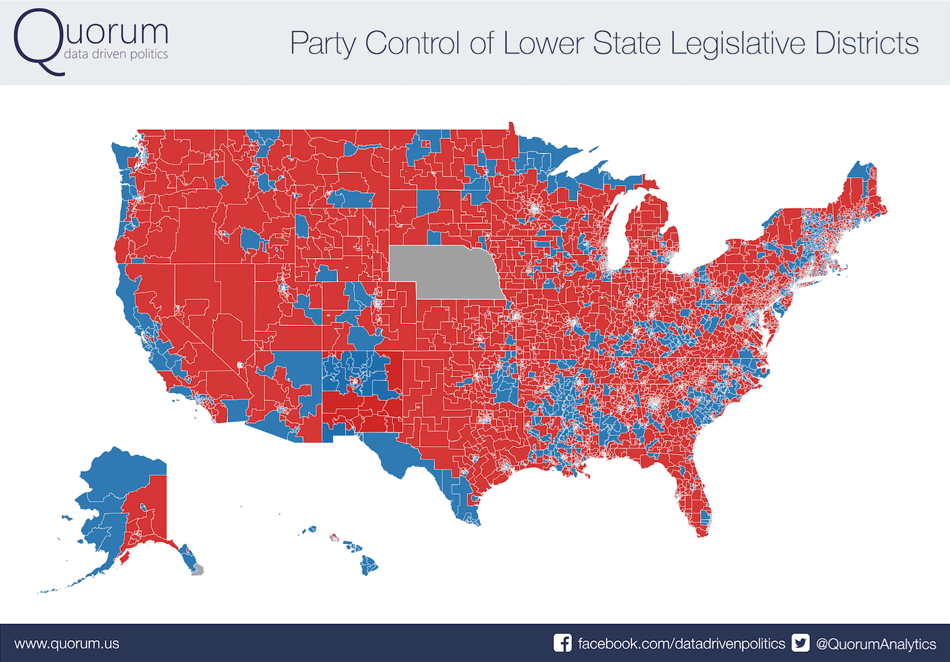 Which state legislatures are the most partisan in 2016?
Wyoming, Utah, and Idaho currently are the most Republican-controlled state legislatures. Republicans account for 86 percent of state lawmakers in Wyoming, 84 percent in Utah, and 80 percent in Idaho.
Within the 16 Democrat-controlled state legislatures, Hawaii, Rhode Island, and Massachusetts hold supermajorities. Hawaii has the most Democratic-controlled state government with Democrats accounting for 89 percent of state legislators. Historically, both Massachusetts and Rhode Island have had Democratic majorities in their state legislatures and continue to today. 85 percent of policymakers in Rhode Island and 80 percent in Massachusetts are Democrats.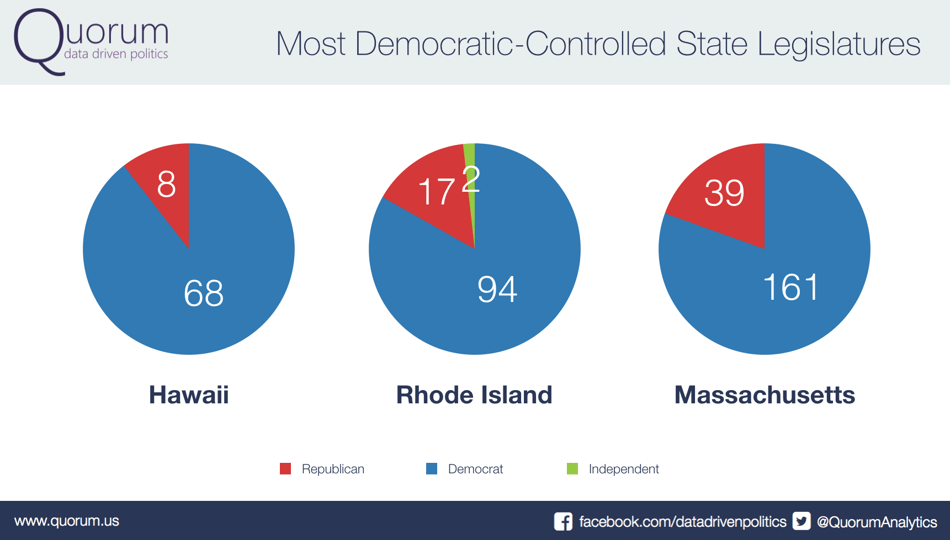 Most to Least Partisan Legislatures in 2016:
| | |
| --- | --- |
| 1 | Hawaii |
| 2 | Wyoming |
| 3 | Utah |
| 4 | Rhode Island |
| 5 | Massachusetts |
| 6 | South Dakota |
| 7 | Idaho |
| 8 | Kansas |
| 9 | Tennessee |
| 10 | Indiana |
| 11 | Oklahoma |
| 12 | North Dakota |
| 13 | Missouri |
| 14 | Alabama |
| 15 | Ohio |
| 16 | Florida |
| 17 | Georgia |
| 18 | Maryland |
| 19 | California |
| 20 | Arkansas |
| 21 | North Carolina |
| 22 | New Jersey |
| 23 | Illinois |
| 24 | Virginia |
| 25 | Wisconsin |
| 26 | South Carolina |
| 27 | Alaska |
| 28 | Mississippi |
| 29 | Vermont |
| 30 | West Virginia |
| 31 | Vermont |
| 32 | Michigan |
| 33 | Texas |
| 34 | Arizona |
| 35 | Louisiana |
| 36 | Delaware |
| 37 | New Hampshire |
| 38 | Pennsylvania |
| 39 | Oregon |
| 40 | Connecticut |
| 41 | Montana |
| 42 | Nevada |
| 43 | Iowa |
| 44 | Kentucky |
| 45 | New Mexico |
| 46 | Washington |
| 47 | Colorado |
| 48 | Maine |
| 49 | Minnesota |