Donald Trump and Hillary Clinton faced off in the first of three presidential debates on Monday night. The 90-minute debate was segmented into three core issue areas: "America's Direction," "Achieve Prosperity," and "Securing America."
After the debate, The Hill ran an article with word clouds from Quorum showcasing the phrases Trump and Clinton used most. Trump's most frequently used words included "country," "people," and "companies." He discussed his plan to lower taxes on the wealthy, the need for "law and order," and his experience with creating more jobs for Americans.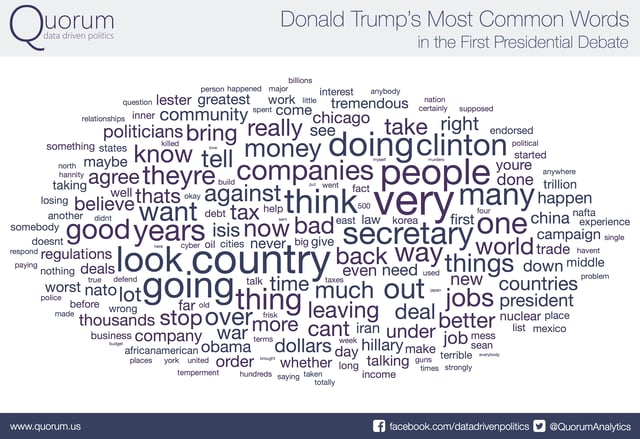 Clinton's most commonly used words included "economy," "people," and "jobs." During the debate she discussed climate change, the affordable housing crisis, and race relations in America.
While tax policy, race relations, and the economy were expected to be discussed at the first debate, surprisingly, the conflict in Syria and immigration in America were not mentioned by either candidate. Moreover, Trump refrained from explicitly discussing Clinton's involvement with Benghazi or conflict around the Clinton Foundation. Meanwhile, Clinton didn't mention Trump's plan to build a wall on the border with Mexico, or the allegations of fraud surrounding Trump University. It will be interesting to see if these controversies that have dominated conversation during the campaign are discussed in the remaining two presidential debates.
On Tuesday, Vice Presidential candidates Sen. Tim Kaine (D-VA) and Gov. Mike Pence (R-IN) will have their first debate at Longwood University in Farmville, VA.