It has been 100 days since President Trump stood on the steps of our nation's capitol and took the oath of office. From Syrian missile strikes to North Korean posturing to AHCA woes to a Supreme Court nomination, the last three months were nothing short of eventful. With the first 100 days serving as a benchmark for measuring legislative effectiveness, we took a look at the numbers behind President Trump and Congress' first 100 days together.
Trump Leads Recent Republican Presidents In First 100 Day Legislative Activity
President Trump signed 30 laws during his first 100 days, including 12 bills and 18 joint resolutions (which includes Friday's continuing resolution). Trump's 12 bills place him ahead of Republican predecessors President Bush and President H.W. Bush but one behind President Obama and President Clinton.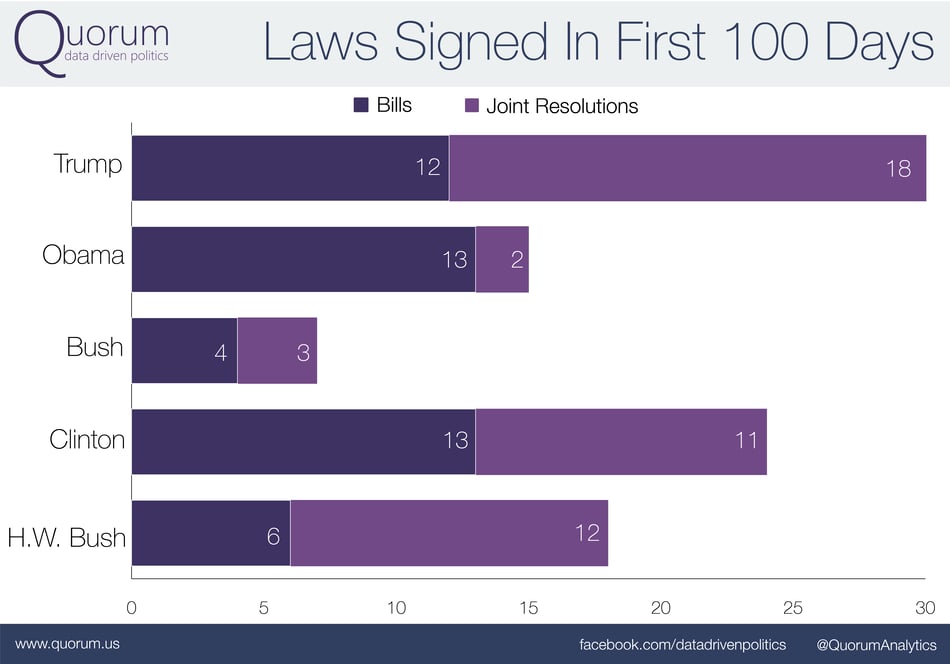 Congressional Review Act Resolutions Are Prominent In Trump's Legislative Wins
Signed by President Clinton in 1996, the Congressional Review Act empowers Congress to review federal regulations introduced in the last 60 legislative days and with passage of a joint-resolution overrule the regulation(s). Due to a condensed legislative calendar during the 114th Congress, Trump's Republican-controlled 115th Congress used the CRA to pass 13 joint-resolutions rolling back Obama-era regulations. Prior to President Trump, the CRA had been used only once in its 20-year history — during President Bush's first 100 days in 2001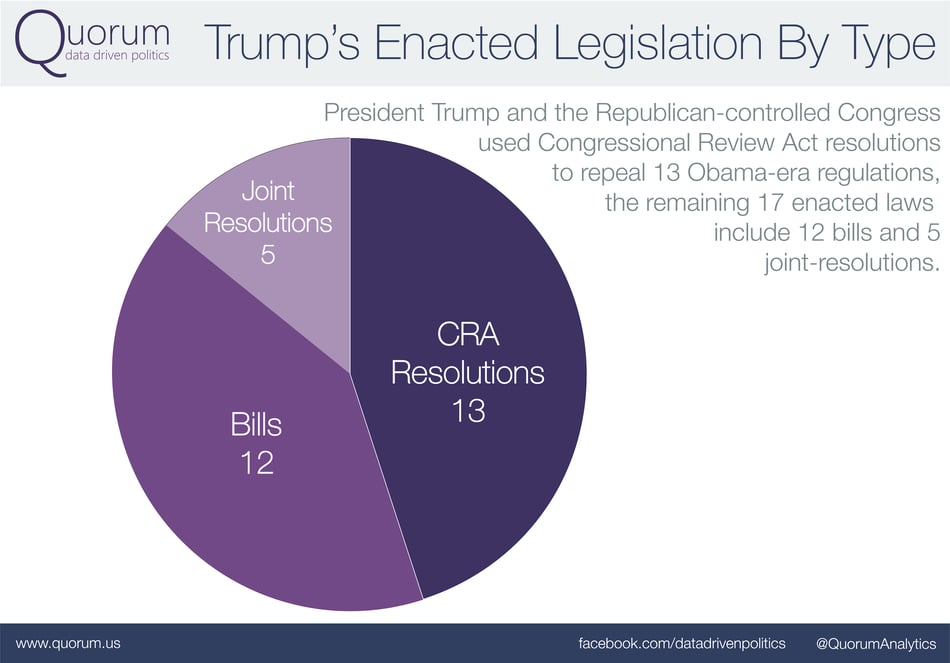 House Hits Record Productivity, While Senate Hits Low
Despite public tension between House Leadership and the House Freedom Caucus, Speaker Ryan's House passed 103 bills out of the chamber, edging out former Speaker Pelosi's House as the most productive during the first 100 days of a new presidency since H.W. Bush. Across the Capitol, Leader McConnell's Senate hit a new low for legislation passed in the first 100 days with only 5 bills, slightly fewer than the 8 bills passed in 1989.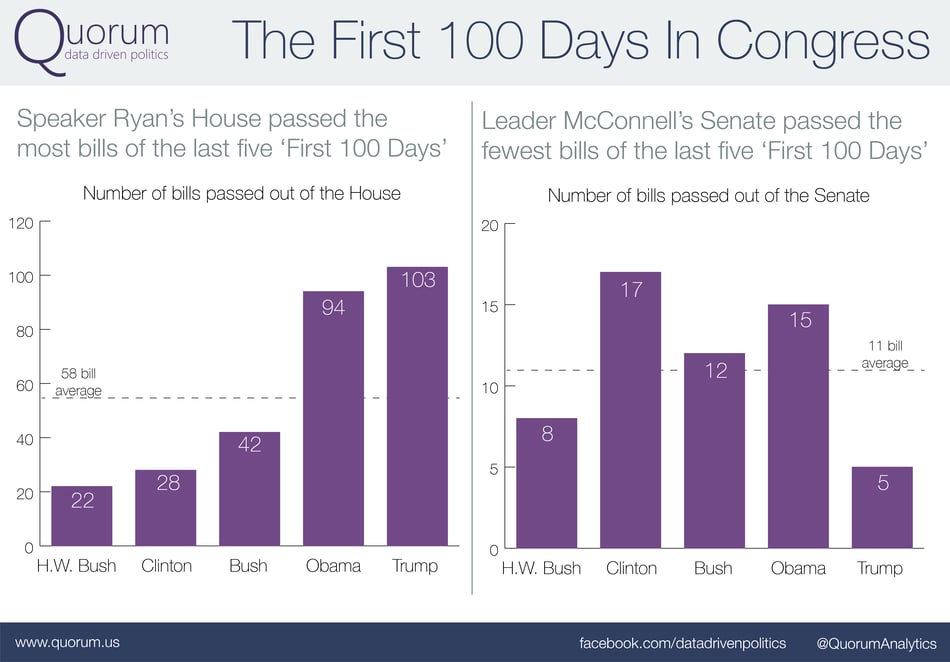 Bipartisan Relationships Continue To Decline On Capitol Hill
The rate of members cosponsoring bills with a member of the opposite party has steadily declined during the first 100 days of the past five administrations. Since 1989, the percentage of cross-party cosponsored bills introduced in the first 100 days has dropped from 29% to 21% in the House, and from 32% to 24% in the Senate.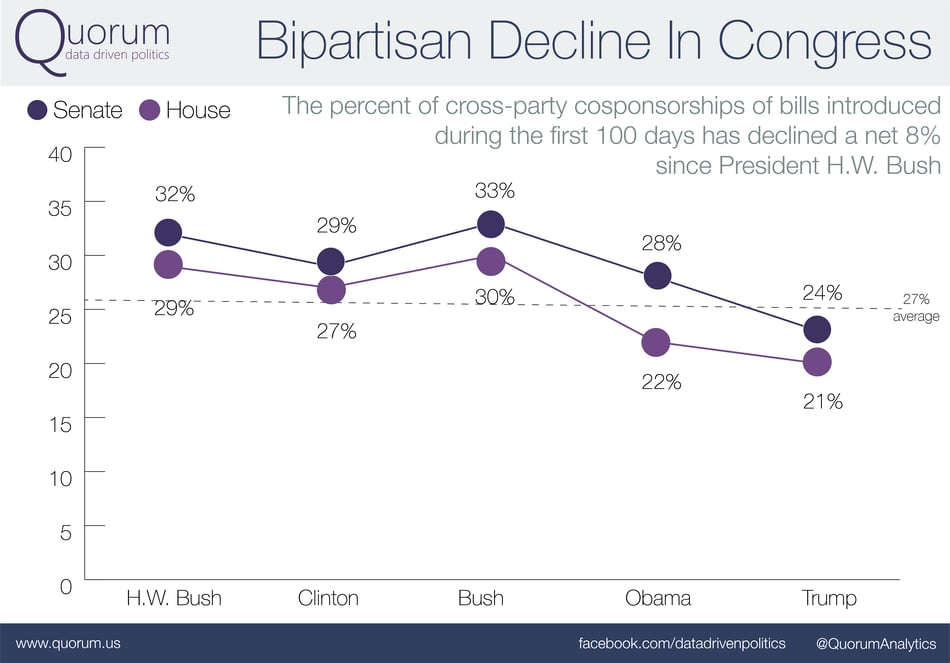 The Road Ahead
One hundred days amounts to only 6% of a president's four-year term; and, if re-elected, a mere 3% of their entire presidency. Nonetheless, the first 100 days remains a historic benchmark for measuring the early accomplishments of an administration and setting the tone for the remaining 1,360 days to come.