The ability to garner news coverage has long been a key skill of successful politicians. This earned media means the candidate or politician can grab the eyes and ears of their constituents without taking a cent from campaign coffers and the independent coverage can be more valuable than paid ads in terms of earning a voter's trust.
A Quorum analysis of recent mentions of lawmakers in the news finds that a variety of factors, such as the coronavirus and the election, can influence who is getting the spotlight and affect how much attention the nation is paying to Congress as a whole.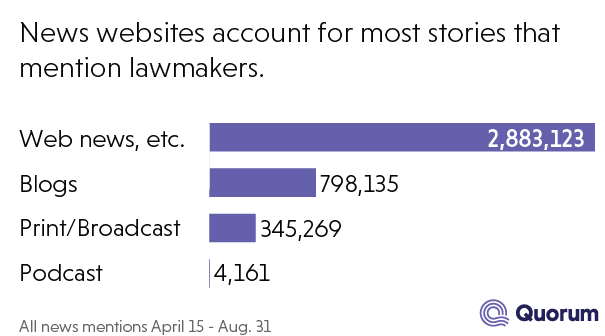 We used Quorum News, our news monitoring product to identify which types of outlets cite members the most, how local coverage differs from national news, and which lawmakers make the most of various types of media such as traditional print and broadcast, blogs, and podcasts.  
News Coverage Over Time: Coronavirus Shifted Coverage Away from Congress
News coverage of Congress isn't a given. With major events like the pandemic and the 2020 presidential election dominating news cycles, congressional lawmakers have on occasion been pushed to the side.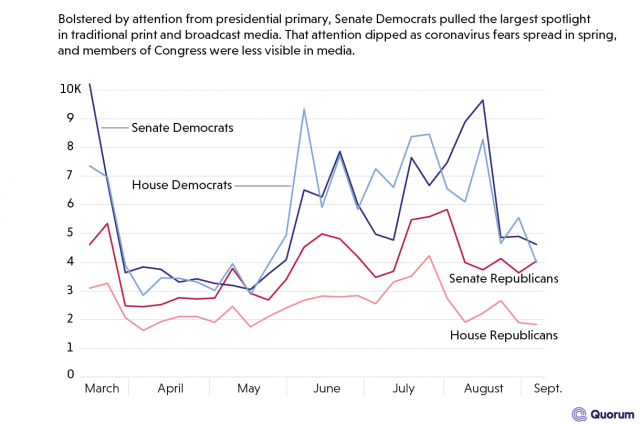 Usually when lawmakers are away and not making news in the Capitol, they are busy at town halls in their home states and holding press events with local news outlets. But this April and May were different, as the House and Senate left for unplanned recesses and lawmakers stayed home rather than holding events throughout their districts. Our analysis shows a precipitous drop in mentions of lawmakers during those months, followed by a rebound in June after Congress returned. 
While coronavirus diminished legislators' news coverage, the presidential primary drove spikes in mentions of candidates. At one point in March, Bernie Sanders (I-VT) had his name in twice as many articles as any other senator. After Kamala Haris (D-CA) was chosen to accompany Joe Biden on the ticket, her mentions skyrocketed. Elizabeth Warren (D-MA) was the first or second most mentioned senator for most weeks this spring and summer.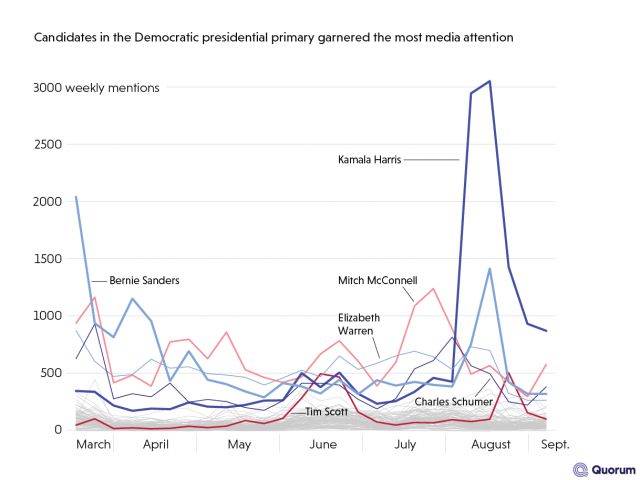 Speaker Nancy Pelosi (D-CA-14), who dominates House coverage, saw a cliff in her mentions in April, when the House was on an unscheduled recess due to the coronavirus outbreak.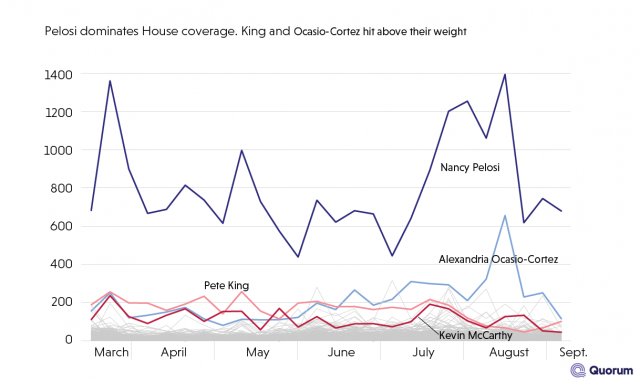 News Breakdown by Party: Democrats Dominate Coverage
Democrats in Congress rack up more earned media mentions than their Republican counterparts. This is especially true in the House, where the average Democrat gets nearly twice as many mentions as the typical Republican. The total tallies are even more imbalanced since there are 8 percent more Democrats in the House than Republicans.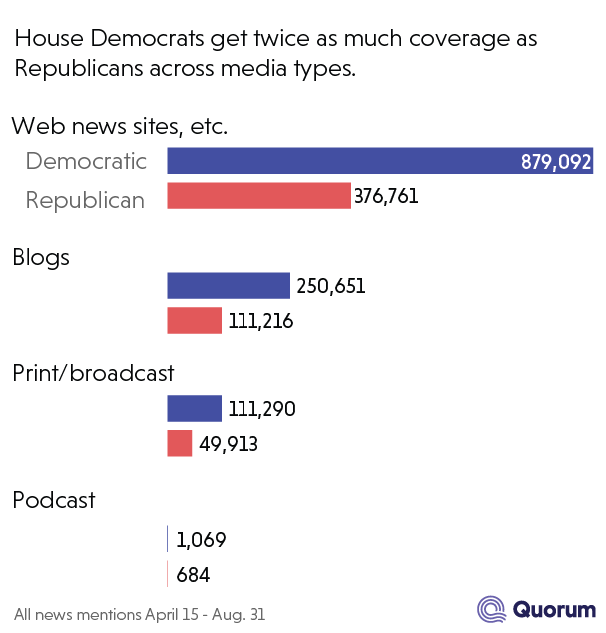 In the Senate, Republicans fare better than they do in the House, though they still trail Democrats' number of mentions in every type of media. The average Republican senator sees or hears their name in the news 30 percent less than a typical Democrat. Since they caucus with Democrats, mentions of the two independent senators are included with the Democrats' figures in this analysis.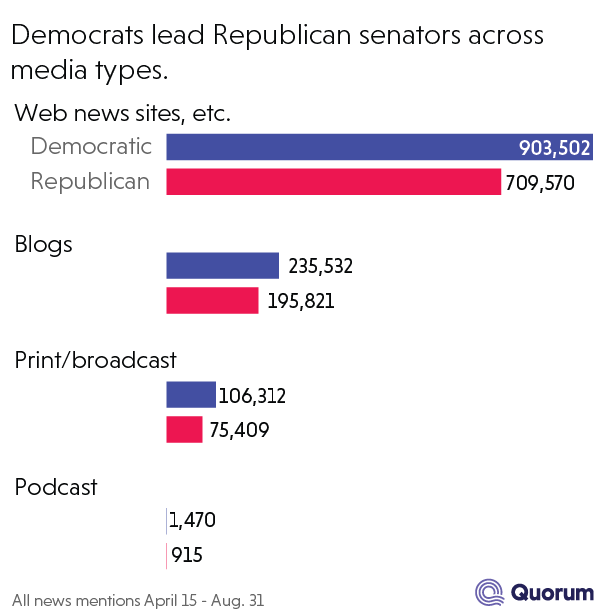 When combining the House and Senate, the average Democrat is mentioned in the news 47 percent more often than the average Republican.
Most Frequently Mentioned in the Media: Squeaky Wheels Get the Grease
Lawmakers in leadership are some of the most mentioned, though those seasoned veterans share the top spots with the more vocal members including relative newcomers. First-term representative Alexandria Ocasio-Cortez (D-NY-14) trails only Pelosi in mentions.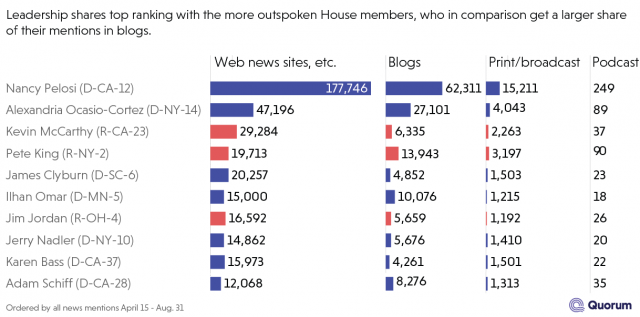 Four senators who ran for the Democratic presidential primary nomination are among the top ten most mentioned senators, along with four Republicans who previously ran for president and the two party leaders. Harris, who joined Biden as a VP candidate in August, had the most podcast and blog mentions of any current lawmaker, putting her over Mitch McConnell, who showed up more in news sites and traditional print and broadcast.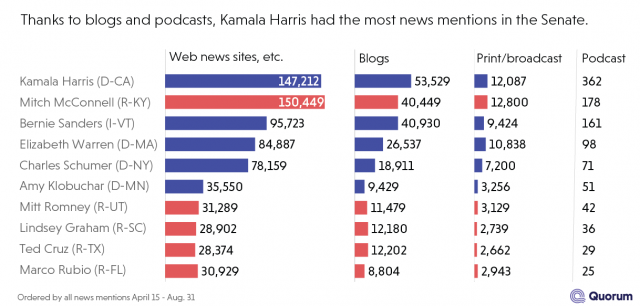 National vs. Local News Breakdown: All politics is local
It's easy to consider mentions on the national cable news and established entities like the New York Times as the ultimate measure of a politician's influence or importance. However, it's the local TV stations and town papers that target the audience a lawmaker is really after—their voters. For both senators and representatives, local news is where they get the bulk of their mentions. Industry publications make up the second most citations of lawmakers. For our analysis of national versus local news, we focused on print and broadcast media.
Republican representatives trail Democrats by 40 percent at the local level and fare even worse on larger tiers.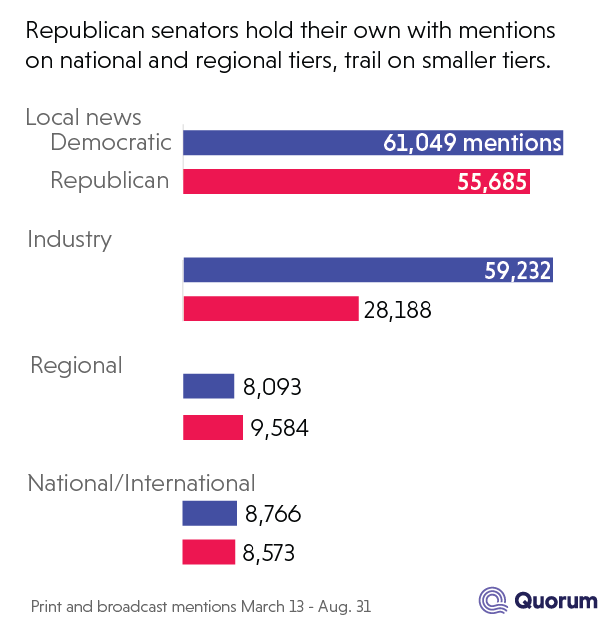 Of all members of Congress, Rep. Louie Gohmert (R-TX-1) has the largest share of media mentions from national outlets, still just 16 percent, while Rep. Chris Jacobs (R-NY-27) has the largest local proportion, 92 percent. Gohmert saw significant press coverage in July after refusing to wear a mask in the Capitol and then testing positive for COVID-19 shortly before joining President Trump on a fundraiser.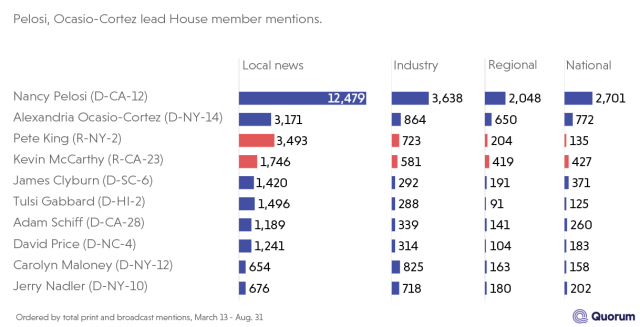 Republicans in the Senate are on more of an even footing with Democrats in print and broadcast mentions as compared to newer forms of media like podcasts. Republican Senators lead their Democratic counterparts in regional coverage and are even with them on the national level.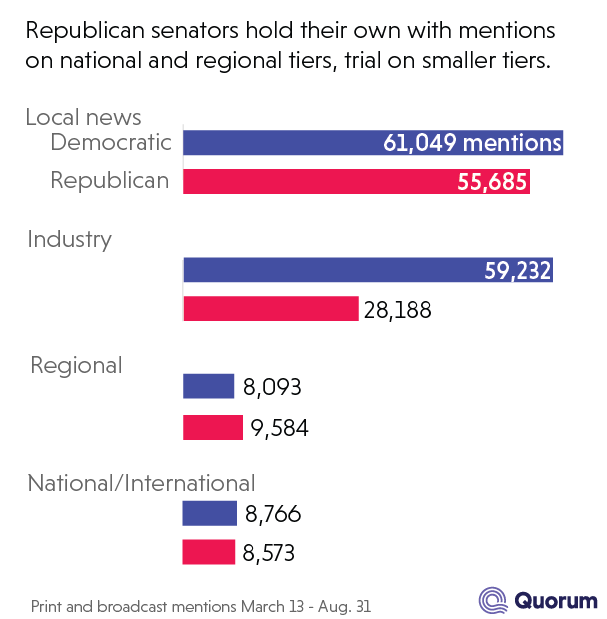 Local news bolstered the news presence for Warren, who otherwise trailed McConnell. While Warren ended her presidential campaign on March 5th, she continued to be covered by local publications discussing the remaining primaries throughout the spring.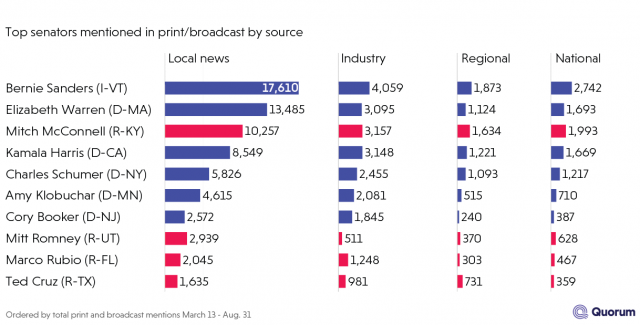 As organizations look to engage legislators on key issues heading into the final weeks of the 2020 election, a lame-duck Congress, and the first 100 days of a new Congress and a potentially new administration, it's critical to understand the news coverage officials are getting and how that might impact their perception on an issue. With tens of thousands of publications across various media types, it's no longer enough to rely on the major publications to keep you in the know.