Welcome to The Brussels Dispatch — your monthly guide to what's hot in the Brussels policy world. Discover key insights from the Twitter output of over 130 of the most influential voices in town — covering journalists, academics, trade association staffers, NGO advocates, and more.
Winter is coming — and Europe knows it. Despite Brussels experiencing the warmest October on record, policymakers kept the impending winter freeze top-of-mind this month as they grappled with solutions to the worsening energy crisis. Discussions took on fresh urgency against the backdrop of escalating Russian aggression in Ukraine, but leaders agreed upon relatively few solutions at the October European Council summit — to the disappointment of many of our policy commentators and European citizens alike.
Get the full picture of what the Brussels Bubble had to say about the month's developments below.
October: What You Need To Know
Understand the month by numbers.
Volume: Steady Commentary Despite Accelerated News Cycle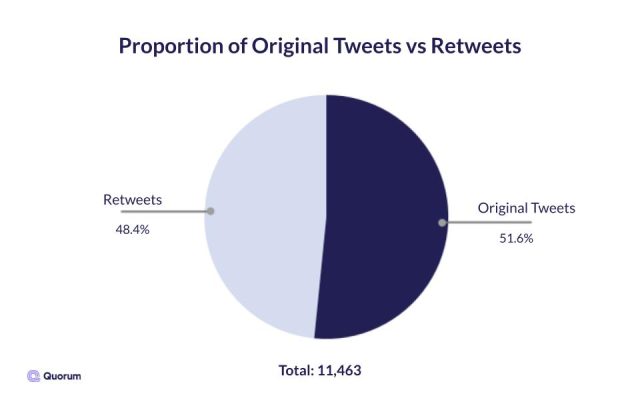 Events in October — including the energy crisis and the war in Ukraine — resulted in a busy news cycle, but this seemingly did not affect our policy commentators' output. Instead, commentators have maintained a consistent level of activity since the policy calendar picked up after summer, with Twitter output fairly evenly split between original commentary and retweets. This shows a marked difference from July, where original tweets dipped to only 43.9% of total post volume.
Activity: International Community Condemns Russian Invasion of Ukraine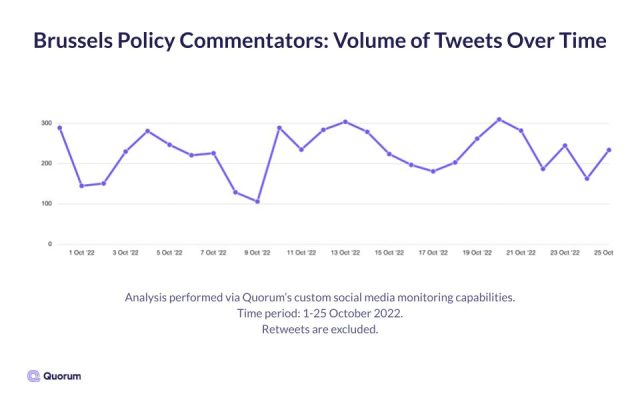 Peaks in activity:
10 October: Renewed Russian shelling in Kyiv sparks global concern.
13 October: The international community took action to criticise Russia's attacks in Ukraine — with the Council of Europe adopting a resolution which declared Russia a 'terrorist' regime, while the United Nations General Assembly adopted its own resolution condemning Russia's attempt to annex Ukrainian territory.
20 October: The European Council agreed on potential avenues to tackle Europe's energy crisis, but events unfolding across the Channel almost stole attention away from the Summit. Liz Truss stepped down as Prime Minister of the United Kingdom after only 44 days in the role, making her the country's shortest-serving Prime Minister. (Luckily for Liz, we only found seven mentions of the term 'lettuce').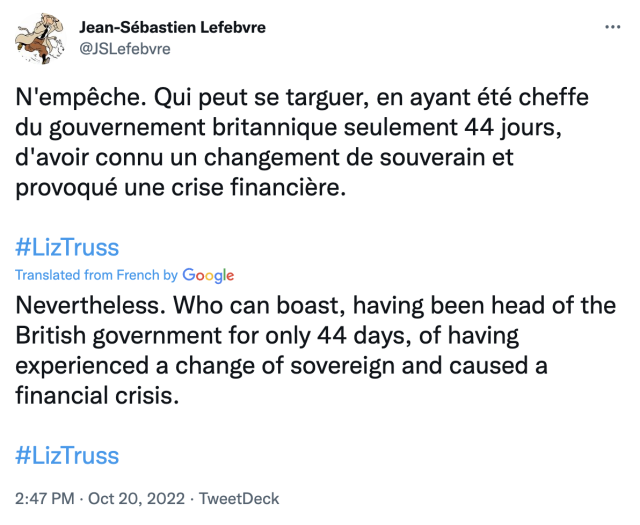 Leaderboard: Carretta Second Most Vocal With Ukraine Commentary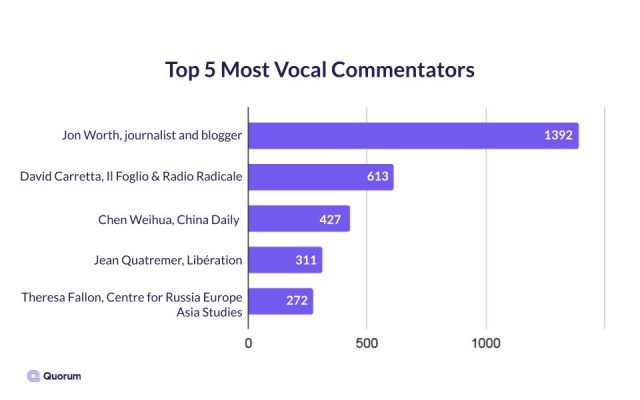 As in previous editions of The Brussels Dispatch, Jon Worth sits at the top of the leaderboard thanks to his #CrossBorderRail project — an initiative to campaign for improved international rail connections in Europe. Notably, this month, he shared a write-up of his project by the New York Times, alongside his typical discussions around train specifications and timetabling issues. He sent an average of 55 tweets a day, meaning that his total output is still more than the next three policy commentators combined.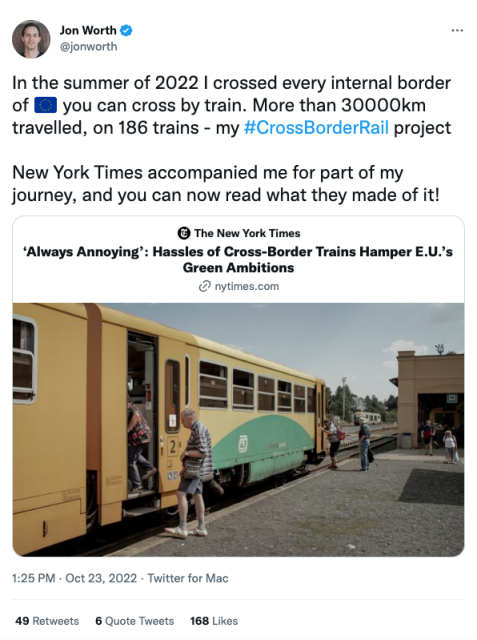 In second place for the second month running is David Carretta of Il Foglio and Radio Radicale, with activity again focused on the war in Ukraine — almost 20% of his tweets mentioned the keywords Putin, Zelensky, Ukraine, or Russia.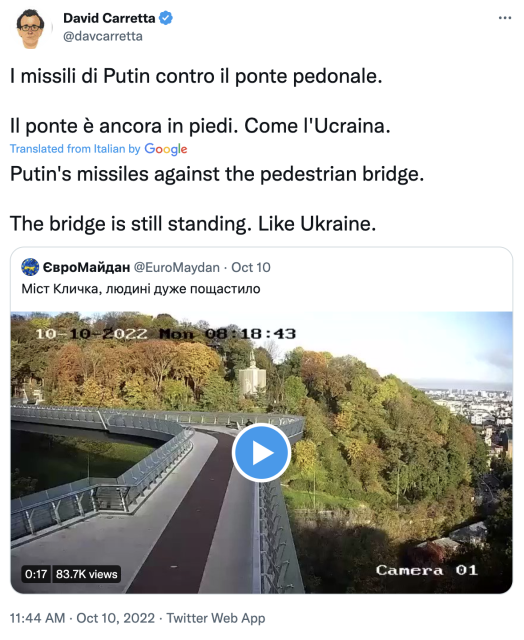 Hashtags: War in Ukraine Dominates Conversation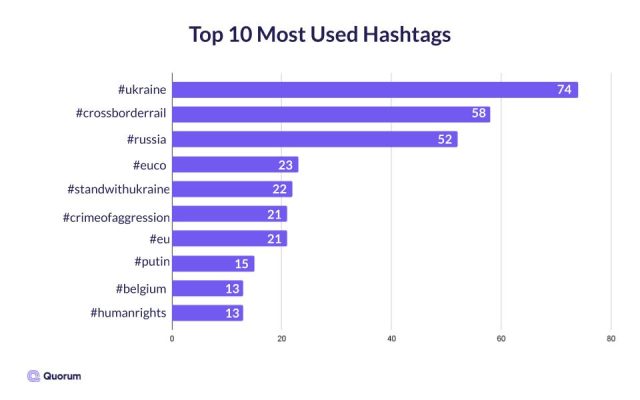 For the first time since the launch of The Brussels Dispatch back in July, #crossborderrail did not take the top spot. Instead, #ukraine was the most-used hashtag — with six out of the top ten hashtags referring to the conflict in the country.
October gave rise to a clear shift in focus for the online conversation — in previous months, only two of the top ten hashtags made reference to the war. As Russian forces launched missile attacks in largely civilian areas, including Kyiv, the Brussels policy commentators condemned the invasion in even stronger terms — such as Lotte Leicht, EU Director at Human Rights Watch, who called for Russian officials to be tried for war crimes.
On a related note, #euco featured in fourth place following the European Council summit addressing the conflict in Ukraine and its consequences — explained in more detail below.
The Deep Dive: Energy, Revisited
Each month we'll drill down into one key area of the policy conversation, based around the Commission and Council priorities. This month, energy was back on the table as European leaders sought to control spiralling gas and electricity costs.
The war in Ukraine and the energy crisis are two sides of the same coin. The conflict has sent gas and electricity prices sky-high across the EU, with keenly felt consequences for Europeans' purchasing power. If there's one thing that EU countries can agree on, it's that the energy crisis needs addressing — which they sought to do at the European Council summit on 20 and 21 October.
But, the devil is in the details — and there was little agreement on how to stop bills from rising even further. Read on for a recap of the main bones of contention from the summit.
Top Hashtags: Gas Price Cap Causes Controversy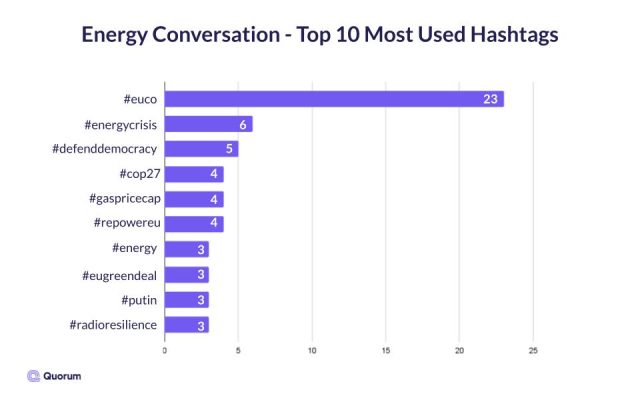 While most EU countries supported the notion of joint gas purchase, another of the Commission's proposals elicited somewhat more debate… The gas price cap.
Opponents of the proposal — including Germany — cited concerns that a price cap would not encourage Europeans to cut gas consumption and may also lead to gas suppliers sending their tankers to dock in other global regions offering higher prices, such as Asia.
However, Germany also managed to land itself in hot water over its domestic €200 million gas bailout scheme, as pointed out by The Times' Bruno Waterfield. The country undertook the initiative unilaterally, all while appearing to drag its feet on approving EU-level energy crisis measures — much to the consternation of other EU countries.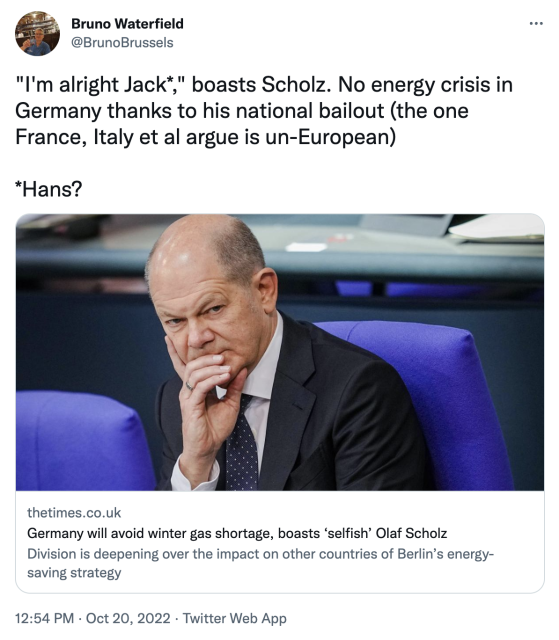 Hungary also had its two cents to share on the gas price cap, which our policy commentators were able to follow in real time as PM Viktor Orbán shared his reactions on his brand-new Twitter account.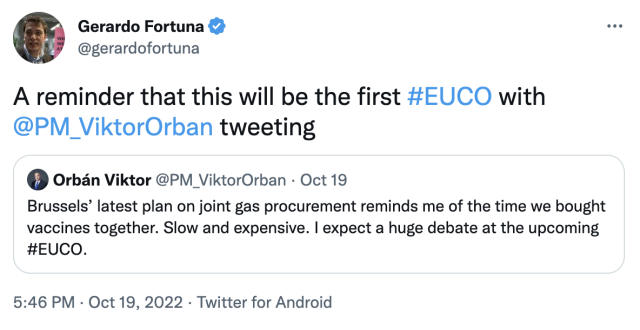 Most Vocal Commentators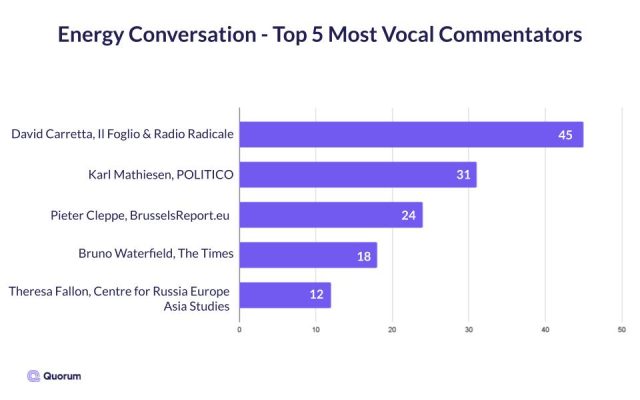 David Carretta took first place as the most active on energy, a logical outcome given his focus on Russia and Ukraine in the month's overall conversation. His reaction after the summit encapsulated the general mood — some progress was made, but much remains to be done on the energy crisis.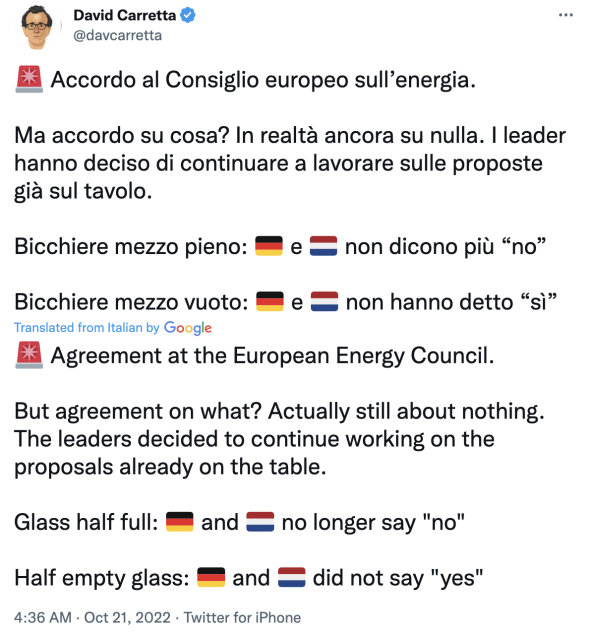 Politico's Karl Mathiesen took second place as he used Twitter to follow up on Politico's scoop that Spain would leave the Energy Charter Treaty over climate concerns. The story snowballed as other European countries followed suit, with President Macron notably announcing France's intention to leave shortly after the European Council summit.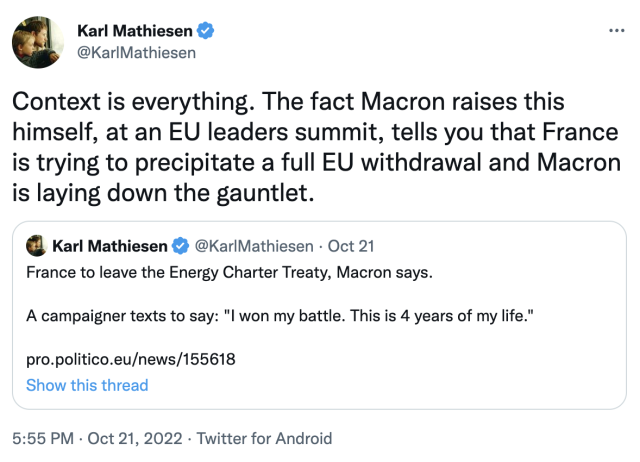 Stay Tuned…
As winter begins to bite in November, the Brussels Bubble will continue to follow the energy policy landscape closely. Check back next month to see how the conversation evolves.
Methodology
We used Quorum's custom social media monitoring capabilities to analyse the Twitter output of over 130 influential figures from across the Brussels Bubble.

Get the most comprehensive overview of your policy landscape with custom social media tracking from Quorum.
Keep a pulse on the external stakeholders who matter most to your organisation with tailor-made monitoring of any public social media account on Twitter, Facebook, and YouTube.
Want to learn more? See how social media monitoring powered our analysis of President von der Leyen's 2022 State of the Union address.

Time period: 1-25 October 2022.
Retweets are excluded, except where specified.