One truth about modern politics is that campaigning never stops. There is no off-season anymore. In bodies like the U.S. House and a majority of state legislatures, where terms last only two years, the next campaign starts soon after the last one ends.
Advocacy too is now an "always-on" activity. Organizations that want to influence policy decisions need to be ready to launch campaigns in the digital space at any time of year, whenever the need arises. When your issues are in the spotlight, your team should be ready to send email or text messages, initiate phone calls, create social media campaigns—anything and everything to rally your audience to support your position.
Quorum has helped organizations launch thousands of digital advocacy campaigns and we have learned some lessons along the way. For those who are starting out, or who need to refresh their program, here's a quick guide to creating impactful digital advocacy.
What Is Digital Advocacy?
Digital advocacy is the use of technology to create, promote, and mobilize support for a particular cause or campaign. Digital advocacy may include sending out emails or text messages, creating social media campaigns, holding virtual events, and more.
Why Digital Advocacy is Vital
Digital advocacy is a necessary capability in today's political landscape. While traditional lobbying will always have a place in modern advocacy, and personal relationships matter, the ability to use professional advocacy software and mobilize massive support on an issue is essential. In an increasingly connected world, leveraging technology to engaging more people has many benefits:
Digital Advocacy is Scalable. You can reach far more people, far more quickly and easily, with digital tools than you can with any other strategy. A single email can go out to an entire list and be forwarded by supporters. A video on social media can be shared—or even go viral—reaching well beyond your list.
Digital Advocacy Extends Your Reach. Because digital advocacy efforts are so easy to scale, they make it possible to reach far more people, including those who are not part of your core audience. For example, you may be able to expand to a younger, more active demographic through digital narratives. This same demographic, because they are more digitally connected to friends and peers, can extend your reach even further.
Digital Advocacy Enables Rapid Response. With the right digital advocacy software, and an "always-on" approach that keeps your audience informed and engaged, you can launch campaigns in real time. The ability to segment your list, target relevant supporters, communicate with impact and move people to action becomes something that can be done on command.
Digital Advocacy Keeps Your Data in One Place. Using digital advocacy software makes it possible to store all of your information in a central, searchable, and highly functional location. If you need to identify active supporters, or advocates in a certain location, it is easy to do.
How to Create a Digital Advocacy Campaign
While digital advocacy campaigns can lengthy and sophisticated, using a variety of tactics, basic mobilization campaigns generally have six essential steps:
Establish Campaign Objectives
As the saying goes, proper planning prevents poor performance. Be sure to take the time to plan and prepare. This means establishing how you will communicate, setting measurable goals, establishing a timeline, and ensuring you have the right approvals to get things launched.
Our recommendation is to keep expectations realistic: establishing a working program capable of launching advocacy campaigns at will is a fine goal for the first six months. For longer-term goals, you could aim to recruit a certain number of advocates or send a certain number of messages to legislators.
Build Your Toolkit
To conduct advocacy campaigns, you need tools: a database to maintain your list, an email and text messenger to communicate, a website to allow advocates to take action, and an analytics suite to track progress and optimize performance. Professional advocacy software does all of those things in one place and it is always the first step. Securing a professional system ensures that you have the capabilities you need.
Choose a solution that is easy to use, offers quick onboarding, and gives you the technical support you need to be successful. Launching campaigns should not be a fire drill. It should be a smooth process that you can execute at will.  The right professional advocacy software will ensure your campaigns launch fluidly.
Select Your Audience
You need to identify the audience, or collection of advocates, who will help spread the message. On some issues, you may send a call to action to your entire list. On others, you might only contact supporters in a single state. Targeting your campaign is important. You want to engage with the supporters who are most likely to take action. Plus, legislators will often only listen to the opinions of their constituents. If you send hundreds or thousands of letters to legislators in a given state, but the advocates come from all over the country, you're wasting energy.
Create Your Messaging
Launching a campaign requires knowing what you want to say and what imagery you will use. Often, these elements can be created in advance. If you know your organization's position on an issue, creating messaging and having it approved in advance can dramatically speed up campaigns. Consider too what it will require to mobilize your audience. While some may respond to a simple request, others may need education to get up to speed on an issue.
If you do have to create messaging in a flash, you can still be proactive by having a clear approval process so you can go from draft to launch in an expedient manner.
Launch Advocacy Activities
Once you have messaging and an audience, you can launch your campaign. Obviously, your call to action will depend on your goals, your message, and what you believe will work best for your particular situation. That may include contacting legislators, signing a petition, sharing materials (such as a video), or other requests.
Evaluate Your Campaign
After your campaign is concluded (or sometimes during lulls or critical shifts) it is vital to evaluate performance. If you set measurable goals from the beginning, you can determine whether or not those goals were met. If you have the right software on board, it can offer insights into which efforts yielded the most impact so you can optimize your strategy moving forward.
How to Boost Digital Campaign Performance
As you engage in digital advocacy, there will be challenges. For example, some of your audience may experience digital fatigue and be difficult to mobilize. Some may respond well on some issues, but not at all on others. Successful campaigns rise above the noise and motivate advocates without being overly aggressive, which can turn people off. Cadence is also important. Email too often, and they may begin ignoring your messages. Email too infrequently and they may forget why your issues are important.
A coherent strategy that focuses on specific channels and contains a timeline with plans for what to post and when can help a great deal. Here are some other strategies that can boost performance:
Send Relatable Messages. People aren't compelled to act unless they feel a connection to the issue. Whether you're collecting advocates, informing the public, or communicating with policymakers, the message must be relatable. Your audience must understand how an issue affects them and why a change would benefit them or those they care about. This might require creating different messages for different audiences.
Choose the Right Channels. Know where your target audience spends their time online. Do they respond to email? How about text messaging? Do they use social media and, if so, which platforms?  The goal is to match your digital tools with the way your audience wants to communicate. Understanding demographics can be important here. Information about age, gender and political affiliation can help identify the most impactful channels.
Identify Grasstops Advocates. Grasstops advocates, meaning people who have shown interest in advocacy and may even have their own relationships with policymakers, can significantly boost campaign performance. They are more likely to take action, to share materials and to communicate with impact. Many organizations create a program to give these supporters additional training. Including them in relevant campaigns just makes sense.
Educate Your Audience.  When you send out your messaging, include links to appropriate resources. These may include the studies and data that back up your assertions, so that those who want proof don't have to go searching to get it. It may also include additional links to personal stories or your campaign page, so interested individuals can find out more or sign up for notifications. The easier you make it for people to engage, the more likely they will do so.
Encourage Competition. To encourage more grassroots action, some organizations use Quorum's visual analytics to create competition among advocates in different regions by showing which state or district accounts for the most activity. Grassroots program managers can download a heat map from Quorum and include it in an email to advocates to keep them updated on who is leading. For example, the Association of Equipment Manufacturers used gamification to incentivize and reward participation.
Re-Engage Advocates. By tracking activity levels, you can find ways to reactivate advocates who haven't taken action in recent campaigns and increase their participation. First, see which advocates have taken the fewest number of actions. Then, provide resources designed to energize them. Consider sending an email on the impact of recent advocacy campaigns or an update on important legislation in Congress. Personalized messaging can also help.
Choosing a Digital Advocacy Solution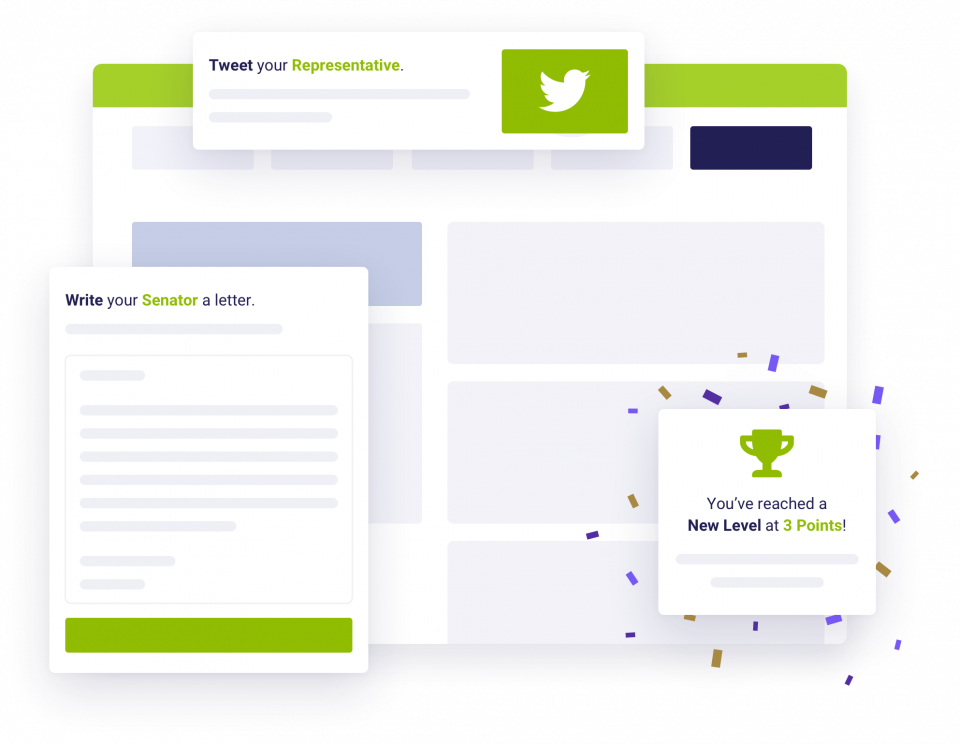 Choosing the right professional advocacy software is another key to an impactful program. The wrong tools can increase work and cause problems, but the right tools can provide incredible support, insight and utility. Look for the following features in any digital advocacy solution you consider:
Campaign Customization. To make your campaign stand out, you need the ability to customize it to meet your needs. This includes customizing landing pages and emails as well as the channels you use.
Real-time Reporting. The ability to track what's working and what isn't, and to spot trends and identify gaps as your campaign runs, will help you optimize and increase performance.
Acquisition Tools. The more capabilities a solution has to help you acquire and engage new advocates, the better. This means email and text messaging capabilities; the ability to send personalized messages; and the capability to discover relationships between supporters and targeted policymakers.
Story Collection. Studies show that people are more compelled by personal stories than by general narratives. Look for a solution that makes it easy to collect and curate relevant personal stories that support your efforts.
Multichannel Communication. A solution should enable you to spread your message on different platforms in order to target more people and find the channel with maximum impact.
GOTV Features. Look for tools that support get-out-the-vote (GOTV) efforts, such as voter registration and ballot information.
Digital campaigns have long been a vital capability for advocacy teams, and they have grown even more so in the post-pandemic world. They provide a fast, scalable and powerful addition to traditional lobbying. But to be successful, teams need an "always on" approach that includes professional tools and a commitment to plan and execute campaigns whenever and wherever they are needed. By embracing a data-driven approach to digital advocacy, and a commitment to optimization, your organization can bring a competitive edge to your digital advocacy efforts. That means better metrics throughout the year—and more checks in the win column.