To build a national movement, your organization relies on its affiliate chapters to recruit advocates and promote your mission within their states. These affiliate groups have their own leadership and goals unique to advancing the organization's mission at the state level but may lack the resources your national office's team has.
What are State Affiliates?
In addition to a national office, larger organizations often have different regional or state-based chapters that manage the organization's state and local issues. The national office relies on affiliates to be its eyes and ears on the ground, allowing the organization to be in multiple places at once.
Affiliate organizations are either run by professionals who manage and organize volunteers or are operated by volunteers themselves who are passionate about the organization and its causes. Affiliates represent organizations at the state and local levels by organizing events to engage the community, promoting key issues, and recruiting advocates within their communities.
Why You Need Open Communication with Affiliates
When managing affiliates spread across time zones, regions, and different political climates, communication is key. Standardizing and sharing your processes and resources with affiliates strengthens your communications with them, which in turn helps them stay aligned to your national goals. To shift from a top-down management approach to a partner-based relationship built on mutual trust and respect you need to share resources and open your lines of communication.
Some affiliates might hesitate to share their strategies with other chapters because they developed them to fit their state best. By laying the groundwork in establishing a feedback loop between your national office and other affiliate groups, you create an environment that encourages and rewards more open communication, empowering your affiliates to collaborate because they see each affiliate group as an equal partner in achieving your national goals.
Your affiliates are vital to your organization's advocacy efforts, bringing both specialized knowledge on the challenges your organization faces within their states and promoting your organization's mission within their communities. That's why some national organizations grant their state affiliates access to their grassroots software solution.
Using a shared system mutually benefits your headquarters and your affiliates by allowing affiliate advocates access to share strategies, more easily report on progress, and grow their grasstops programs. Here's why your national organization should add your affiliates into your grassroots platform:
Share Strategies to Boost Advocacy Campaign Quality
Your affiliates aren't operating in a vacuum. With your issues prevalent across the country, your affiliates need both resources and a way to collaborate to tackle your issues effectively. Affiliate budgets are likely much smaller than your national office. By providing professional tools to your affiliates, you improve the continuity and the quality of content your affiliates produce on your behalf.
Depending on your organization's preferences, you can allow state affiliates to share effective strategies. If one state's advocacy campaign performs well, other affiliates can view those performance metrics within Quorum and replicate the campaign (hopefully with the same level of success) without having to build their campaign infrastructure from scratch.
Say one state ran an email grassroots campaign that had a high number of actions taken. If your affiliates are using a shared email system, like Quorum''s Outbox, to send their grassroots emails, they can view those performance metrics, replicate the email template for their own state, and send it out to that chapter's advocates.
This also gives you a higher level of control over your messaging across the national, state, and local level campaigns without much additional work. Sharing grassroots software solutions gives your headquarters a higher level of visibility into what campaigns are running simultaneously in different states. By uploading campaign messaging and branded templates into the shared system, you also free up affiliate groups' time from creating collateral to promoting that collateral.
Improve Affiliate Reporting Capabilities
To maintain open lines of communication, you need to establish a feedback loop between your affiliates and your national office. This can take place via monthly calls with all affiliate chapters' leadership or it can be automated into a shared system via a reporting dashboard. Providing spaces for affiliates to report on their progress helps your national office stay updated on what each affiliate is working on at the state and local levels, allowing you to more easily spot where you can help or share strategies to achieve your goals.
Have each state affiliate build an auto-updating grassroots reporting dashboard that includes the following widgets:
Number of advocates registered within affiliate group
Number of grassroots actions taken by advocates
Feed of interactions advocates log from meetings with legislators
Email open rate
List of news mentions of affiliates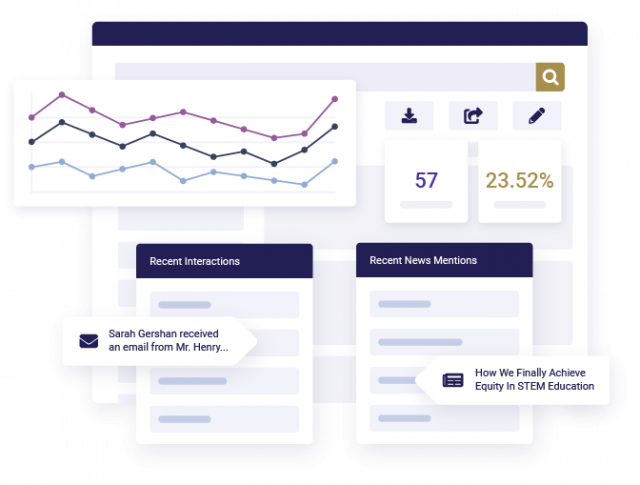 Housing these dashboards within the same system means your leadership can access them anytime to get a snapshot of each chapter's impact and campaign progress in one place.
Grow Your Grassroots and Your Grasstops
If your affiliate groups are using their own systems to house and document advocate actions, your headquarters misses out on opportunities to grow your grassroots advocate base. Grassroots advocates are individuals who take action on behalf of your advocacy efforts online, on the phone, or by mail to contact their elected officials. By giving your affiliate chapters access to your grassroots software, you enable them to more easily build action centers, send communications, and plan advocacy events to acquire and retain more advocates.
Your grassroots advocates at the affiliate level build important connections between your organization and state and local officials. Within your shared grassroots software, you can view advocate data on who is logging meetings with legislators in their district and attending their affiliate chapter's events. This helps your team at headquarters identify which advocates are good grasstops ambassador candidates by analyzing their participation level in your advocacy efforts as well as their in-district relationships with their legislators.
Once you've identified your grasstops advocates, you should invite them to your next fly-in. By inviting grasstops advocates with established in-district relationships with their legislators to your Hill fly-in, you help legislators make the connection between your national priorities and your organization's impact and presence in their district.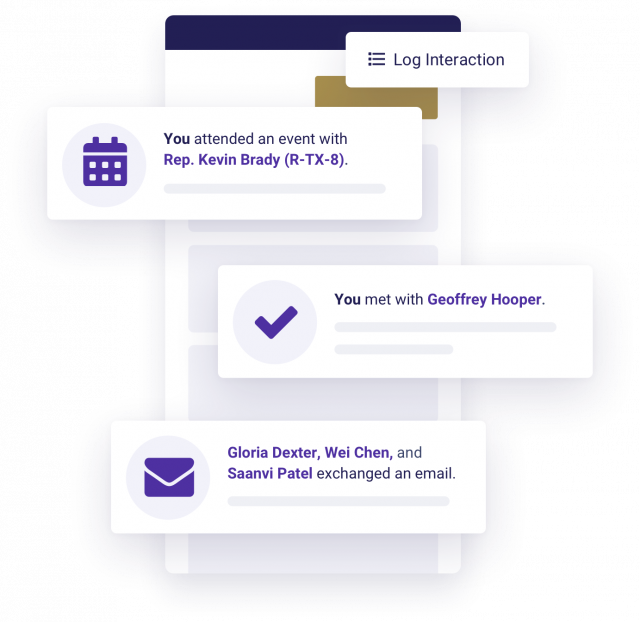 Harmonize Your National and State Advocacy Efforts
Your state affiliates are vital to your organization's national advocacy program's success. By providing robust grassroots solutions to your affiliate chapters, you'll boost the overall quality and performance of your national advocacy program.