In 2018, Congress welcomed a historic class of 111 freshmen —101 representatives and 10 senators. It saw the most women ever elected to Congress and the most racially diverse freshman class. From Alexandria Ocasio-Cortez's Green New Deal to Mitt Romney's impeachment votes, several have become public figures beyond their respective congressional districts with their legislative decisions, but who has successfully gotten a bill signed by the president? 
While it's clear these freshmen have impacted discourse in Congress, how did they do legislatively? We first reported on their legislative activity through their first several months in office in our 2019 August Recess Report. Now, as voters head to the ballot box (or mailbox) to decide if these freshmen are deserving of a second term, we took a look at the legislative work of the 116th freshman class. 


Rep. Elaine Luria (D-VA-2) has enacted more bills than any other freshman — House or Senate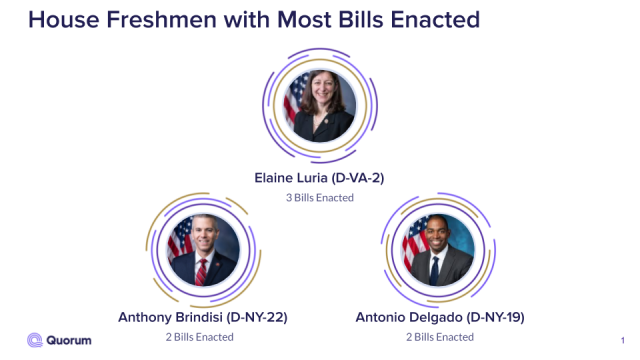 Luria was featured in our 2019 report as one of the only freshmen to have a bill pass the Senate—a bill to rename a post office in her district. Since then, she's had the post office bill enacted as well as two more substantive pieces of legislation—H.R. 4566: Virginia Beach Strong Act and H.R. 1200: Veterans' Compensation Cost-of-Living Adjustment Act of 2019. The former provided cash contributions to families of the mass shooting in Virginia Beach in May 2019 while the latter directed the Department of Veterans Affairs to increase the rate of various types of compensation for veterans. For comparison, in the 115th freshmen representative class, no legislator had more than two bills enacted. 
New York Reps. Anthony Brindisi (D-NY-22) and Antonio Delgado (D-NY-19) are the only other House freshmen to have more than one bill enacted. 
Brindisi and Delgado are both in seats that flipped from red to blue during the 2018 midterm elections and that President Trump won in 2016. Cook Political Report ranks Brindisi's seat as R+6 and Delgado's as an R+2. 
Brindisi's two pieces of legislation were H.R. 2333: Support for Suicide Prevention Coordinators Act and H.R. 4285: Department of Veterans Affairs Expiring Authorities Act of 2019. Delgado passed H.R. 2336: Family Farmer Relief Act of 2019 and H.R. 2151, which renamed a post office in his district.
In the 115th Congress freshman class, seven representatives had two bills enacted.
11 House Freshmen had one bill enacted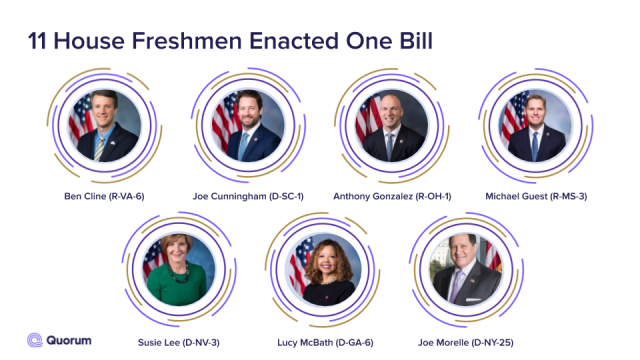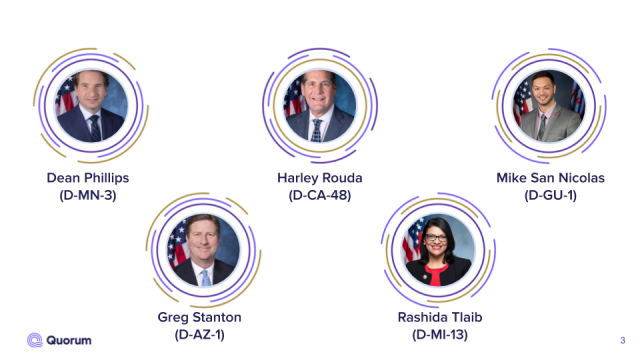 Rep. Josh Harder (D-CA-10) introduced more bills than any House freshman with 39. Two passed the House. 


Three of the five Senate bills enacted by freshmen were by Democrats — Sens. Kyrsten Sinema (D-AZ) and Jacky Rosen (D-NV).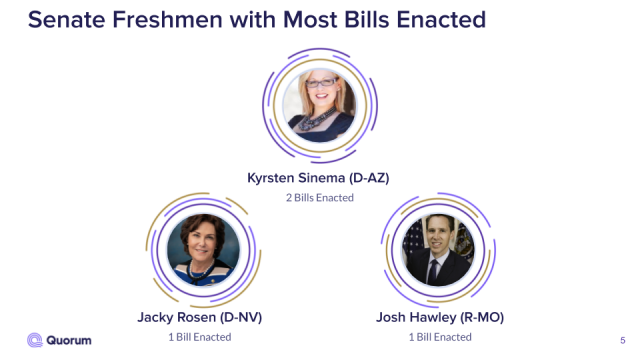 Sinema led the way for Senate freshmen with two bills enacted—S. 1749: Protecting Affordable Mortgages for Veterans Act of 2019 and S. 504: Let Everyone Get Involved in Opportunities for National Service Act. 
Rosen, Sen. Josh Hawley (R-MO), and Sen. Mike Braun (R-IN) each passed one bill. Rosen and Hawley passed more substantive pieces of legislation, with Rosen having enacted S. 737: Building Blocks of STEM Act and Hawley passed S. 998: Supporting and Treating Officers In Crisis Act of 2019. Braun's bill renamed an Indiana post office. 
Sen. Martha McSally (R-AZ) introduced more bills than any Senate freshman with 72. Three of them passed the Senate and none were enacted.
21 out of McSally's 72 bills were from her role in the Senate Committee on Energy and Natural Resources.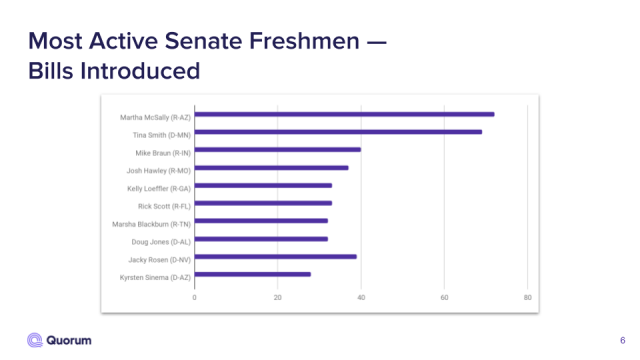 Conclusion: 
According to Brookings, this freshmen class had the least previous political experience in congressional history coming into this session. Now, with one term under their belt where legislating nearly ground to a halt during the coronavirus pandemic, the legislators who were able to get bills passed may have a leg up in proving their legislative abilities.