Published November 21, 2016
Last week the Republican Party established a federal trifecta and with wins in the Minnesota Senate, Kentucky House, and Iowa Senate, the GOP now controls both state legislative chambers in 32 states. According to The National Conference of State Legislatures, Republicans now control more state legislatures than at any point in U.S. history. However, they have yet to beat out Democrats' 1975 record of complete control in 37 state legislatures.
Republicans now control 34 upper chambers, while Democrats control 13.
While Republicans gained control of the Iowa Senate and Minnesota Senate, they lost previous control of the Nevada Senate. The Democratic Party numerically gained control of the Washington Senate; however, State Sen. Tim Sheldon (D-WA-35) will caucus with the Republican Party, giving Republicans control of the chamber. The Connecticut Senate is now split after all 36 State Senators were up for reelection and Republicans were able to flip three seats. Yet, Democrats will maintain majority vote and state trifecta status with Democratic Lt. Governor Nancy Wyman as the Senate's tie breaker.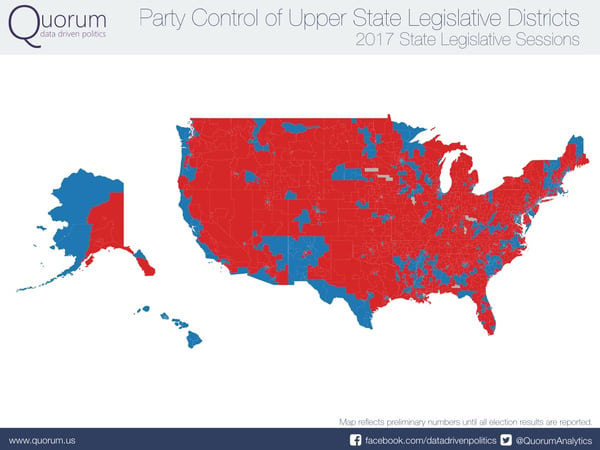 Democrats gained control of two lower chambers, bringing their total count to 17, but Republicans still control 31 lower state chambers.
Democratic legislators took majority in the New Mexico House and the Nevada Assembly, turning the Nevada state legislature completely blue. Additionally, while numerically Republicans hold majority in the Alaska House, coalition governing will give Democrats the vote majority. Republicans won a majority in the Kentucky House for the first time since 1920, picking up 17 seats.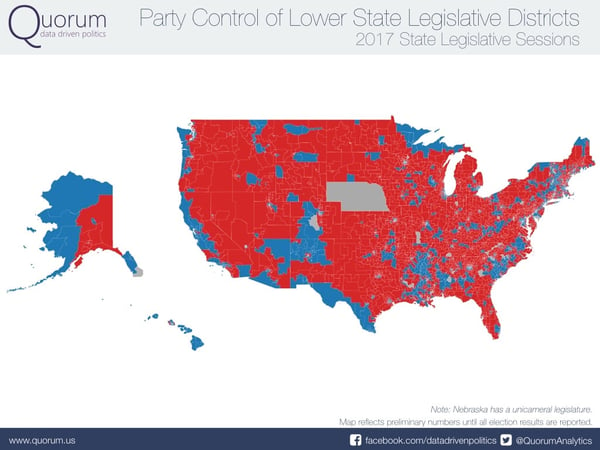 In total, Republicans will control 4,170 state legislative seats and both chambers in 32 state legislatures. Meanwhile Democrats will control 3,129 individual seats and both chambers in 13 legislatures. Maine and Colorado are the only state legislatures where there remains a split in control.
While the Republican Party's control is significant, these numbers are not drastically different from the GOP's control during the 2016 state legislative session. Data found using Quorum States.
Learn how you can stay up to date, engaged and active in our democracy with Quorum's public affairs software.