Social media plays a major role in today's politics. All 535 Members of Congress have official Twitter accounts and many create additional campaign accounts when they are running for re-election. Since Twitter has become a news source for both constituents and Members, we ran the numbers to determine the top 100 Twitter accounts Members of Congress follow.
Of the top 100 accounts, Members of Congress follow 26 media outlets on Twitter. @TheHill is the most followed Twitter account by Members of Congress, and is also the most followed media organization with 372 Member followers, followed by @POLITICO with 364 followers and @CSPAN with 346 followers in Congress.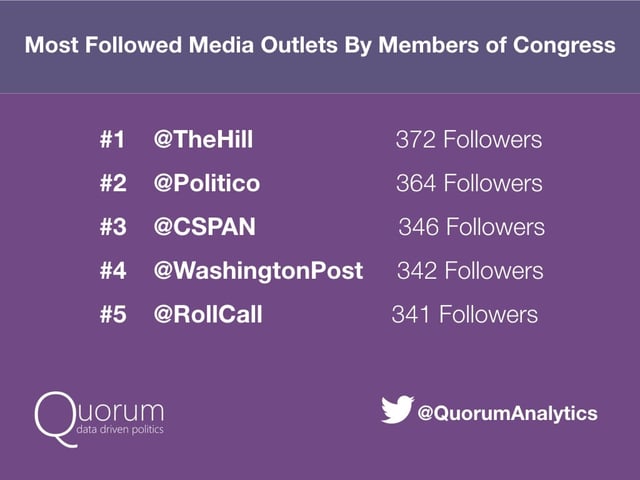 Fox's Congressional reporter Chad Pergram is the most followed reporter by Congress with 309 followers. POLITICO Playbook founder Mike Allen trails closely behind Pergram, ranking 10th overall with 297 followers in Congress, followed by Chuck Todd at 292 followers, Jake Tapper at 243 followers, and Dana Bash at 211 followers.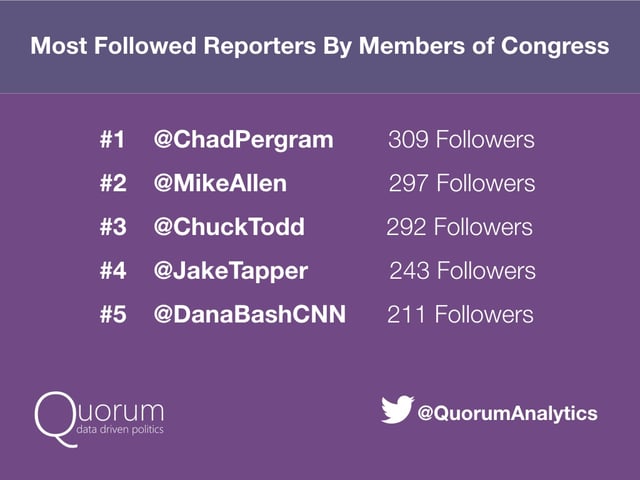 Of course, Members of Congress also follow their colleagues on Twitter. House Speaker Paul Ryan is the most followed Member on Twitter with 280 other Members following him, ranking 14th overall. Majority Leader Kevin McCarthy ranks right below Speaker Ryan at 15th, while Minority Leader Nancy Pelosi ranks 31st overall.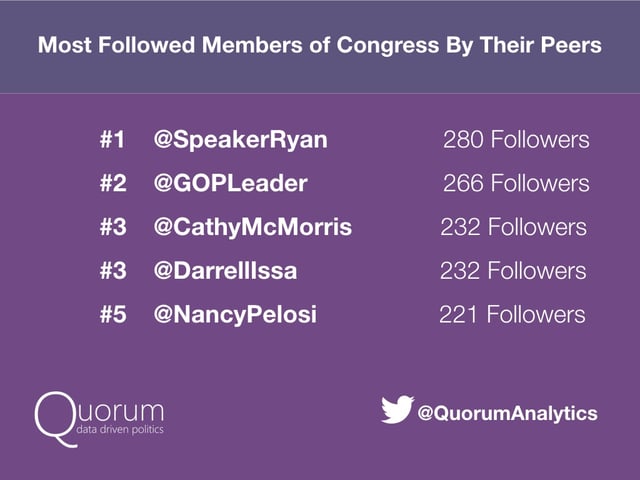 The media dominates the top 10 Twitter accounts Members follow.
1. @TheHill
2. @POLITICO
3. @CSPAN
4. @WashingtonPost
5. @RollCall
6. @SpeakerBoehner
7. @AP
8. @WSJ
9. @ChadPergram
10. @MikeAllen
Curious to know which non-governmental and non-media Twitter accounts Members of Congress follow? Find the answer in today's TIME Politics article. Read the Article