Blog
GOTV Strategies: 5 Ways to Mobilize Your Advocates for Upcoming Elections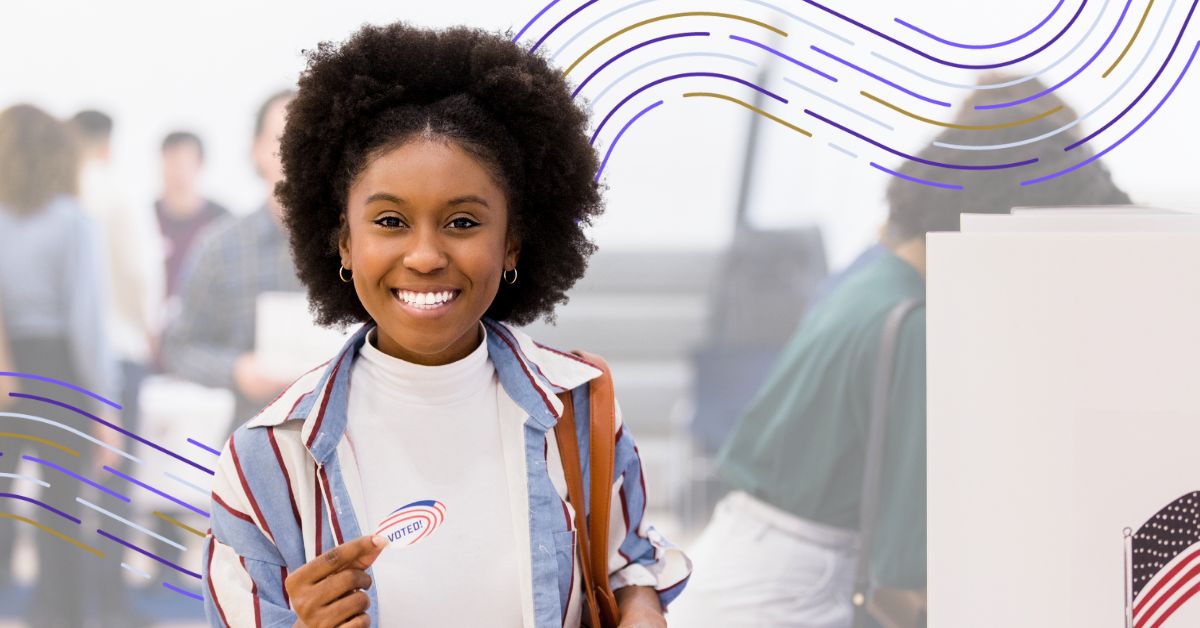 Few things are more fulfilling (or headache-inducing) than running a get out the vote (GOTV) campaign. While helping people take part in the democratic process is very fulfilling, motivating people is an art — an art that takes a lot of time, planning, and energy.
Going into your campaign with a clear strategy is essential to a successful GOTV initiative. In this guide, we'll explore tactics to engage and mobilize voters — while reducing headaches. More specifically, we'll cover how to execute these five GOTV strategies:
Building a voter and volunteer database
Mastering your messaging strategy
Identifying the most impactful communication channels
Creating a voting plan
Maximizing impact on election day
To close things out, we'll provide an example of a comprehensive GOTV campaign timeline so you can start planning immediately.
What is a GOTV Campaign?
A GOTV campaign is an election initiative that encourages individuals to participate in the electoral process. Through online and offline channels, GOTV campaigns seek to inform eligible voters about the importance of voting, educate them about the voting process, and encourage them to cast their ballots on Election Day. By increasing voter turnout, GOTV initiatives can influence the outcome of local, state, and federal elections and shape the future of a community.
GOTV campaigns aren't limited to associations, nonprofits, or grassroots organizations. Corporations large and small can also play a part in the democratic process by encouraging their employees to take part in upcoming elections.
Why Should Your Organization Get Involved?
We all understand why informed and engaged voters are essential to a functioning democracy. But what does that have to do with your organization? Well, there are many reasons why your organization should start a GOTV program.
Firstly, GOTV campaigns can serve as a platform to educate the public on your organization's mission and goals, garnering broader community support and potentially influencing policy outcomes in favor of your cause. This will also help build an association of advocacy with your organization, making voters more likely to also participate in your legislative advocacy campaigns throughout the year.
Secondly, through GOTV efforts, organizations can ensure that the voices of their constituents are heard, leading to better representation in government.
Lastly, GOTV campaigns allow organizations to connect directly with individuals, facilitating dialogue to help voters understand the issues that matter to your organization. In addition to advancing your causes, open dialogue can foster stronger relationships and help organizations identify the needs and interests of the community.
Partisan vs. Non-Partisan GOTV Campaigns
We often hear questions about what types of messages organizations can send for GOTV campaigns. For example, can your organization encourage people to vote for a specific candidate?
GOTV initiatives can be partisan or non-partisan. Partisan GOTV campaigns try to advance a particular political party's goals. Non-partisan GOTV activities, however, focus on educating the voting public about the electoral process. 501(c)3 nonprofits must be nonpartisan.
6 Steps to Developing an Effective GOTV Strategy
Organizing a GOTV campaign requires careful planning and consideration. To help, we broke down the process into six steps — starting with voter recruitment and ending in the voting booth.
1. Build a Voter & Volunteer Database
One of the first and most important steps of a GOTV campaign is creating, growing, and maintaining a voter database. This means collecting and organizing names, addresses, phone numbers, and email addresses. In addition to basic contact information, a good database will help you organize voters by demographics, location, and political affiliation, allowing you to tailor your messages and convince them to head to the polls. If your organization already engages in grassroots activities, you can use your existing advocate database for your GOTV efforts.
Volunteers are another vital part of a successful GOTV campaign. Volunteers can help with canvassing, phone banking, and other outreach efforts. To get the most out of your volunteer force, provide them with training and resources so they can effectively carry out their assigned tasks.
The first step in building a voter and volunteer database is picking your platform. For small campaigns with just a few dozen voters, a Google Form connected to Google Sheets might suffice. But as we've seen many times, spreadsheets can quickly become unmanageable. A platform like Quorum Grassroots or Phone2Action can help you collect voter information and organize your database. If you're already using a system like Quorum for your advocate database, that audience is perfect to tap into for your GOTV efforts. They associate your brand with advocacy, and will be more engaged and likely to want to participate in other parts of the political process.
2. Nail Your Messaging
Once you have a mechanism to collect and store voter information, it's time to craft your messaging. Here are some tips to write effective campaign messaging that will hopefully help with voter mobilization.
Appeal to Emotions
If you've ever taken a philosophy course or read Aristotle, you might be familiar with the concepts of ethos, logos, and pathos — the three modes of persuasion. Time and time again, we've learned that appealing to pathos (emotions) is the most effective way to change someone's mind.
Appealing to someone's emotions can be done by emphasizing your shared values and connecting those values to potential outcomes at the polls. By creating a narrative that resonates with people emotionally, you can build a passionate and engaged electorate.
Make a Connection Between Your Organization and the Issue(s)
Your audience is your audience because they care about your organization in some capacity. They could be employees, members of your association, donors, volunteers, etc. Outline what is at stake for your organization in the upcoming election — because if it matters to you, it matters to them.
Educate, But Don't Preach
To continue in philosophical terms, we've also learned that focusing solely on logos (logical arguments) can actually turn people away from the polls. No one likes to be talked down to or preached to. When it comes to a GOTV campaign, you should focus on educating the electorate to give them the tools to make an informed decision (instead of telling them to think X, Y, and Z).
More concretely, your messaging can highlight close races in local elections, provide information on a candidate's platform, and explain what is on the ballot and what it means for them.
Focus on Positivity
It can be easy to fall into the trap of fear-mongering. While this may be effective for some audiences, others respond better to positive messaging. For example, instead of saying, "If you don't vote, then these bad things will happen." You could say, "If you vote, then these great things could happen!" People want to be a part of something bigger. Let them know how their vote can make that happen.
Be Persistent
Most people need more than a single reminder to vote. It's important to be persistent with your GOTV messaging and use a variety of channels, such as emails, text messages, door-to-door canvassing, and phone calls.
Offer to Follow Up
Interestingly, a group of Harvard researchers found that "Get out the vote letters become substantially more effective when they say, "We may call you after the election to ask about your voting experience.'"
So, just mentioning that you plan to follow up after election day leads to increased voter turnout.
Take a Multi-Channel Approach
The best GOTV campaigns use a variety of messaging channels. Here are the most common:
Online Action Centers
Creating an online action center is one of the best ways to ensure your GOTV campaign reaches a broad audience. Organizers can build online action centers with platforms like Quorum Grassroots or Phone2Action. Phone2Action allows visitors to:
Register to vote
Check which candidates are running in their district
Confirm their current elected officials
Confirm their voting information
In addition to helping people register, your action center should include information about the election, voting deadlines, and other resources to help people know when and how to cast their ballot.
Advanced teams using a system like Quorum can incorporate gamification into their action center, incentivizing voter registration by assigning points that advocates can use to move up the ladder of engagement. Some teams offer prizes or raffles in exchange for participating in campaigns.
Social Media
Social media can help you reach a broad audience, including young voters who may not be as responsive to traditional GOTV tactics like phone banking or canvassing. Consider partnering with social media influencers who have large followings to help further spread your message.
Door-to-Door Canvassing
While it may seem rather old school, door-to-door canvassing is still one of the most effective ways to engage voters. It represents an opportunity to speak face-to-face with potential voters and answer questions about the upcoming election and the importance of voting.
Direct Mail
Direct mail can also be an effective tool for GOTV campaigns. It provides a physical reminder of the election and can target voters in specific areas or demographics.
Phonebanking
Phone banking is another classic tool for GOTV campaigns. It provides a platform for volunteers to reach out to voters and engage with them on a personal level.
Postering
Postering is a great way to increase voter turnout. Volunteers can place posters in your office or around town. Make sure your posters include an eye-catching visual and a clear message about the importance of voting.
The Association of Equipment Manufacturers used direct mail to sent kits to volunteers containing posters, postcards, other promotional materials to share with employees. The call to action? To visit their action center and get involved.
Community Partnerships
One effective strategy to boost support for your GOTV campaign is to establish partnerships with local organizations and community leaders. By collaborating with these stakeholders, you can gain their endorsement and tap into their networks, expanding the reach of your campaign.
With a system like Quorum, you can manage your community partner engagement with Quorum Stakeholder and the data and activity can live alongside your advocate database in Quorum Grassroots. With both contact sets in the same system, you can track your engagement all in one place.
Provide a Voting Plan
It has to be said that there are barriers that prevent people from voting. Some people might not have transportation to the polls. Others might not have the necessary paperwork. But above all, some people don't vote because they don't know how.
Depending on your audience, your GOTV messaging might need to simplify the voting process and explain what will happen when they go to the polling centers or receive their ballot in the mail. Try creating a voting plan that outlines getting an absentee ballot if needed, voting by mail, finding their local polling place, etc.
Along those lines, many people face physical, financial, or other barriers that prevent them from voting. It's important to address potential issues like lack of transportation or access to reliable polling locations and create solutions to make the electoral process more accessible.
Be Available on Election Day
On Election Day, there are several things you can do to ensure your GOTV efforts have a tangible impact on election results. Here are some ideas:
Be On Hand: Many people make the decision to vote on Election Day, so it's important to have people available at the polls, on the phones, and in the community to answer questions and encourage voters.
Provide Resources: Make sure resources are available, such as transportation options, voter guides, and other materials to help guide voters through the process.
Give Employees Time: Companies should consider giving employees time off to vote and ensure they know their rights as voters.
Follow-Up After Election Day
Once the election is over, it's important to continue engaging with voters. Follow up with people who have voted to thank them and encourage them to stay involved in the electoral process. Consider organizing post-election events or activities where you can connect with people and discuss the issues that matter most to them.
Additionally, use surveys or polls to get feedback on the GOTV campaign and its impact so you can better understand what worked and how to improve your efforts in the future. The best teams won't wait until the next election to implement feedback — you can immediately take action on the input from your GOTV efforts and apply them to your legislative advocacy.
---
Creating a GOTV Timeline
It takes time to develop an effective GOTV strategy. The timeline for a successful GOTV campaign should begin at least six to twelve months before Election Day, with efforts ramping up in the weeks leading up to the election.
To illustrate the timeline of a successful GOTV campaign, let's imagine a campaign planned for a November election.
1 year prior to Election Day: Budgets are typically decided in Q4, so use this time to allocate resources for your GOTV campaign: select a GOTV platform and determine if new hires are necessary to achieve your goals.
May (6 months prior): Begin your research and strategizing phase. Identify your target demographics, understand their needs and interests, and start building your online action center to grow your voter and volunteer database.
June - July (4-5 months prior): Finalize your campaign messaging. During this period, also begin establishing partnerships with community organizations and leaders.
August (3 months prior): Initiate your multi-channel approach. Start with your email list and social media, then consider other channels like direct mail. Messages at this stage should focus on voter registration in addition to the issues.
September (2 months prior): Ramp up your outreach efforts. Begin door-to-door canvassing, phone banking, and increasing your digital presence. Continue to grow your volunteer base and train them for Election Day activities.
October (1 month prior): With Election Day in sight, it's time to intensify all efforts. Make sure your message is everywhere: on social media, in mailboxes, and on doorsteps. Host community events and make direct appeals for individuals to vote. By now, you should be talking about the benefits of early voting.
Election Week: This is the final push. Use all available channels to remind individuals to vote. Be available to help voters with information about polling locations, ballot details, and transportation to polling stations if needed.
Election Day: Be visible and available. Make sure volunteers are on duty to answer last-minute questions, assist voters, and offer rides if necessary. After polls close, thank your volunteers and supporters and begin analyzing the results to learn for future campaigns.
Mid-November: Send out surveys to learn how you can improve your GOTV for next time.
This timeline is theoretical and can be adjusted based on the specifics of the election and your organization's resources and capabilities. The key is to start early, maintain a steady pace, and ramp up your efforts as Election Day approaches.
---
Getting people to vote is a daunting, yet rewarding, challenge. A successful GOTV campaign requires careful planning and consideration, but by addressing potential barriers to voting, leveraging technology, strengthening community partnerships, and providing resources on Election Day, organizations can make an impact in the upcoming election.