Blog
How to Track State Legislation [Step-By-Step]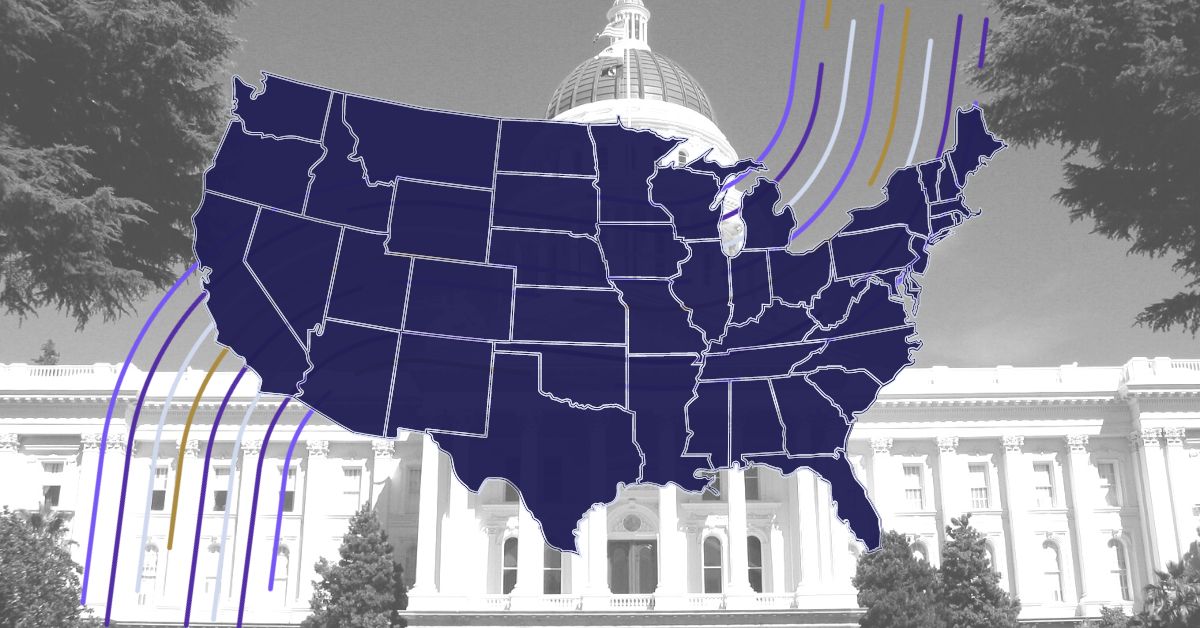 Tracking state legislation is paramount to public affairs success for national teams. But it is a task that can quickly become overwhelming if your team doesn't have the right tools and processes in place.
In this guide, we'll discuss tracking state legislation and why it's different from federal bill tracking.
The State Legislative Process
State legislatures are set up similarly to their federal counterpart in Washington. There's a lower chamber (usually referred to as the house or assembly), upper chamber (usually referred to as the senate) and executive branch (where the governor signs bills into law instead of the president).
Generally, bills and amendments go through the same stages as federal legislation:
The bill is sponsored and introduced in the house/assembly or senate
The bill is sent to an appropriate committee for review.
The bill leaves the committee and goes to the house or senate for debate and vote.
If the bill gets enough support, it is voted on and passed by the first chamber.
The bill moves to the second chamber for debate and vote.
If the bill passes the second chamber, it is sent to the executive branch to be signed into law or vetoed.
Once the executive branch signs, the bill is officially enacted on a predetermined date.
This is, of course, an oversimplification of the process. Every state operates differently and has its own unique set of rules and procedures.
Differences Between State & Federal
It's vital for lobbyists and other public affairs professionals to have a basic understanding of the differences between state and federal legislatures. Here are three key differences to keep in mind.
Speed
State legislatures are much more productive and move much faster than the U.S. Congress. According to Quorum data, state legislatures introduce 23 times the number of bills, totaling an average of 128,145 bills per year.
The speed of state legislatures makes it more difficult to manually track legislation, especially if monitoring more than a handful of states.
Schedule
One possible reason why states are faster is that they have less time. State legislative sessions are much shorter, and some don't even occur annually. If your organization engages in legislative tracking across multiple states, it's essential to understand when sessions start and end.
To make the most of the time they have, some states also allow legislators to pre-file bills before the session starts. Or, they can carry over bills from year to year. Read more in our 2022 State Legislative Trends Report on which states utilize the carryover process and how that impacts your state legislative tracking.
Full-Time vs. Part-Time
Since the state legislative schedule is so different, many state legislators are considered part-time, unlike U.S. Congress members, who are considered full-time. Still, some states, like California, have full-time lawmakers. For part-time legislatures, the officials may also share staff among a group rather than having their own individual staffers and they may share an office rather than having their own private space.
This difference is important to note because it affects your ability to set meetings or conduct fly-ins.
How to Track State Legislation
The steps for tracking state legislation are similar to federal legislation. In this section, we'll dive into each step and discuss how it's different on the state and local levels.
1. Decide What Issues to Track
The first step is to decide what issues to track and what keywords are relevant to those issues. For many organizations, this process will start with your mission statement. What are you trying to achieve, and who will be affected if you succeed or fail?
For example, if your organization's primary concern is pedestrian safety, you'll probably want to track keywords like walking safety, transit, bike lanes, crosswalks, auto-pedestrian accidents, etc.
2. Set Up a System to Identify New Bills
Once you have your list of issues and relevant keywords, it's time to build a tracking system.
Suppose your organization is only tracking a single issue in a single state. In that case, you can pretty easily stay up to date with new legislation by manually searching for your keywords on your state's website. For example, on the Colorado General Assembly website, you can search by keywords, bill number or sponsor.
If you don't want to do this yourself, many organizations hire lobbyists to stay current on state bills. Lobbyists generally have established relationships at the capitol and often know about upcoming bills well before they are introduced. The major downside is this isn't scalable. If you need to track legislation in all 50 states, hiring someone at every capitol will be costly. Additionally, managing those lobbyist relationships is more than a full-time job.
A much faster and more efficient way is to use a legislative tracking tool like Quorum State. Quorum automatically scans bill text when it's introduced and sends real-time alerts to key stakeholders. From there, you can track a bill's status, see sponsors and co-sponsors, and even send messages to key policymakers and staffers.
3. Organize Legislation You've Identified
Now it's time to organize the legislation once it's identified. You'll want a centralized system where your team can view all the bills you've tagged and quickly check the bill status.
Some government affairs teams do this manually in Excel or Google sheets, but if you're working across teams, states, and legislatures, a spreadsheet isn't going to cut it.
In Quorum, you can set up sortable, auto-updating sheets or shareable dashboards. Having bill information all in one place gives teams an organized and comprehensive view of legislative issues.
4. Categorize Legislation
After you organize your bills in a spreadsheet (or in Quorum), it's time to categorize every bill for faster sorting. This system also helps you prioritize which bills to engage on, as there may be too many for your team to tackle all at once. Here are a few tags we like to use:
Stance: Support, Oppose, Neutral
Priority: High, Medium, Low
Issue Area: What part of your issue portfolio does this bill fall under?
Responsible Team Member: Who "owns" this issue for your organization?
To take it a step further, consider adding bill summaries that include what the bill means to your organization. That's exactly what The Alzheimer's Association does.
5. Strategize Your Engagement Approach
Once you've categorized legislation, you can start planning your engagement approach.
The first thing you'll want to do is identify who to talk to. If you support a bill, you may want to start with the bill's sponsor or co-sponsors. If you oppose a bill, you'll want to find out who is leading the charge against the legislation.
Next, determine if anyone within your organization has an existing relationship with the contact.
And finally, determine the best way to get your message across. In some cases, you may want to mobilize advocates to send messages to state legislators. In others, a face-to-face meeting might be the best approach.
There's no one-size-fits-all to engagement, so don't be afraid to experiment. The best engagement campaigns will often combine lobbying and advocacy strategies, with different voices sharing the message from different perspectives.
No matter whether your engagement is mainly advocacy or traditional lobbying, look to states that have had similar bills and the tactics your team used in the past to inform future engagement on similar bills. States often introduce similar legislation, sometimes referred to as "copycat bills", so there's no need for your team to reinvent the wheel each time a bill pops up.
6. Keep Your System Updated
State legislation moves fast. Make sure you not only have a system to track new legislation, but changes to legislation you've already identified.
If you're using a manual spreadsheet, input changes as soon as things move to maintain the most up-to-date legislative information.
If you're using a system like Quorum, you can set up alerts when certain legislative actions are taken. For example, you can receive an alert when:
New versions of bill text are published
The status of a bill changes
New hearings are scheduled
A vote has occurred
New sponsors/cosponsors sign on
New committees are added
Official documents associated with a bill are posted
7. Move to Regulatory Tracking
After a bill is enacted through the state legislative process, it's time to follow the regulatory process. Regulatory tracking is essential because it impacts how the government implements the legislation.
Jackpocket works in a highly regulated industry, so they chose to use Quorum to make sure they are always up to date with changes. This allowed Jackpocket to grow its business while operating within the bounds of state-sanctioned gambling and lottery regulations.
8. Track Dialogue Alongside Bills
Track what state legislators are saying on social media about your issues. This is a great way to keep your ear to the ground. In the words of Senator Brian Schatz, "you can always assume that the tweeting about legislation is accompanied by legislating."