Blog
Why State Advocacy and Lobbying Must Be Year-Round [With Checklist]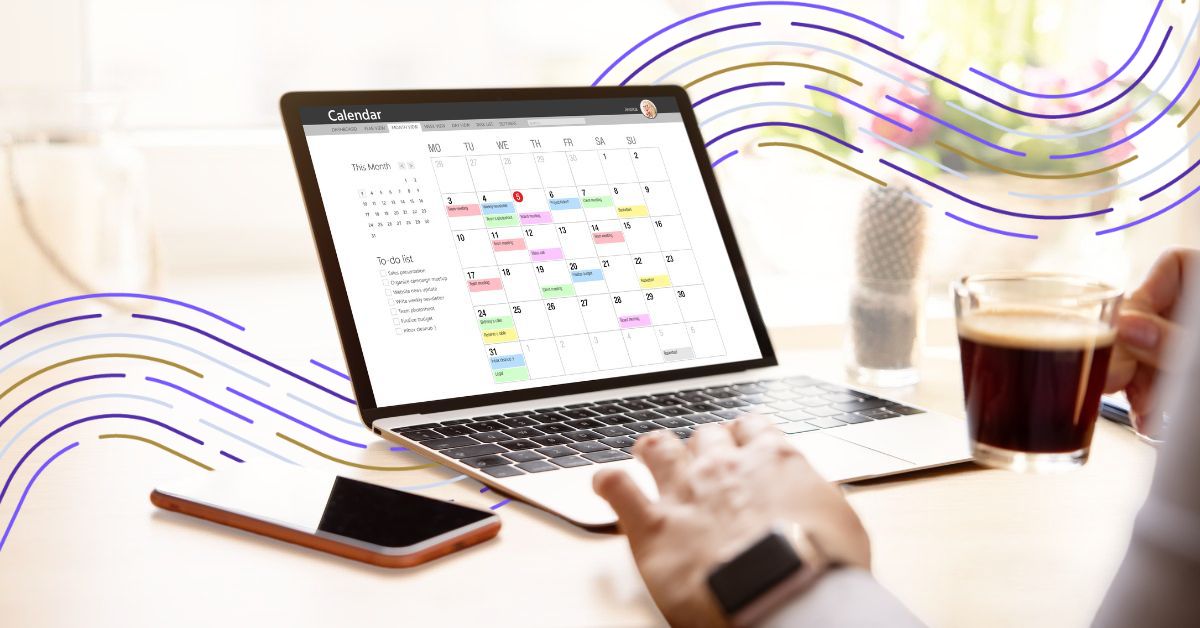 It was not long ago that state advocacy was seen as a first-quarter activity. Organizations sent their lobbyists to the capitals, activated their grassroots and worked the sessions hard. The action was intense gavel to gavel, but it rarely extended beyond the sessions.
Today, that is no longer the case. Organizations that are serious about state advocacy are working year-round to educate lawmakers and staff, build better relationships, grow their grassroots, and sharpen tracking systems to be better prepared for a game that gets tougher every year.
It's no secret that states consider tens of thousands of bills every year—far more than Congress—and that they do so in a matter of weeks or months. In Alabama, for example, lawmakers have only 30 legislative days. The action moves fast. Many experts say legislatures will take on even more with Congress divided and vital issues such as gun control and abortion rights controlled by states.
Eight out of 10 public affairs professionals (83 percent) said state-level government affairs will be more critical to their organization in 2023, according to Quorum's State of Government Affairs Survey. To stay competitive requires an all-year-long approach, with each quarter bringing a different focus.
For teams that want to improve, here's what a year-round state program might look like.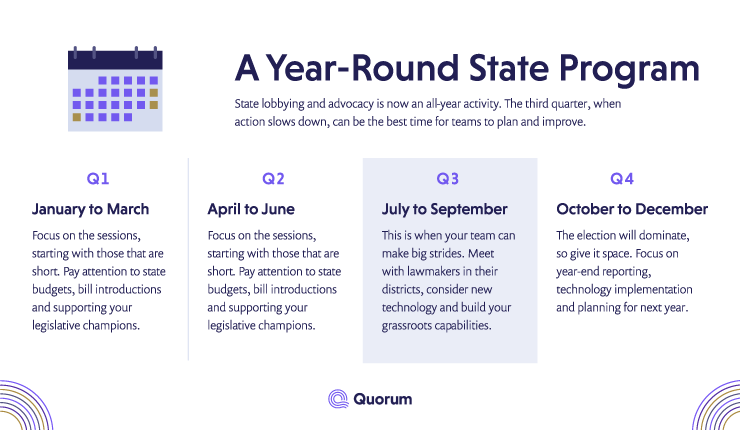 First Quarter: Work the Sessions
The year starts out busy for a state public affairs team. January, February, and March are consumed by the legislative sessions, which take place simultaneously around the country and take up serious bandwidth. The pace drives many teams into survival mode, and that's appropriate. The best thing your team can do during the sessions is to address the business at hand. Here are some suggestions to make the sessions more manageable.
Focus on the Short Sessions First. Some states meet for just a few weeks, which leaves little room for error. Fall behind and you can miss important action. Put these states first on the priority list.
Respond Clearly to State Budgets. Governors often deliver their draft of the state budget early in the session or even before, and the legislature takes it from there to make their changes. If your organization has legislative priorities in state budgets, communicate your position clearly to lawmakers on the appropriate committees.
Introduce Your Bills. The first quarter is generally the time to have your legislative champions introduce the bills your organization supports. The job then shifts to drawing support for those bills, usually in the form of co-sponsorship. Getting bills into the system at the beginning of the year gives you more time to advocate.
Rely on Your Lobbyists. Legislators are extremely busy during the session and it's not the time to build relationships. You need lobbyists who have those relationships in place and can help steer your strategy. Listen to the members of your team who have local knowledge.
Factor In Your Tracking. Professional tracking systems provide early warning to backstop your people on the ground. Whether bills are newly introduced or carried over from the previous year, a solid tracking system can give you information more quickly than human intelligence can provide. . It can also give you a 50-state picture that helps share resources across your organization. Messaging and talking points used in one state can often be effective in another.
Support Your Legislative Champions. Every team needs more allies, and there will be opportunities to make progress on this later in the year. For now, make the most of the allies you have. Support lawmakers with op-eds, social media, grassroots action, and anything else they find helpful. When lawmakers see you working publicly for policy changes, they are more apt to actively support those changes themselves.
Grow Your Grassroots. Sessions are a good time to grow a grassroots list because they provide urgent situations that demand a response. When grassroots action is appropriate, use the sense of urgency to attract new people to your cause.
Generally speaking, the first quarter is not the time to make major changes to your program. But it is a good time to take notes. If something is not working, it will be apparent during the sessions. If you need better relationships, a new lobbyist or more robust tracking, those problems will surface. Keep track of what worked well and what needs improvement. This will help form your to-do list later in the year.
Second Quarter: Follow-Up, Assess, and Adjust
As we start the second quarter, many states will still be in session but most will wind down in April, May and June. That doesn't mean the work is over. Rather, it means your team will be busy finishing out sessions, processing the action and deciding what comes next. In fact, we can break the second quarter into session- and non-session activity.
During the Session
Marshall Your Bills. If the first quarter is a good time to have legislation introduced, the second quarter is often spent trying to get those bills to a floor vote with enough support to pass. That means marshaling votes for your initiatives. The opposite is also true: your organization will be scrambling for votes against the measures you oppose.
Conduct Immediate Follow-Up. If there are issues that require immediate response, take care of that before the sessions end. Perhaps you have to celebrate a bill signing or write an op-ed to protest a measure that passed. Close out each session strong.
Focus on Your Fly-in. Many fly-ins also take place in the second quarter, while lawmakers are still in the capital. If you have state lobby days scheduled, make the most of these opportunities. Have participants take notes and log their interactions (systems like Quorum make this easy). Though these meetings are short, you can ask lawmakers what your organization can do to advance your common goals. That provides more feedback for improvements you will make to your program in coming months.
After the Session
Assess What Really Happened. After sessions end, it is a good time to take stock of what transpired, track the politics, do legislative analysis, and monitor trends across states. Analyzing vote totals, cosponsorship, partisan balance, and other metrics will yield a deeper understanding of the landscape in each state and your impact upon it. This analysis can extend to your organization's performance, including wins, losses and areas to improve throughout the rest of the year.
Prepare Your Reports. This is a good time to report activity in the sessions to your leadership. It can help them understand the legislative and political landscape, communicate your team's value, manage expectations, and set the table for budget requests later in the year.
Thank Those Who Helped. During the sessions and after, be sure to thank the legislative champions who stood up for your policy initiatives. When appropriate, make these thanks public through social media or other channels.
Communicate With Your Audience. Reporting doesn't stop with leadership. You should keep grassroots and grasstops activists up to date on how you fared on important bills during the sessions and how you did overall when the sessions are done. Be sure to thank those who took action.
In an election year, primary races may also be taking place around this time. While your organization may not get involved directly in party primaries, election work such as encouraging your audience to vote, educating your grassroots advocates on issues and supporting your best legislative champions is always time well spent.
Third Quarter: Build Relationships, Build Your Program
The third quarter is far less busy, with sessions in most states closed. But this is arguably when the most important work gets done. July, August, and September can be extremely productive months for teams that want to build relationships and improve their program. Here are some steps to consider:
Meet With Lawmakers in Their Districts. Meeting with state lawmakers on their turf can be extremely productive. This is a good time to gain a solid understanding of their district, where they stand on issues, what they need and where your organization fits. In short, it is a good time to solidify a relationship that will carry on into the next legislative session and beyond.
Educate Legislative Staff. Unlike Congress, state lawmakers often do not have a large staff. This is a problem for many because lawmakers are asked to vote on a dizzying number of issues. Yet it can be an opportunity for your team. If you can become a source of education on issues, providing high-quality information to lawmakers and staff, you become a resource. You can make a start with your meetings this quarter.
Consider New Technology. If your legislative tracking system is not providing early warning, social listening, visual analytics, simple reporting and other features that sophisticated teams rely on, now is a good time to look at professional legislative tracking software. Make a list of your needs, take a demo, and get an estimate for your end-of-year budget request.
Create Your Coalitions. Summer can be a good time to cultivate allies and build coalitions with other organizations that have similar legislative goals. The summer slowdown allows for meetings and collaboration. A coalition representing thousands of constituents can be powerful when it comes to soliciting votes.
Engage on the State Budget. Many states have a fiscal year that runs July 1 to June 30, whether they use an annual or a biennial budget, and governors often begin work for the next budget in July or August. It is prudent to track the processes in the states where you are active from the start, monitoring relevant requests and hearings. When the time comes to participate or respond, your team will be fully briefed.
Craft Your Internal Budget Pitch. Your budget matters, too. Weeks before they start asking, you should begin gathering information for your request, which might include new technology, outside lobbying firms, additional staffing or other assets. Use examples from this year's sessions to support your arguments.
Build Grassroots Infrastructure. Most organizations are not as strong as they would like to be in every state where they operate. If your grassroots list is weak in some areas, this is a good time to do some recruiting. Launch a petition, hold an event or take some other action to attract supporters and then nurture them with requests and rewards.
Run Your Election Program. In election years, races heat up in the third quarter. If your organization participates in get-out-the-vote efforts, election education or other activities, these will kick into high gear. As you run your program, take stock of the strategies that work and those that could use a refresh.
Teams that work hard can come out of the third quarter substantially stronger and far more ready for sessions in the following year. The summer slowdown in July and August provides time for your team to work on improvements in many different areas. There will also likely be a large to-do list, which can be addressed in end-of-year planning.
Fourth Quarter: Focus on Planning
In an election year, the fourth quarter often starts off hot as October and November see a frenzy of activity around state-level races. This often cools quickly when November's election ends and the holiday season begins in December. For public affairs teams, it's a good time to plan and prepare. Here are some suggestions:
Give Elections Their Space. Advocacy can get drowned in the noise of a U.S. election, making it a bad time to conduct campaigns and other activity unless absolutely necessary. A better strategy is to let the election play out and use the time to work on other things.
Focus on Planning. Getting ready for the coming year is a good use of fourth-quarter time. Revisiting your legislative agenda, identifying states where you will be active, and predicting how you will use resources will make things smoother when the action starts again in January. A plan that identifies where you will support legislation, where you will try to block bills, where intense lobbying is needed, and where you will have to use grassroots action can give you an edge. You can always adjust your plan.
Educate Your Advocates. When you know what your agenda will be in the first quarter, don't keep it a secret. Educate your advocates for the policy fights ahead in ways that are appropriate, such as explaining issues and your organization's position. A warm and informed list will perform far better when you issue a call to action.
Do Some Data Cleaning. The end of the year is a good time to do some list hygiene, eliminating people who don't respond, ensuring that your lists are properly tagged and segmented, and appending information where necessary. This ensures that your lists are filled with active supporters and that your analytics will not be skewed. This should be an annual event.
Organize Your Lobby Days. Fly-ins that take place in the first or second quarter must be planned in the fourth quarter. Pay attention to what worked well and what needed revision last year. Teams can improve annual events simply by making incremental change year-over-year.
Implement New Technology. If you are upgrading your legislative tracking, dedicate substantial time to onboard, train your staff, create your system, and test it before the sessions begin. The fourth quarter is the time to do this, so the system is operational and your staff is fluent when the sessions begin.
Track Pre-filed Bills. Tracking legislation that is filed in advance can give your team a jump on the sessions. It can give you an early look at what you will have to support or oppose. Quorum legislative tracking allows you to monitor prefiled bills in the same way legislation is tracked during the sessions.
Write Year-End Reports. Most teams have year-end reporting responsibilities. Take the time to tell your story and document the ROI that your team brings to the organization. The narrative should reinforce the themes that you introduced after the session, in your budget request and in other reporting throughout the year.
Naturally, the calendar and the division of duties across teams will look different at every organization. But the benefits of taking a year-round approach to state government affairs and advocacy are clear. In a world where teams are overburdened and state work is increasing, creating a system to improve throughout the year and get more effective with every legislative session offers a hedge against the feeling that your team is losing ground and cannot keep pace. By working to improve various aspects of your program, and timing those improvements appropriately, your team can stay competitive and see steady improvement. All year long.