This past Tuesday, President Trump delivered his first joint address to Congress. Every president since Reagan has delivered a joint address in the first two months of their administration. Clocking in at a little over 60 minutes, the president's address was the second longest in history. After the speech, commentators were quick to notice a shift in the tone used by President Trump. However, beyond tone, an analysis of the president's 5,006 word speech, using Quorum's live transcripts, reveal notable keyword trends.
President Trump stayed on-brand with MAGA
"Make America Great Again" was the rhetorical heartbeat of President Trump's first joint address before Congress. The president mentioned "America" 77 times and "great" 24 times over the course of his speech. When comparing those keywords with transcripts of President Obama, Bush, Clinton, H.W. Bush, and Reagan's first joint addresses, neither of these past presidents come close to President Trump's rate of mentions.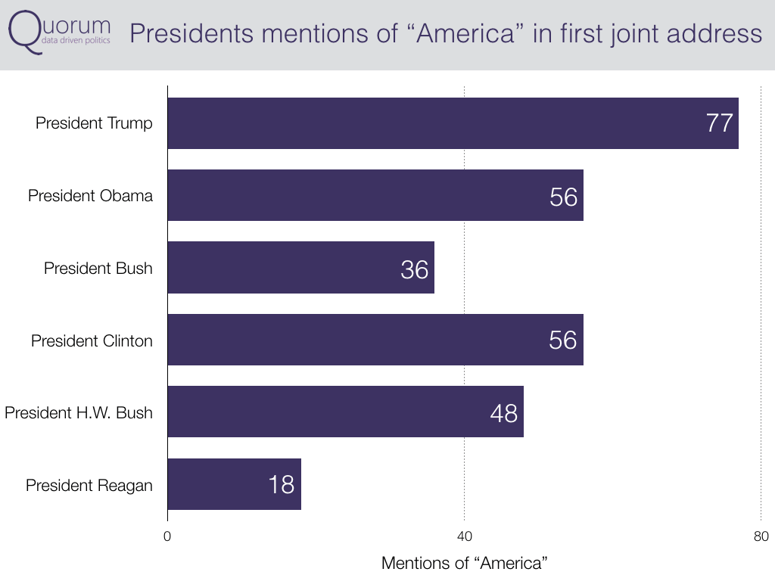 President Trump is the first to mention "immigration" in a joint address
Be it the travel ban or a wall on the border, President Trump has made immigration a key issue of his administration. So it should come as no surprise "immigration" appeared 11 times in the president's address. What is revealing, however, is that Presidents Obama, Bush, Clinton, H.W. Bush, and Reagan never even mentioned "immigration" in their first joint-addresses.
*President Reagan's address was specific to economic recovery
Past presidents discussed plans far more than President Trump
There were only 4 mentions of "plans" or a "plan" during President Trump's joint address. This number of mentions is particularly low when compared to Presidents Obama, Bush, Clinton, H.W. Bush and Reagan, all of who discussed "plans" or a "plan" anywhere from 9 to 28 times in their joint addresses. Combined, Presidents Obama and Clinton mentioned "plans" or a "plan" more than Presidents Trump, Bush, H.W. Bush, and Reagan combined.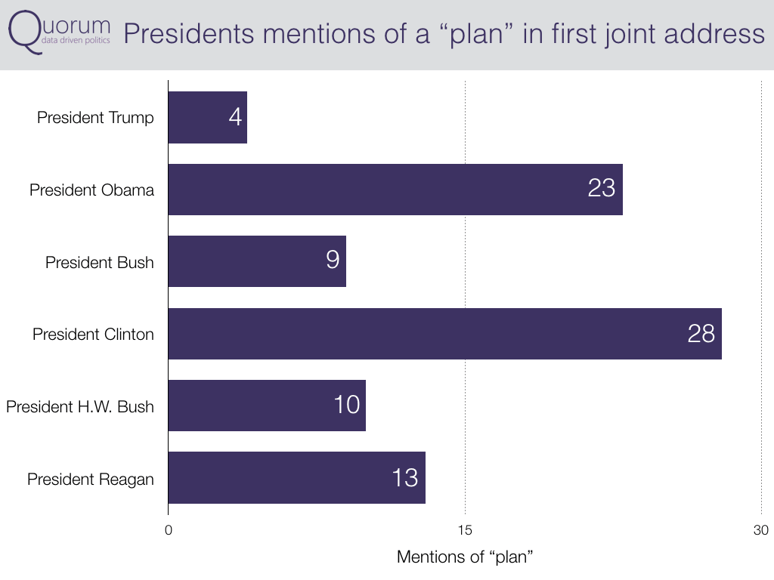 The Twitter-pulpit
While joint addresses and State of the Unions have long been held as a symbol of the presidential bully-pulpit, for President Trump such a venue to express his administration's goals is limited and infrequent. Perhaps, this is why the president has prioritized Twitter.
Since taking office on January 20th, President Trump has tweeted roughly 500 times — a rate of almost 12 tweets per day. Commentators may continue debating a shift in tone from the president's speeches, but the frequency with which the president tweets will likely remain the strongest measure of where the administration actually stands on his agenda.