Challenge: Prove to Advocates Their Actions Matter
When the COVID-19 pandemic hit, the 116th Congress passed multiple relief bills, but the fitness industry struggled to receive enough funding to keep their industry afloat. To counter this, the GYMS Act, a $30 billion fund for affected businesses in the health and fitness industry was filed but never garnered enough support to pass.
When the 117th Congress gavelled in, the GYMS Act was filed again. The International Health, Racquet & Sportsclub Association (IHRSA), already an advocate for fitness industry inclusion in the 2020 COVID relief packages, knew their advocacy base of fitness industry professionals could help get more co-sponsors signed, increasing the likelihood for bill passage. IHRSA needed a way to mobilize and expand their advocacy base beyond their member base to build the National Health & Fitness Alliance (NHFA), a coalition of fitness professionals that includes fitness equipment manufacturers, gym franchises, and small boutique fitness studios.
Jake Landry, Public Policy Assistant at IHRSA used Quorum Grassroots to create a public dashboard to act as the home base for NHFA's GYMS Act advocacy. The dashboard includes the real-time status of the bill, the number of cosponsors, a live feed of advocate actions, and provides steps advocates can take to build a larger coalition and report on bill progress to their base.
Solution: Use Quorum Dashboards to Create a Public Advocate Accountability System
When building the dashboard, Landry included components that motivate advocate participation and report advocate progress to their coalition in real-time. Once the dashboard was live, Landry presented IHRSA's advocacy to recruit fitness industry professionals outside of IHRSA's member base to grow their coalition.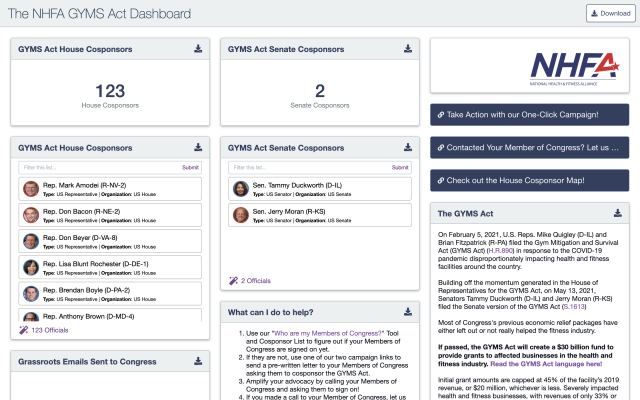 Outline Steps for Advocates
While building the GYMS Act dashboard, IHRSA started with an outline of actionable steps for advocates situated front and center. This outline lowers the barriers to action for all advocates —providing step-by-step directions for both new and returning advocates.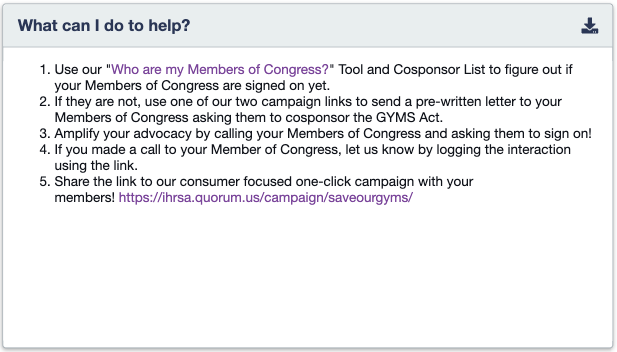 Encourage Friendly Competition
IHRSA strategically leaned into the fitness industry's love of competition by creating a live feed of advocate actions. IHRSA challenged coalition members in each state to race to get their representatives signed onto the bill as cosponsors first. The dashboard reports on GYMS Act update progress in real-time, allowing state advocates to see their wins as soon as they happen.
Landry built in multiple ways to visualize progress to foster competition including feeds of most one-click messages sent by advocates in each state, most personalized messages sent in each state, top legislator targets, and more.
To view the widgets IHRSA uses to incentivize competition and educate advocates on key legislators to target, click through the tabs below.