228 years ago, Vice President John Adams took to the dais to cast the first tie-breaking vote in U.S. Senate history. Since then, 36 different vice presidents have broken 260 ties in the Senate. On Tuesday evening, Vice President Mike Pence cast his fifth tie-breaking vote since taking office. Since 1981, there have been 24 tie-breaking votes cast by vice presidents -- here's the breakdown:
Pence is breaking ties at a faster rate than any of the past five vice presidents.
In his first 10 months in office, Pence has already broken more ties than the first year of the past five vice presidents combined. Of the 24 past tiebreaker votes, 16 have occurred in the first three years of the vice presidents' terms.
Budget and defense bills are the most common issue areas for recent tiebreaker votes.
Of the past 24 tiebreaker votes, seven were for budget legislation, five for defense, three for health care, three for taxes, two for nominations, two for finance & banking, and one for firearms. Specific issues tend to define a VPs tie-breaking votes. For instance, Bush broke five of his six ties on defense amendments, three of Gore's four tiebreakers were for the budget, Cheney broke three ties on taxes, and Pence has broken three ties during the health care debate.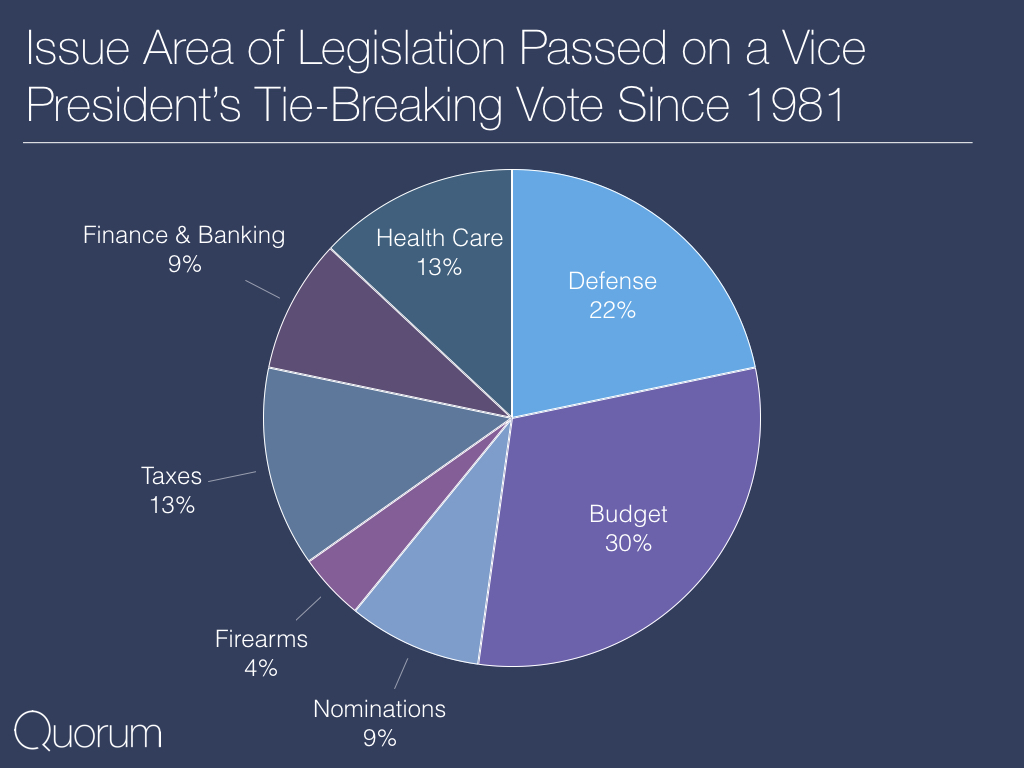 On average, Gore broke ties when there was a larger margin between the number of seats held by the majority versus the minority.
On average, Gore broke ties in a chamber where the majority held 56 seats and the minority held 44. Cheney—who cast the most tiebreakers of recent vice presidents—presided over a chamber with an average of a 52-48 breakdown, the same margin that exists for Pence today.