Across the country, Republican policymakers control an overwhelming majority of state legislatures. Republicans have majority in 30 state legislatures of the 49 states with bicameral governments (Nebraska is the only state with a unicameral legislature), while Democrats hold the majority in 13 states.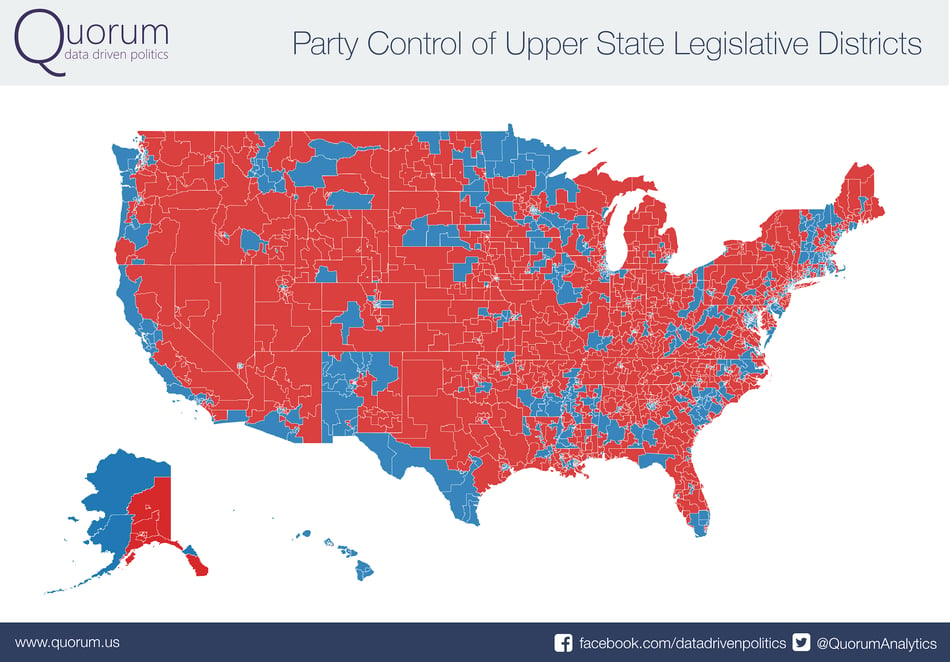 While Republicans have significant state legislative control, to no surprise, in urban districts Democrats consistently hold majorities. Densely populated districts–as seen with the coast of California, southern Florida, and New York City– are typically represented by Democrats.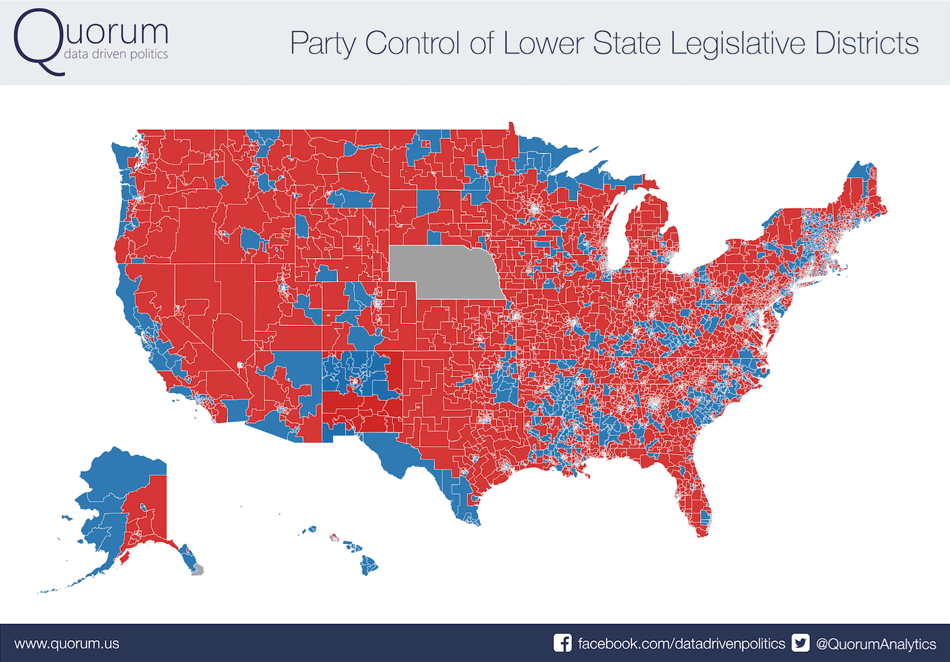 Which state legislatures are the most partisan?
Wyoming, Utah, and Idaho currently are the most Republican-controlled state legislatures. Republicans account for 86 percent of state lawmakers in Wyoming, 84 percent in Utah, and 80 percent in Idaho.
Within the 16 Democrat-controlled state legislatures, Hawaii, Rhode Island, and Massachusetts hold supermajorities. Hawaii has the most Democratic-controlled state government with Democrats accounting for 89 percent of state legislators. Historically, both Massachusetts and Rhode Island have had Democratic majorities in their state legislatures and continue to today. 85 percent of policymakers in Rhode Island and 80 percent in Massachusetts are Democrats.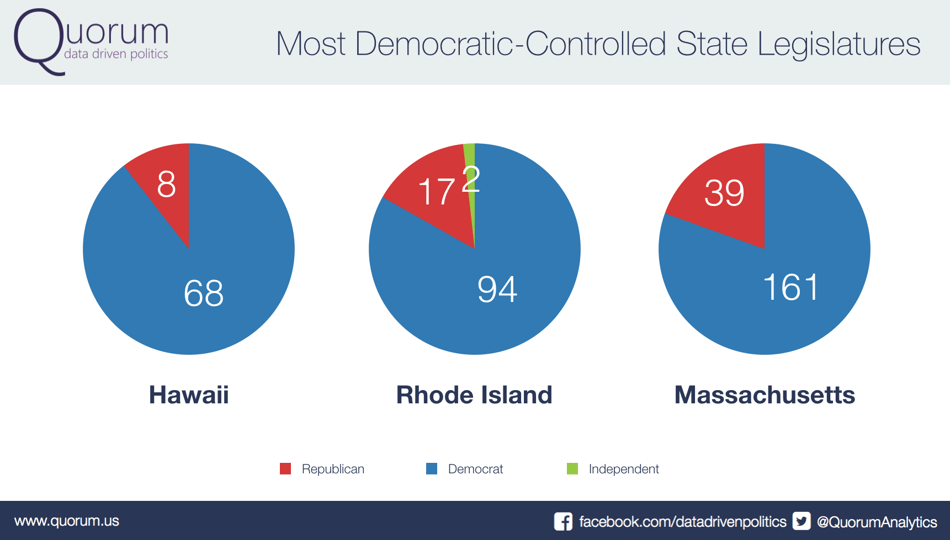 Most to Least Partisan Legislatures:
| | |
| --- | --- |
| 1 | Hawaii |
| 2 | Wyoming |
| 3 | Utah |
| 4 | Rhode Island |
| 5 | Massachusetts |
| 6 | South Dakota |
| 7 | Idaho |
| 8 | Kansas |
| 9 | Tennessee |
| 10 | Indiana |
| 11 | Oklahoma |
| 12 | North Dakota |
| 13 | Missouri |
| 14 | Alabama |
| 15 | Ohio |
| 16 | Florida |
| 17 | Georgia |
| 18 | Maryland |
| 19 | California |
| 20 | Arkansas |
| 21 | North Carolina |
| 22 | New Jersey |
| 23 | Illinois |
| 24 | Virginia |
| 25 | Wisconsin |
| 26 | South Carolina |
| 27 | Alaska |
| 28 | Mississippi |
| 29 | Vermont |
| 30 | West Virginia |
| 31 | Vermont |
| 32 | Michigan |
| 33 | Texas |
| 34 | Arizona |
| 35 | Louisiana |
| 36 | Delaware |
| 37 | New Hampshire |
| 38 | Pennsylvania |
| 39 | Oregon |
| 40 | Connecticut |
| 41 | Montana |
| 42 | Nevada |
| 43 | Iowa |
| 44 | Kentucky |
| 45 | New Mexico |
| 46 | Washington |
| 47 | Colorado |
| 48 | Maine |
| 49 | Minnesota |